Article content
Turning a page on virtual gatherings, Windsor's annual literary festival BookFest/Festival du Livre is returning later this year as an in-person event, say organizers who are also planning a new event called BookFest Equinox.
Article content
"We've done, last year and the year before I believe, online (events) so we thought it would be good to have something fun for people to see what BookFest is about," said Alexei Ungurenasu, planning chairman for both BookFest and the inaugural BookFest Equinox.
"BookFest is normally more adults with a few published authors in different genres from across Canada," said Ungurenasu, who is also Windsor's youth poet laureate.
"This is more just a live show of poetry and some music as well, from mostly local performers."
BookFest Equinox is BookFest's first outdoor live show. The free event is taking place April 22 at Lanspeary Park from 6:30 to 8:30 pm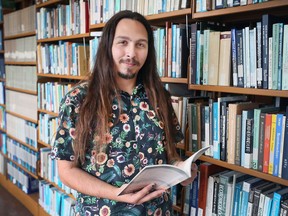 The poetry lineup includes Montreal writer Eli Tareq El Bechelany-Lynch, an editor and author of Knot Body and The Good Arabs, Windsor's Kate Hargreaves, an award winning cover designer and author of Leak, Jammer Star and Talking Derby, as well as Nick Hildenbrand and Jovan Stefanov, two graduates of the University of Windsor who recently launched their collaborative collection titled Marshwood Songs.
Article content
"We are giving a small taste of what (BookFest is) like as well as some new things that we haven't really done before," said Ungurenasu, a 23-year-old University of Windsor majoring in English and Philosophy.
"We're curious. It's one of the first outdoor, major literary events in a long time. I refer to it as a breath of fresh air."
Ungurenasu has worked with a small team over the last several months to organize the new event.
"(We want) to introduce new audiences, especially to both BookFest but also to the literary arts in the city."
Live music will be performed by Windsor-born artists Madeline Doornaert and Flower Face aka Ruby Mckinnon.
BookFest Windsor celebrates 20th anniversary

Windsor publishing house Biblioasis wins third Governor General's Literary Award
The event will include food from local vendors in the area. Biblioasis will also be selling books from featured poets.
Bring a chair or blanket to sit on as chairs will not be provided.
BookFest/Festival du Livre will take place Oct. 13-16 as an in-person event, with venues and guest speakers to be announced.
For further information, visit bookfestwindsor.com