The Ford government, including Ontario's premier, has maintained that the province have to learn to live with COVID-19 and its forthcoming variants. But what exactly does that future look like?
Infection control epidemiologist and professor at the University of Toronto, Colin Furness, discussed a future with COVID-19 and without lockdowns, saying that we know wastewater signals have appeared to waver off.
Furness says the past Easter long weekend remains a wildcard.
"Generally speaking, epidemic curves are symmetrical," Furness told CityNews. "However steep the curve is going up, it's equally steep coming down."
Furness acknowledges that a new variant could cause a curveball, with some being watched closely, including the emerging Omicron XE. The variant XE is categorized as a combination of two dominant Omicron strains — BA.1, the original variant, and BA.2, considered far more contagious.
XE is not a mutation but recombination of two different variants. Omicron variants generally tend to cause a less severe bout with the virus than previous versions like Delta — but they are considered more contagious and spread more quickly.
First detected in England back in mid-January, the XE variant has spread rapidly in the UK
According to the UK Health Security Agencyfrom January 15 through the end of March, the confirmed presence of the XE variant compared to BA.2 in tested samples in the UK grew by an average of 12.6 per cent per week with a 20.9 per cent weekly increase over the last three weeks of March.
"XD, XE and XF. These three variants can arise in only one way — that is, someone gets infected independently twice, at the same time, with two different strains of COVID," Furness explained.
"Those two strains then encounter each other in the same cell and exchange genetic information. The moral of the story is that you let it rip and let the population get very sick all at once. You create ideal conditions for more variants to emerge. That's what is happening."
Ontario's COVID-19 Science Advisory Table released new COVID-19 modeling last weekconfirming that the province is well into the sixth wave while suggesting considerable uncertainty over case growth remains.
These health experts collaboratively deduced that Ontario's sixth wave had been driven by the highly contagious BA.2 subvariant, waning immunity, and the lifting of public health measures. On April 14, six new Omicron XE variant cases were detected in Canada.
The World Health Organization (WHO) warned that early findings on XE require further verification.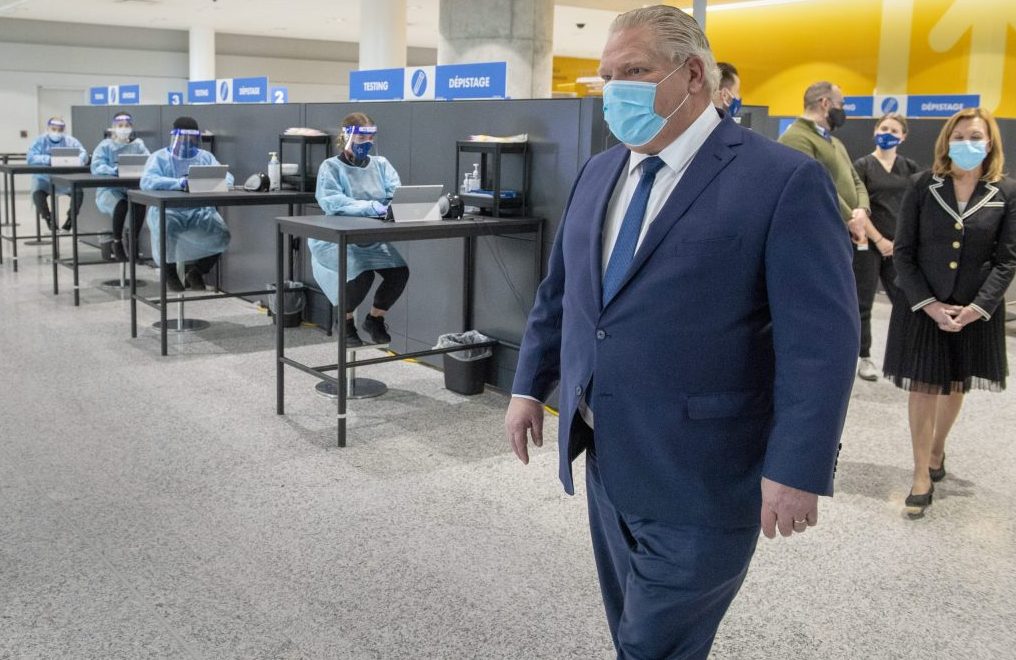 ---
How do we live with COVID-19?
Furness says there are specific ways we should — not could — live with the reality that COVID-19 isn't going anywhere.
He says one way to do that is to watch wastewater signals. That data would properly indicate to Ontarians that mask-wearing is integral in various settings, depending on the trends.
"Let's do as little as we need to do but let's do what is needed when [it] is needed," Furness explained. "Just like we have weather forecasts, we might need wastewater forecasts."
The science table defines Ontario's COVID-19 wastewater signal as a "weighted mean of standardized, biomarker-normalized concentrations of SARS-CoV-2 gene copies across 103 wastewater treatment plants, pumping stations and sewer sheds in the 34 public health units."
Last week, Ontario's science table presented new data that showed recent wastewater surveillance indicates the spread of the virus has either plateaued or is now in decline. Advisors say there is "significant uncertainty" around the impact of case growth on the provincial health system, noting that modeling indicates hospital occupancy is likely to continue to rise.
Furness says he would like to see Carbon Monoxide (COtwo) detectors, which show precisely how much air is exhaled in a room, be in all public spaces — including restaurants.
"The higher the carbon dioxide readings in a room, the poorer the ventilation," Furness said. "That can be easily fixed by opening a window."
"Item [these detectors] need to be mandated," Furness suggested. "Belgium is doing work on this, I believe, mandating indoor air quality standards and getting this done. They're not the only country doing it, but we aren't talking about it here."
Furness says that although COtwo levels range from 350 to 450 ppm in the great outdoors, people breathing indoors will cause COtwo to accumulate to higher levels unless removed through ventilation.
One year ago, one study published in Environmental Science & Technology Letters determined that when excess COtwo levels double, the risk of transmission also roughly doubles in any given indoor environment.
"COtwo monitoring is the only low-cost and practical option we have for monitoring," said Zhe Peng, a CIRES and chemistry researcher and lead author of that April 2021 paper. "There is nothing else."
Though additional studies and research on the relationship between COtwo detectors and COVID-19 air transmission is needed, the low cost of implementing them and monitoring the use of strategic action levels to trigger ventilation can help to improve indoor air quality overall.
Furness believes there are two extremes — people who aren't afraid or concerned with COVID-19 and those that are overly trepidatious when it comes to catching the virus. He would like to see a middle ground, starting with awareness to teach people better how to stay safe and get on with their lives.