The Wine Guy offers three freshly discovered beers, the first of the fresh hop season, to dip your dick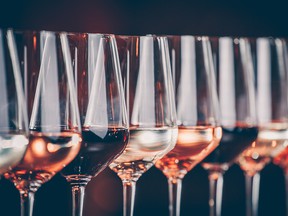 Reviews and recommendations are unbiased and products are independently selected. Postmedia can earn an affiliate commission for purchases made through the links on this page.
Article content
It is the coolest and wettest time of the year. At least when it comes to beers.
Commercial
This ad has not been uploaded yet, but your article continues below.
Article content
Yes indeed, fresh hop infusions, also known as wet hops, are starting to land on the shelves. These are beers made with freshly harvested hops, from bine to kettle, as opposed to the more common dry or granulated hops that are used year-round.
But fresh hoppy beers won't be around for long, and unfortunately they tend to be brewed in limited batches so best sipped when you see them, like these top three of the season of fresh hops, newly discovered beers.

Main St. Brewing Before the Fall Fresh Hop Hommelbier, East Vancouver (starting at $ 13.79 for 4-473ml cans, available at the brewery and select liquor stores)
Hommelbier is a Belgian blonde Saison, and Main St. Brewing's offering combines Pahto, Czech Saaz and fresh Saaz hops grown in BC with Belgian Pilsner, Canadian wheat, German Carafoam and rye malt. Add free-range yeast and the result is a true continental collaboration, one that is poured golden with a slight haze and offers gregarious floral and herbal aromas. Good richness, a hint of funk appeal, and a nice lip-smacking finish complete this unique seasonal infusion, which was released "Before the Fall," but still pairs nicely with the onset of fall.
Commercial
This ad has not been uploaded yet, but your article continues below.
Article content
Bottom line: B +, bring the deli

Moon Under Water Brewery Friends in High Places Red Wheat Pale Ale "Wet-Hopped", Victoria ($ 9.15 for 650mL, available at select brewery and liquor stores)
As the label explains, Friends in High Places is: "An annual tribute to the farmers of Vancouver Island." Specifically, this means barley and wheat from Five Field Farm on the Saanich Peninsula and freshly picked Cascade hops from Fowler Road Hop Garden. The wet hops were "cryo-destroyed" with liquid nitrogen to preserve their intense aromas, and the result in the glass is wonderfully aromatic: floral and pine notes that lead to a bold and bitter entry, a robust and nutty mid-palate, and a Finish. crisp and sour. It is presented as a classic West Coast Pale Ale, aromatically intense.
Commercial
This ad has not been uploaded yet, but your article continues below.
Article content
Bottom line: A-, embodies the harvest season

Off the Rail Centennial Fresh Hop Ale, East Vancouver ($ 4.50 per 12-ounce glass, available from the brewery)
So fresh and so limited, Off the Rail's latest fresh hop beer is only available internally in the tasting room. Which makes for a good excuse to head to the brewery's pleasant Adanac Street courtyard, which happily sits right on one of East Vancouver's major cycle routes. This deep golden-hued beer is presented with a rich malt base. Herbal aromas lead to a richer and downright earthy style overall, qualities that continue to a robust finish. It's easy to put in style that goes great with tasting room samosas or Jamaican patties.
Bottom line: B, robust and earthy
The Swirl: Parallel 49 Oktoberfest Biergarten
It's Oktoberfest season too, and just at the right time, Parallel 49 Brewing (1950 Triumph St, Vancouver) has transformed its 120-seat outdoor space into a Biergarten. There is a special menu for the occasion with pretzels, assorted sausages and schnitzelwiches. There will also be live polka (check performance times) and a $ 50 gift card awarded daily at 8pm to Oktoberfest Best Dressed Skipper through October 3. For complete details visit parallel49brewing.com.
Reference-theprovince.com