At each meeting at La Beaujoire, there is talk of this lawn, which is still considered to be in very poor condition.
The Nantes turf was nevertheless one of the most beautiful in France, but that was before.
The town hall, owner of the Beaujoire, will not change the lawn until the summer of 2022.
It is often believed that the grass is greener elsewhere. For the lawn of Beaujoire, no doubt, it's true. Renowned for being of high quality at a time not so distant, Nantes turf is extremely degraded this season. Before the meetings, we observe that he is "bald" in places. Over the minutes during the matches, the lawn becomes unraveled, making it more difficult to drive the ball. The Nantes grass even occupied
19th place in Ligue 1 in the last classification established by the Professional Football League (at the end of the 25th day)… Only the neighbor of Angevin is doing worse.
"We can not summarize our defeat to that, but the quality of the ground here is a disaster, had thus railed Patrick Collot ten days ago after the elimination (2-4) of the Canaries in the Coupe de France against Lens. It is one of the worst in France. "Saturday, after the draw (1-1) between Nantes and Marseille, there was also talk of this cursed grass …
The rainy Nantes climate does not necessarily help gardeners, but the argument is not sufficient, especially when we know that the grass … of the Brestois Stadium ranks second. To avoid any controversy on this highly sensitive subject, the FCN, tenant of the Beaujoire stadium, sent us a press release: "The Grassmaster process – a mixture of natural grass and synthetic fibers – was installed in 2001. longevity of twenty years, a record in Europe, for a guaranteed product with a lifespan of between 12 and 15 years. The lawn [surface de jeu et substrat] will be changed in summer 2022 with a view to the 2023 Rugby World Cup and the 2024 Olympic Games. "Like the last FCN French championship title, the lawn of Beaujoire is indeed twenty years old, and more all its strands.
Just too old
"She is HS because too old quite simply, defends Loïc Paul, managing director of Sporting Sols, a Vendée company responsible for the maintenance of the green area. Despite regeneration of the lawn every year, it must be completely redone after 10-15 years. The lawn has been deteriorating for 4 or 5 years, it was inevitable… "The FCN, which does not want to bear the cost (between 1 million and 1.5 million euros) of the complete change of the lawn, will have to take his trouble patiently because the town hall, owner of the Beaujoire, does not intend to upset its schedule.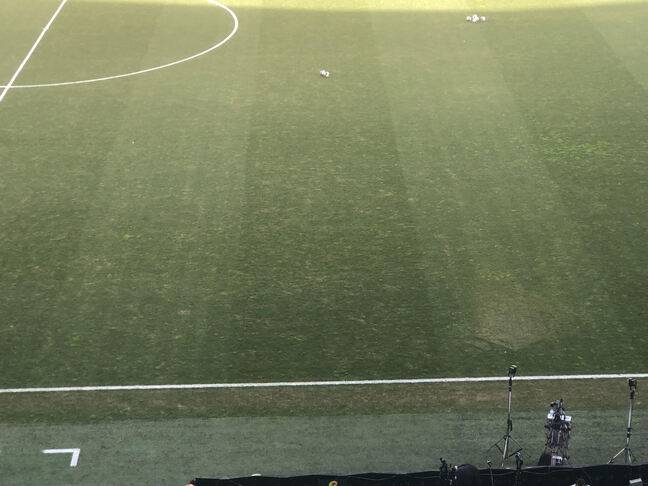 "The club alerted us, admits Ali Rebouh, deputy mayor of Nantes, sports delegate and vice-president of Nantes Métropole. We know the problem, but we will change it only in summer 2022. We will try to make it last for an additional season… "
Reference-www.20minutes.fr
The Canadian News
Canada's largets news curation site with over 20+ agency partners