The European Union has announced plans to ban Russian oil by the end of the year as part of a sixth sanctions package in response to the war in Ukraine.
European Commission President Ursula von der Leyen told the bloc's parliament in Strasbourg that member states should stop buying oil supplies within six months and associated refined products from Russia by the end of 2022.
The sanctions still need to be formally approved by the 27 national governments and could still be vetoed by those that depend on supplies from Russia, such as Hungary and Slovakia, without agreeing exemption conditions and energy security guarantees.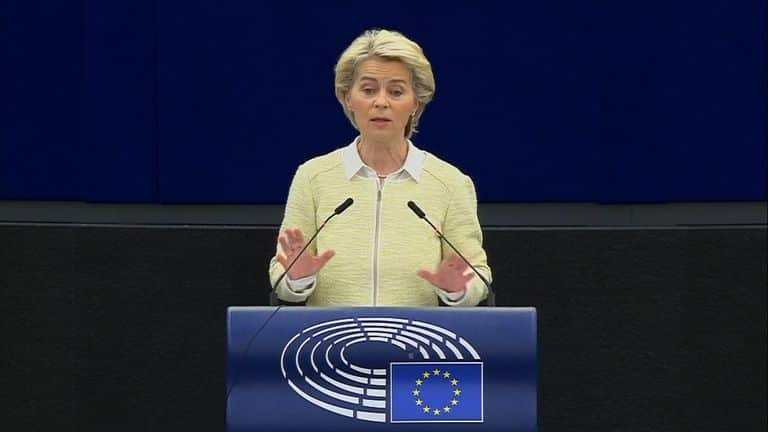 Ms von der Leyen proposed: "This will be a total import ban on all Russian oil, transported by sea and by pipeline, crude and refined.
"It will not be easy. Some member states are heavily dependent on Russian oil. But we just have to work on it."
"(Vladimir) Putin must pay a price, a high price, for his brutal aggression," he said to applause in the parliament chamber. The Kremlin responded by saying it was evaluating his options.
The EU move follows a similar measure announced by Great Britain in early March, but the country gets much less oil and oil products from Russia than many EU member states.
Hungary and Slovakia had already threatened to veto any outright ban before the announcement, though they will have until the end of 2023 to phase out Russian oil.
While the EU depends on Russia for around 26% of its supplies, Slovakia gets more than 90% of its oil from Russia.
Most of Hungary's oil also comes from Russia.
BRUSSELS FACES CLIMATE BACKFACE TO RUSSIA'S BAN PLAN
Before the proposed ban on Russian oil imports was announced, there was concern that three major countries could block it: Germany, Hungary and Slovakia.
In recent days, Germany has signaled that it will not stand in the way. Essentially, ever since the war in Ukraine began, the country has been working hard to find alternative oil supplies and now apparently feels secure enough in its backup plan.
Ultimately, shutting off Russian gas supplies is a much bigger concern.
Slovakia and Hungary are a different matter due to their high level of dependence on Russian oil supplies. The reported waiver it would give them until the end of 2023 before the ban takes effect may be enough of a compromise for the plan to cross the line.
Despite this, activists are angry at what they see as a lukewarm move.
Marissa Reiserer of Greenpeace Germany told me: "It is hard to bear that the EU wants to buy Russian oil for another six months while people are being killed in Ukraine every day. Germany, as the biggest buyer, and the vast majority of EU states could stop oil imports much sooner. There is no justification for filling Putin's war chest in the coming months."
It's a sentiment echoed by his colleagues in Hungary, who warn that rather than hang on to Russian oil supplies, the government should seriously focus on securing power from a variety of sources, including its own renewables.
In this way, they say, Hungary can ensure that it does not become an energy hostage for other states in the future.
Germany, which had initially been reluctant to support such measures, managed to reduce its share of Russian oil imports to 25% and signaled that it could now face an embargo.
However, the country's economy minister admitted on Wednesday that there were no guarantees supplies across the region would be uninterrupted, with EU countries likely to face higher prices to replace Russian production.
Hungary remains skeptical and could still shoot down a deal.
Read more:
To what extent does the EU depend on Russian oil and what are the consequences of banning it?
Government spokesman Zoltan Kovacs said of the plan: "We do not see any plan or guarantee on how a transition based on the current proposals could be managed and how Hungary's energy security would be ensured."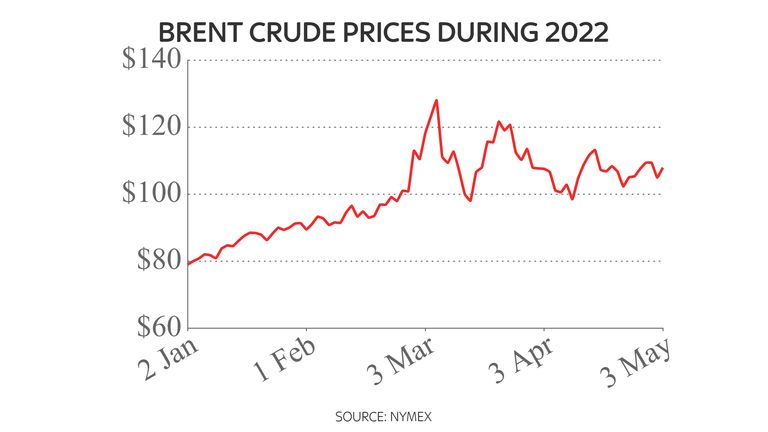 The EU announcement was credited with lifting Brent crude prices on Wednesday morning by more than 3% to just under $109 a barrel.
There was no announcement from the Commission about any measures targeting gas imports.
But Ms von der Leyen said there would be new sanctions to ban Russian broadcasters RTR-Planeta and R24 and target banks, including Sberbank.
Subscribe to Ukrainian war diaries at Apple Podcasts, Google Podcasts, Spotify Y speaker
He said Russia's largest lender and two others would be added to the SWIFT messaging system's excluded list.
More senior Russian military officials will face asset freezes and travel bans, he said, without disclosing names.
Simone Tagliapietra of the Brussels-based think tank Bruegel said the energy strategy was dangerous because it risked adding to Europe's existing inflation problem.
"In the short term, it could leave Russia's revenues high and imply negative consequences for the EU and the global economy in terms of higher prices, not to mention the risks of retaliation (by Russia) on the supply of natural gas" , said.


Reference-news.sky.com