Oaxaca, Oax. 12 years after Mexico City decriminalized the abortion Until week 12 of gestation, in September 2019, Oaxaca became the second entity to do so. Two years have passed since the local Congress approved these reforms to the law, and there are still loopholes that prevent the women access this right.
Itzel N needed to terminate her pregnancy, she knew that it is legal to do so in her state, but when she went to the Health Center of Juchitan, the town where he lives, they told him that he had to go to the city of Oaxaca; in the capital there are the only two units where it is possible to carry out this procedure.
Isabel G, for her part, a resident of the Oaxacan capital and a restaurant worker, learned that she was pregnant until the 11th week of pregnancy; She went to the Dr. Aurelio Valdivieso General Hospital but due to the progress of her pregnancy, she could not interrupt it for free and safely. In this unit, the procedure is only carried out when the pregnant person is suitable to perform with medications; no interruptions are made with the surgical method.
Tania L never went to the medical units either in her community or in the capital; she found information on the internet, got the pills and terminated her pregnancy at home with the sole accompaniment and follow-up of her family and friends.
Legal is not the same as universal
The decriminalization of abortion It would mean being accompanied by systems that provide, in a comprehensive and universal way, the right to interrupt a pregnancy to all women and pregnant people who so wish. No matter where they live, their socioeconomic circumstances, their ages, or the reasons they are making that decision. In reality this does not happen; In Oaxaca there are still important obstacles and pending issues to be resolved in terms of education and access to sexual, reproductive and family education.
In an interview with The Economist, Valentina Jaso, member of the collective The Oaxaca Councilors, said that even with the decriminalization in 2019 and the work and activism of women and organizations for having comprehensive health systems, the road is still long.
Although decriminalization relaxes the limits we have to accompany women in their decisions and processes, the reality is that the capacity for action remains limited. So far, safe and free pregnancy termination services can only be received in two places: the General Hospital and the Women's Clinic, both are in Oaxaca capital. And they can only be done with medications. But all the women who are outside or who do not have economic possibilities or even information are left behind in their right, he said.
Currently, the integration of these services in the Health Center of the Volcanes neighborhood is in process. Also in the city of Oaxaca.
The collective, which since 2008 has been working to inform and accompany -without stigma- women and pregnant people in their sexual and reproductive decisions, shared that one of the important events since the decriminalization of abortion in 2019 was the increase in requests advisory. "Now we have more calls or requests for information, but after we told them about the options, they don't call again and we lose track; sometimes for financial reasons, sometimes out of fear or simply because they do not have the means to continue with their processes ".
In the city of Oaxaca and the capital of the state there is also a clinic specialized in sexual and reproductive rights that offers services for the termination of pregnancy safely, but not free of charge. Although the women and pregnant people They can request a socioeconomic study to receive discounts, the services are not free.
The alternative of safe abortion at home ends up being the only option for those who wish to terminate their pregnancies and have no means or resources to attend the capital.
Las Consejeras Oaxaca obtains and supplies Misoprostol and Mifepristona to those in other communities. They respond to requests for information and advise, guide and give psychological follow-up, find spaces on the radio or on buses to expand knowledge regarding sexual and reproductive health and even translate some podcasts or texts into Zapotec so that they can function in indigenous communities. The work of groups like this one, activists and women's networks has been fundamental so that this right is gradually universal, however, these tasks correspond to the State.
Although the decriminalization of abortion in Oaxaca in 2019 implied an important advance in legal matters; basically because it prevents women or pregnant people who interrupt their pregnancies from being punished by law, the rest of the areas that cover the voluntary interruption of pregnancy are still pending.
When attending the medical units that provide these services, it was also found that they do not yet have specific protocols or guidelines to carry out these procedures; which ends up increasing the difficulty for people to access this right or even make it impossible.
They keep traveling to CDMX
Between 2019, 2020 and the first nine months of 2021, the Legal Interruption of Pregnancy units in Mexico City have attended 41 users from Oaxaca, which suggests that there may be women who could not access services on their own state, even though it is assumed to be legal and available; because they could not access them or because they were unaware of them.
In this sense, Valentina Jaso from Las Consejeras Oaxaca highlighted that indeed, two years ago abortion was decriminalized in the entity but many women do not even know it.
Two years after the decriminalization of abortion in Oaxaca, progress has been modest and largely the product of the community and support networks between the population and civil organizations. But abortion, although it is already legal, is not yet a universal right, nor is it totally free, and as a result of this, it has not become a safe procedure either.
Exercising autonomy over the body and life projects is a basic public health right, but decriminalization will not be enough to guarantee it as long as it is not accompanied by comprehensive and intersectional policies that contemplate conditions and diversities in sexual and reproductive matters.
After Oaxaca three more states (Veracruz, Hidalgo, and Baja California) have removed voluntary abortion as a crime from their local codes. At the same time, historically, the highest court in Mexico declared that it is unconstitutional to criminally punish women and pregnant women who terminate their pregnancies voluntarily.
These advances, broadly speaking, mean that no one else will go to jail or face legal proceedings for having an abortion. It is still pending to universalize this right, generate specialized protocols and give these services totally free. In states where it is still illegal, and where it is already legal as well.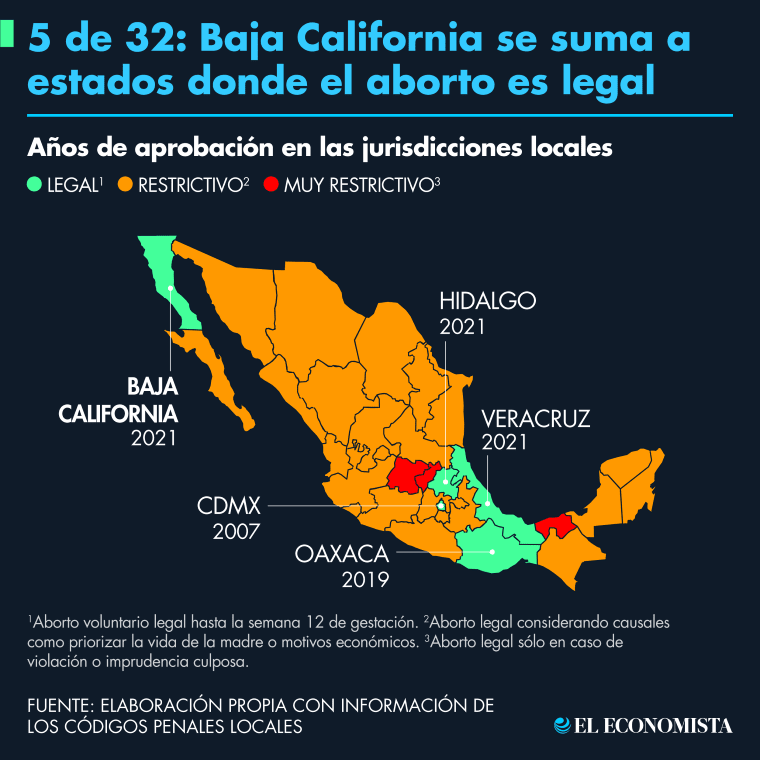 Reference-www.eleconomista.com.mx