Saturday, July 16: On the CFL; fare-free transit; bagpipers and bylaws; and more. Write to us at [email protected]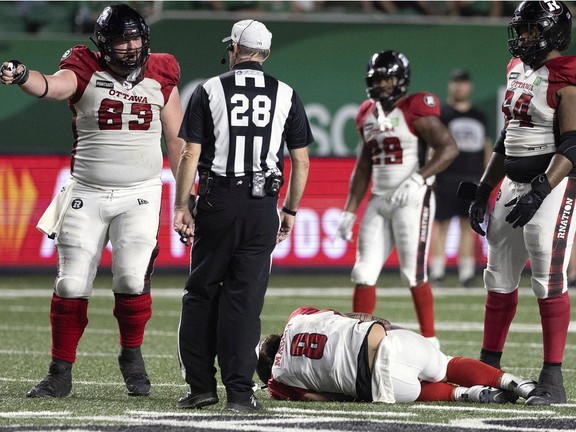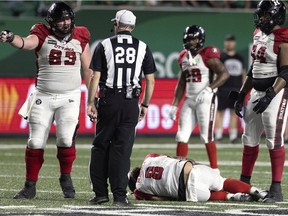 Article content
Hit on Masoli deserved much tougher punishment
Article content
Re: While waiting for news on injured Masoli, Redblacks need to move on, July 9.
I still believe that sportsmanship and respect for your opponent are, for the most part, alive in both professional and amateur sports. But as a 50-plus year follower of the CFL, I was sickened by the cheap hit on Ottawa quarterback Jeremiah Masoli by Saskatchewan Roughrider Garrett Marino, followed by Marino's caveman-like celebration after.
And what does Marino get as punishment? A four-game suspension. Meanwhile, Masoli is awaiting surgery on his injured leg and is most probably out for the remainder of the season.
Marino is a repeat offender. He has embarrassed his team and the league. If the Roughriders don't do anything about him, CFL commissioner Randy Ambrosie, should step in and upgrade his suspension to the remainder of the  season.
Article content
Doug Miller, Barrhaven
Saskatchewan team an embarrassment
The Saskatchewan Roughriders and some of their fans are an embarrassment to the CFL and to society. One of their players intentionally injures the quarterback of an opposing team, and while that player lays injured on the field receiving medical attention, the offending player flexes his muscles, poses, preens like a peacock and blows kisses to the crowd. Some Saskatchewan fans cheer him while he is doing this. It also comes out afterwards that the Saskatchewan player also made racial slurs.
What made this situation even worse is that some Saskatchewan fans continued to defend the dirty hit and the player's disgusting antics in the CFL fan blog. The Saskatchewan Roughriders only reached out to the RedBlacks and their quarterback after a statement was sent out by the injured player.
Article content
To intentionally hurt an opposing player, hurl racial insults, then celebrate while a player lies on the field hurt is abhorrent and disgusting. The offending Saskatchewan player should be suspended for the entire season and the Saskatchewan footballteam fined heavily. Anything less makes a mockery of the CFL.
Chris Molinski, Belleville
Say 'no' to fare-free public transit
Re: Fare-free public transit in Ottawa 'not a wise decision,' Mayor Watson says, July 13.
The issue of fare-free transit can easily be resolved once and for all by adding the following referendum question to the ballot on municipal election day, Oct. 24: "As an Ottawa property taxpayer, are you willing to pay a substantial increase in property taxes for free transit in Ottawa — Yes or No?" As a property taxpayer and non-user of OC Transpo/LRT, I would vote "no."
Article content
Leo Berndt, Ottawa
Say 'yes' to fare-free public transit
Does City of Ottawa really need to spend money to study the cost of free transit?
Continuing to subject those who cannot afford a $800,000 home or vehicle to exorbitant fares for inconsistent and poor transit service does not create a liveable or benevolent city. Nor do hospital, long-term care staff and many other important workers not have the option of a "virtual" commute.
To put into context the tax increases calculated by city staff to provide fare-free transit, the calculated tax increase for an $800,000 homeowner ($930) only purchases seven monthly transit passes at current rates. A full year of monthly passes costs $1,506. Fare-free transit has the dual effect of supporting those who cannot afford cars and encouraging less use of cars by those who do have them. Luxembourg and Malta have or will implement free transit. Perth, Australia has a Free Transit Zone. Chambly, Quebec is a small municipality that implemented fare-free transit  in 2012 on an equally small tax base.
Article content
Past municipal decisions to embrace urban sprawl continue to cost us all. Allowing the development of suburban communities without the matching infrastructure for public transit was not wise. Difficult times require difficult decisions, not more studies. I would encourage those on the ballot for this fall's election to add the promise of a fare-free transit (zone) to their platform.
Mark Shulist, Gloucester
Auditor general's convoy hearings flawed
Re: Hearing reveals deep split over response to convoy, July 13.
The LRT inquiry is cutting to the chase, but the city auditor general's hearing on the convoy protest seems deeply flawed. It suffers from a severely loose research design, because it gives equal time to those who live, work or study in or near the occupied zone, and those who live, work or study outside the zone.
Article content
In the former case, these citizens had no escape and were obliged to be in the occupied zone or close by for up to 24 hours a day, for up to 23 days.
In the latter case, it was a matter of choice about whether to enter the occupied zone and when to leave. Testimony to-date reveals that many outsiders who went into the zone were there to express support for the occupiers with seemingly no regard for area residents or businesses.
The lack of discretion in hearing design is another slap in the face to downtowners who endured many painful days and nights. I am troubled by the city's auditor general engaging in a hearing of this sort, which will at best be a bust because good answers do not result from bad questions.
Barry Wellar, Nepean
Article content
Bylaw should have left bagpiper alone
Re: Busking bagpiper sings the blues over tickets for encumbering a roadway, July 11.
Shame on Ottawa bylaw officers for ticketing the bagpipe player. Incessant honking, open fires and harassing locals are ignored but a single busker is fined. Apparently, a solo musician standing on the street is a dangerous safety threat because he may impede emergency vehicles, but hundreds of illegally parked trucks and thousands of wandering stress-inducing protesters are not.
I am embarrassed once again by the actions of my city.
Benita Baker, Nepean
Ticketing bagpiper hit a sour note
For someone to be ticketed $2,260 for playing the bagpipes is despicable. What is next? For government officials to shut down a little girl's lemonade stand?
Article content
Peter Hedden, Kanata
The Scots will have their revenge, Ottawa
I cannot believe that Nico Gravel was fined $2,260 for playing bagpipes on an Ottawa street. He should instead have been paid for entertaining people and there should have been a much different story written bout him.
If not, I anticipate that the spirits of all our hard-working, pipe-loving, Scottish ancestors will find a way to get revenge. Remember that they helped build Canada. Pipers should be allowed to play their bagpipes anywhere at any time. If you still have some of Scotland in you, you remain a true Scot, and the sound of the pipes causes jiggling of the cells.
Jeanette Mather, Kanata
Let's see donors' lists before election
Re: Sutcliffe says he won't accept developer donations, July 12.
Article content
"Show me your donors' list before election day," is my response to any mayoral candidate who says they will not accept donations from those in the development industry. A promise is one thing, but will Mark Sutcliffe issue his donors' list before advance voting starts in late September?
I noted that Horizon Ottawa "intends to produce another report tracking developer donations to candidates once 2022 donor lists are released." That will be too late for voters who want to know before they vote if candidates have accepted development industry-related donations.
Transparency builds trust and that has been sorely lacking with the current mayor. I expect all mayoral candidates to demonstrate how they will do better.
Article content
William Beddoe, Ottawa
An appeal from the ArriveCAN app
Re: Letter, What use is the ArriveCAN app? July 9.
Hello travellers! The real ArriveCAN app here. After more than two years dealing with COVID-19, I get it: you're tired. I wish we didn't have to meet the way. But now that I'm here, give me a chance to improve your travels.
At the beginning of the pandemic, Canada's top doctors asked for my help to collect your health and travel information so they could get the data they need to protect you. I was and still am the easiest and most secure way for you to show you meet public-health requirements. I'm also faster than my elementary friends, pen and paper.
I've grown a lot since we met. I've listened to you and some of the challenges you faced. I continue to do my best to make things easier and better for you. Do you know that you can save your profile information so you don't have to re-enter it when you complete your submission for your next travel? It's so much faster.
Article content
Now I've been asked if I can continue to help. And I said yes! You already know me and some of you have even put me in your favourites (blushing emoji). Just last week, nearly 1.4 million travellers successfully completed their public-health submission.
I have an extra feature that I think you'll like. But this one is optional: you can now submit your customs declaration before you arrive in Canada. This will save you time at the airport when you land. Right now, this optional feature is only available at Vancouver International Airport and Toronto Pearson International Airport but soon, you will be able to use it in Montreal and other airports across the country.
Relationships with new technology can be rocky, but when you get the hang of it, you start to see how helpful it can be. Think of when you first started using your banking app. I'm sure you would have a hard time doing without it today.
Article content
Mx. ArriveCAN (a.k.a. Rebecca Purdy, Ottawa, Canada Border Services Agency spokesperson)
Politicians take action when they're affected
Re: Rogers to credit customers with equivalent of five days of service for outage, July 13.
Although the Rogers outage was awful, I marvel at the government's quick response. Soon there will be safeguards through other telecommunication companies. Why did the government react so quickly? Did anyone die? No, I think it's because these politicians were personally affected.
Let's have our politicians go through our medical system like the rest of us. Perhaps then, we will see action. Have people died? Yes, through long wait times and delayed surgeries. Have politicians been affected? No.
Article content
Lucie Masson, Orléans
Refreshing take on 'cultural appropriation'
Re: Cultural appropriation — Borrowing from others is not an inexcusable sin, July 13.
Congratulations to Barrhaven high-school student Nana Adoboa Nuama-Mensah for her thought-provoking reflection on the challenges of policing cultural appropriation and the value of exchange and collaboration. I have been sensitive — even afraid — of being accused of cultural appropriation at times, but the writer proposes an alternative which I am curious to explore as an artist and member of a community rich in cultural diversity. I applaud this young "leader for change" for her articulate thoughts and simple words: "Sharing is Caring!"
Carole Ince, Ottawa
Article content
Hospitals need sign language translation too
Re: Lost in translation, July 11.
As noted in this article, clear communication is vital in medical settings. This includes sign language as well as spoken languages.
The 1997 Supreme Court Eldridge legal decision underscored the constitutional right for deaf and hard-of-hearing people to have a trained sign language interpreter in medical settings and hospitals. This benefits the medical staff as well as the patient: staff get information they need  to make diagnosis and treatment decisions and they are assured that the information they give the patient is clear.
Yes, this requires hospitals to budget for interpreter accessibility; however, the benefit to staff and patients outweighs that cost by far.
Article content
Judy Michel, Orléans
Canada's right to return parts to Russia
Re: Canada is facilitating Russia's energy blackmail, July 14.
Canada is being criticized by Ukraine President Volodomyr Zelenskyy and others for returning turbine units for compressors that may allow Russia to increase its exports of badly needed gas to Germany and other countries in Western Europe. This decision to help Germany was supported by the United States.
Western sanctions on oil and gas have backfired badly because they did not take into account what economists call the elasticity of demand. The reduction in Russian oil and gas shipments caused huge increases in prices, which more than offset the decline in shipments. As a result, Russia is getting more foreign exchange now than before the sanctions were imposed and its currency has appreciated. Meanwhile, Europe is badly suffering from energy shortages and the situation may get worse.
Article content
The problem now is to convince Putin to ship more gas to Europe, not less. Canada has taken the right decision in returning these compressors.
François P. Jeanjean, Ottawa
What about those gold shipments from Russia?
Your news stories note that Prime Minister Justin Trudeau has defended his decision to return the Russian turbines. Furthermore, Ukrainian leader Volodomyr Zelenskyy called in Canada's ambassador in Kyiv over the issue and "said it would be perceived as a manifestation of weakness."
Earlier, the Citizen reported "more than three tons of gold was shipped to Switzerland from Russia in May, according to data from the Swiss Federal Customs Administration." Apparently it was the first such shipment since February.
I would certainly be curious to know what Zelenskyy said to the Swiss government on that matter.
Margaret Tyson, Ottawa