Valentina (fictitious name) goes to the clinic Computer from Madrid. He goes to a consultation to practice his second abortion. She is accompanied by a child and another woman. They are both Latina. Before you walk through the door, it approaches you Bernardo, a 20 year old ADE student. She has some brochures in her hand. The boy introduces himself and starts a chat with Valentina. Bernardo explains to her that if she doesn't want to have an abortion, she doesn't have to. He talks about what alternatives he has. Valentina listens carefully. After about five minutes, the young man hands him a brochure. "The big one, because she seemed quite interested," Bernardo would later tell EL ESPAÑOL. Then he says goodbye:
—Know that you are still on time —Bernardo says.
—Thanks —Valentina responds.
What just happened may soon be illegal. Bernardo could even fall three months in prison or one year or work for the benefit of the community. The Socialist Parliamentary Group presented last Tuesday in Congress a bill to reform the penal code and add an article that penalizes those who "harass or restrict freedom of a woman who intends to exercise her right to voluntary interruption of pregnancy. "The chamber, with the exception of PP and Vox, gave the green light to the proposal.
"I'm afraid"Bernardo responds when asked how he feels if the reform is successful. "I believe that what I do is necessary and that we do not harass, or harass, or intimidate women," he assures in conversation with this newspaper at the door of the clinic. "We are only here to help them," he adds.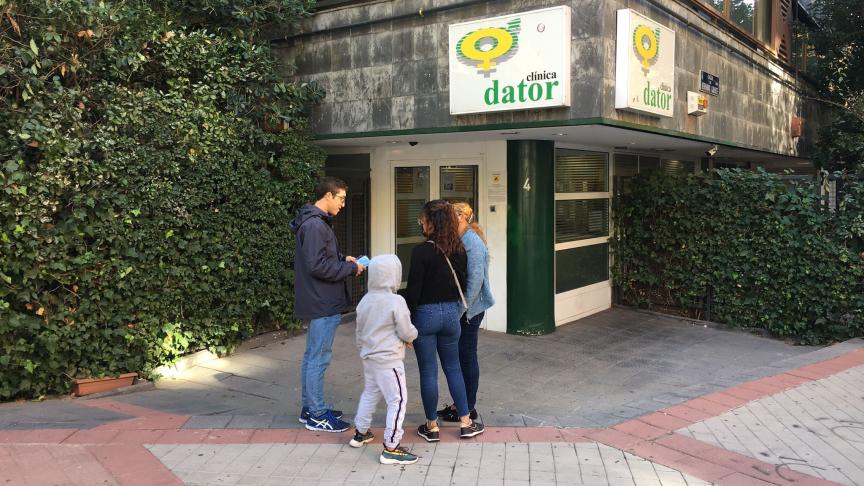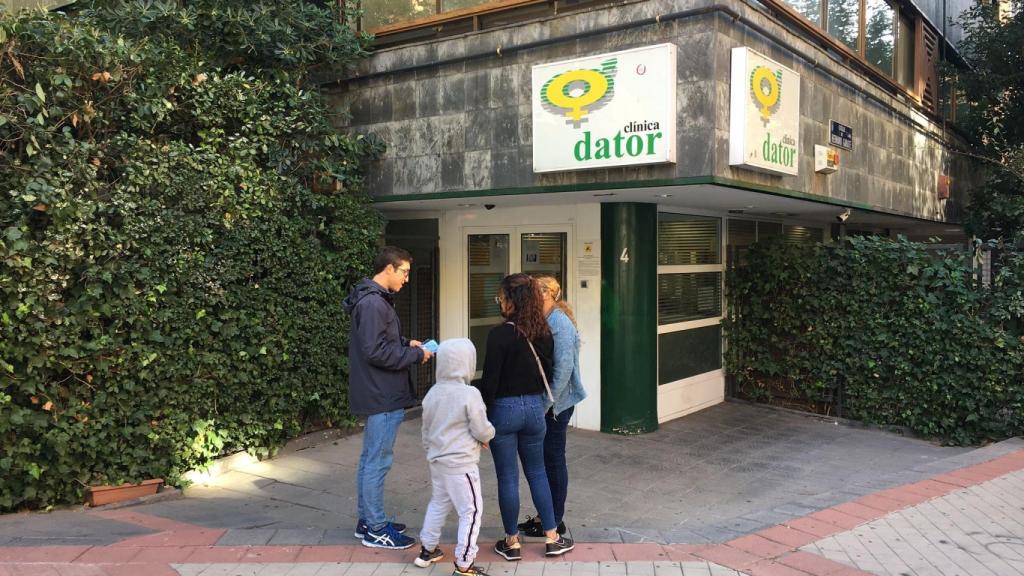 Bernardo is part of a 'pro-life' foundation. Your volunteers -or "rescuers"– as they define themselves, they go every Saturday to the doors of the Madrid clinic. This Thursday they did it to vindicate their activity after the approval in Congress of the proposal that seeks to punish them.
'Pro-life' activists
Near Bernardo, there is a van parked at the intersection in front of the Dator. It is an "ambulance" that offers free ultrasounds to women who come for abortions and the consultation of a 'pro-life' doctor, the doctor Jesus Poveda. He is an old acquaintance in this type of rally. Several December 28 – Holy Innocents Day – the police have arrested him for sitting at the gates of the Dator. "I'm going to turn that into a nursery", tells a friend who is also present.
Next to the van there are also Amelia Good and the journalist Luis Losada. The first is a psychologist and forensic and has been a pro-life activist for more than 20 years. The second was strongly linked to the Intereconomía Group since Make yourself heard. "The police come here every Saturday, they identify us and they never take us into custody, because they verify that there is no harassment or harassment, "says Losada." The crime of coercion has already been established and what they want to do is nothing other than a violation of freedom of expression, "he continues.
Losada warns that the foundation will sue the clinic for a repeated crime of "false report". He explains that it is the center that calls the police whenever they detect their presence, accusing them of intimidating the women. As Losada says this, a woman leaves the clinic to smoke a cigarette. It's the manager: "I'm not going to talk but I've been here for 25 years and this is my daily bread," she comments wearily.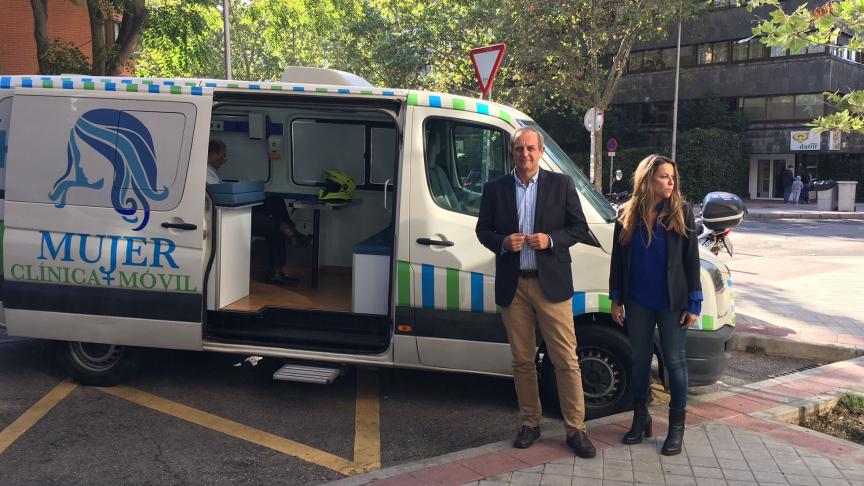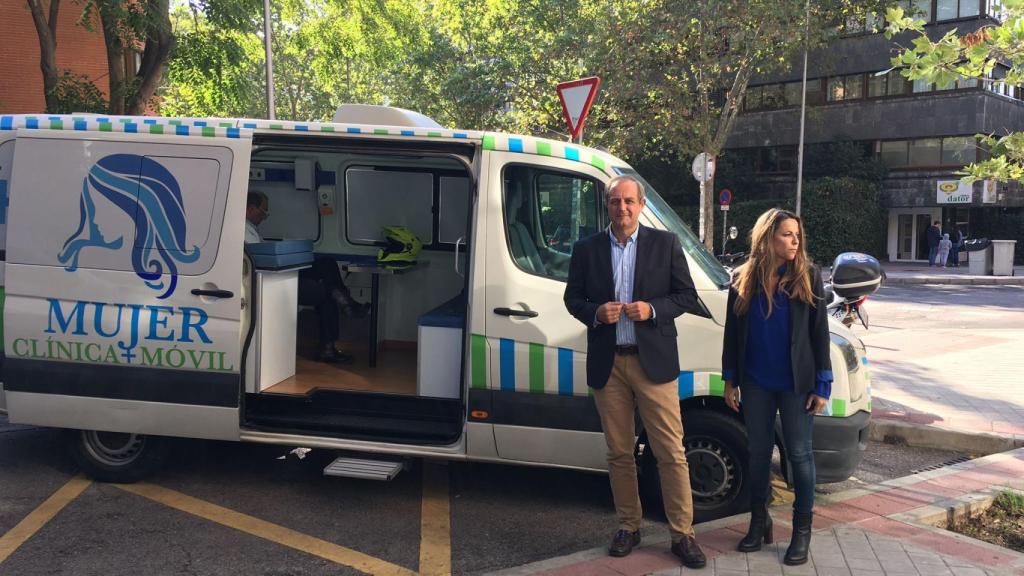 In addition to Bernardo at the door and the van, in front of the street he concentrates a group of young people that varies in size as the hours go by. They hold a sign that reads: "We pray for you and your baby". Their murmur is heard as they pray the rosary. They are volunteers for a new pro-life campaign, "40 days for life", which started a day after Congress passed the reform.
They pretend to be in front of abortion clinics in different cities of Spain for 40 days. "I cannot conceive how a woman can kill something that she carries within herself," says Alejandra, a 21-year-old teacher student. Meanwhile, two cars of the National Police approach and ask for the identifications of the concentrates. These collaborate and dfinished that what they do is not illegal. "Praying is not illegal", for his part, says Pepe, 26 years old and a master's student. "Anyone can come here and see what we do. We do not harass, we are here separated and praying," he continues.
For clinics, however, it is not just that. After years denouncing the presence of these groups in front of their medical centers, the Association of Accredited Clinics for the Termination of Pregnancy (ACAI) published in a study that there are more than 100 cases of harassment suffered each year by the more than 800 women who go to these abortion centers. In fact, it is that report on which the PSOE has relied to present the reform.
For the 'pro-life' the study is biased. Losada says it is nothing more than a employer report of the clinics that do not want to "lose clients" due to the presence of anti-abortionists who, in some cases, make women back down.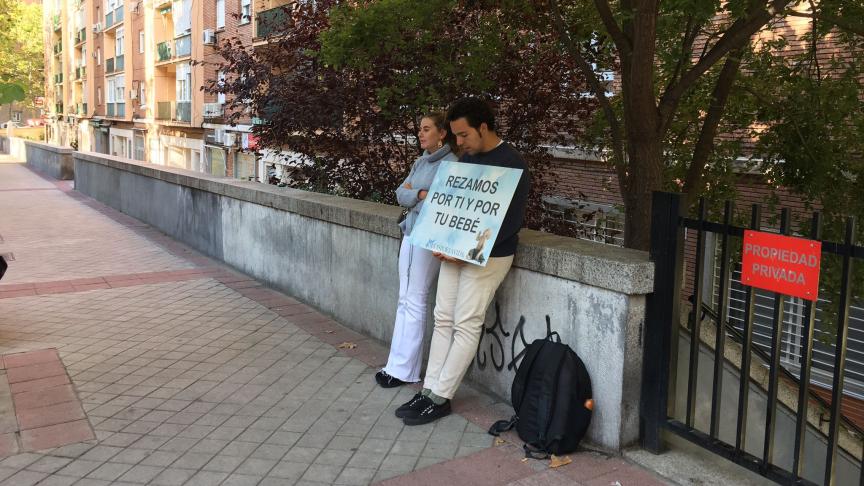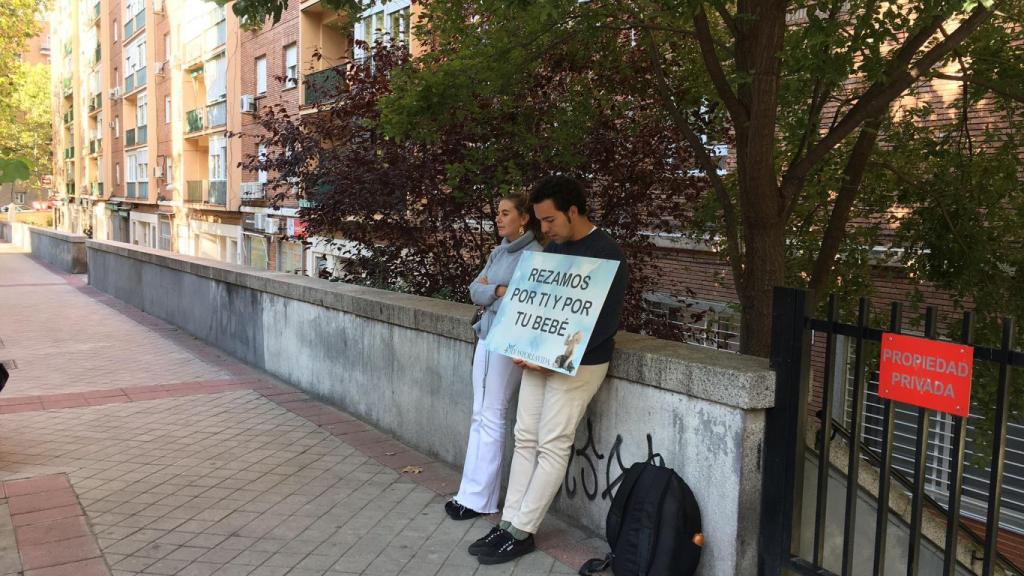 "40 days of harassment"
For her part, Sonia Lamas, Dator spokesperson, is hopeful that the legal reform will change the situation: "It is a big step to consolidate rights democratic and iron out the ideological edges that pressure women to change their minds, with harassment, harassment and in an attitude of prayer … "
"What we are witnessing are '40 days of bullying ', with a van and different posters. They say that at the clinic we don't do ultrasounds and that's why they bring the van. They cheat on women … How can we not do an ultrasound if we comply with the law and the law says it has to be done? ", Lamas continues.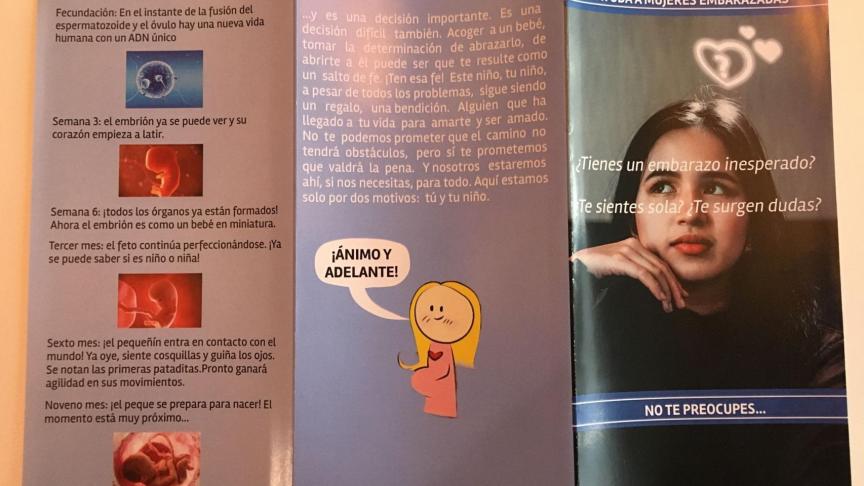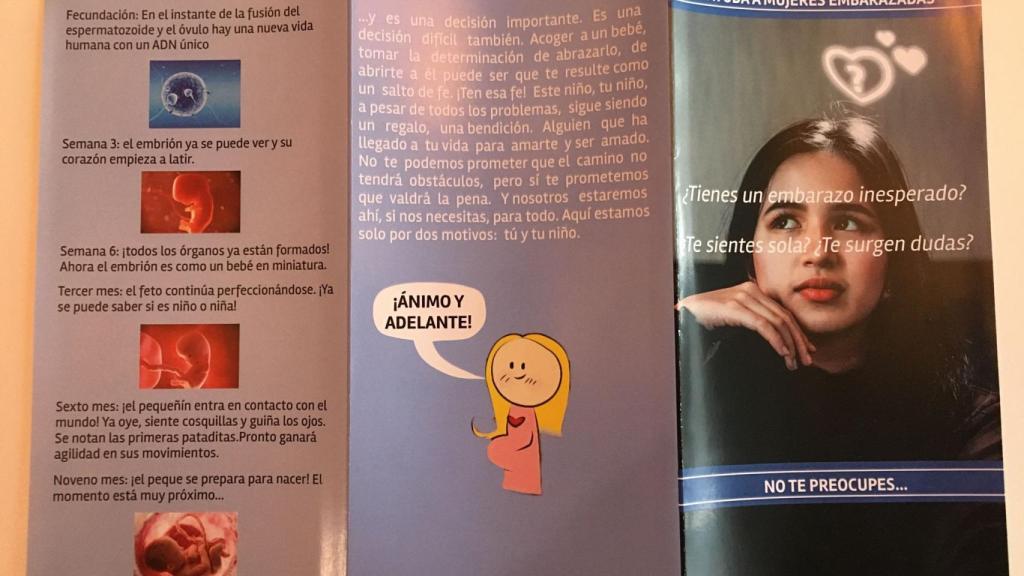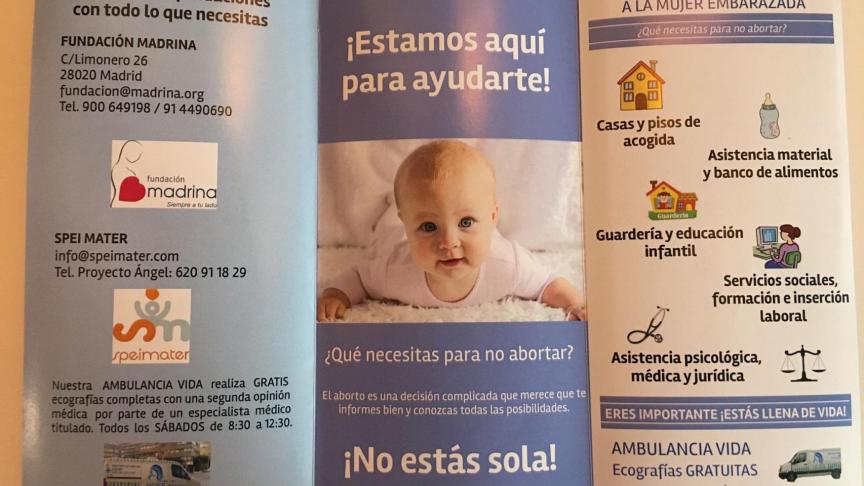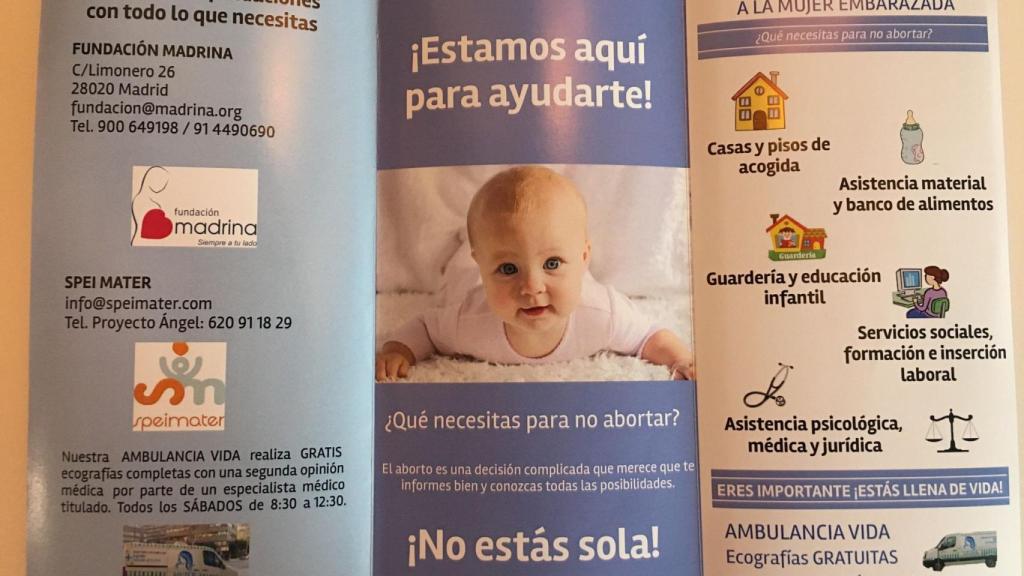 For the spokeswoman, that "pamphlets" are distributed or that "groups of 4 or 6 people approach the women" before a free decision and such a delicate moment has no other name than "intimidation." "The Francoism and the Inquisition it's a thing of the past. This is not an abortion yes or abortion no debate, this is about following the law. We fulfill it. They do not. If they do not agree, they have their democratic channels and their political parties to change the laws, but we do not want them to come here to invade the personal space of women and ask them in the middle of the street if they are going to have an abortion, "he concludes.
Valentina, the woman with whom Bernardo has spoken at the entrance of the clinic assures after the talk to EL ESPAÑOL that she has felt "comfortable". "I had an abortion once and I had a really bad time. Now is the second time, because I do not have financial resources to take care of a baby. I called an association but they ignored me, "he says. She is one who has not been bothered by the presence of the anti-abortionists. Others, according to Bernardo himself, do not even take the brochure from her.
Follow the topics that interest you
Reference-www.elespanol.com