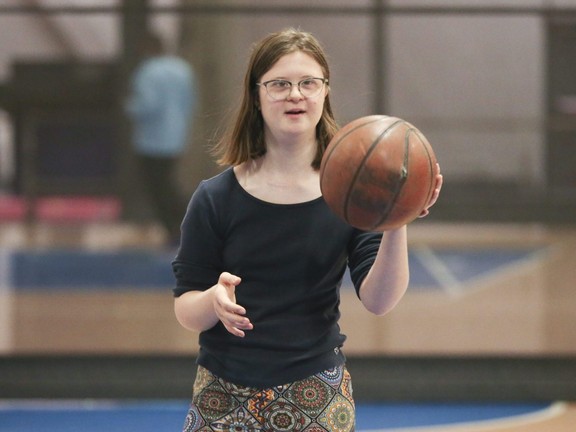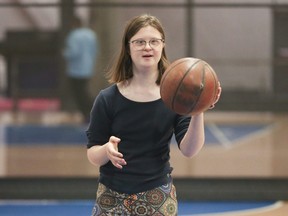 Article content
The moment Simone Purcell Randmaa was born, the delivery room fell silent.
Article content
Nurses and aides stopped chatting. All the usual joy of childbirth vanished. The room turned grim.
Article content
"Didn't you get tested?" the doctor, having skipped Bedside Manner 101, asked Simone's mom, JoAnn Purcell.
She had not. Like many moms-to-be, she had decided whatever will be, will be.
They took Simone away to check her heart and other vitals, which were fine.
In recovery, a social worker dropped a pamphlet on JoAnn's bed. Something like: Your Child Has Down Syndrome. Now What?
"Simone was the very first person with Down syndrome I'd ever really met," JoAnn tells me.
"I was in complete and utter shock. Everything came to a grinding halt and I couldn't imagine the future. I could hardly even say it out loud. 'Down syndrome.'"
Article content
Then, JoAnn's mom waltzed in from Florida, scooped up the tiny bundle and cuddled Simone like any other grandchild. A cloud parted.
It was one of many turning points in the life of Simone Purcell Randmaa, who is now 16.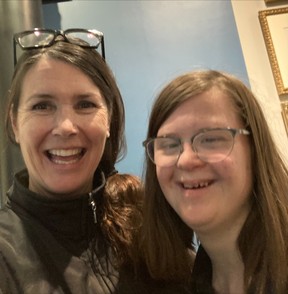 Which brings us to Variety Village, where a throng of kids is gamboling about on a PA day from school.
Variety's camps — holiday, after-school and summer — are epic and popular.
They can be tumultuous, too. Many of these kids are autistic or have other challenges that express as behavioural quirks and outbursts. At Variety, these draw none of the frowns and stares they do in the rest of the world.
Here, Simone is the peace-maker.
"She's the quiet leader type," says Brian Hay, who runs the Village's camps. "Cool and collected."
Article content
Someone gets too excited, starts grabbing everything in sight, and Simone will have a conversation with them."
In a pinch, she'll pull out her Mary Ward Catholic Secondary School yearbook, which she always carries, and distracts the mischief-maker with photos of her friends. She's in Grade 11 in an adapted program.
She's a voracious reader. Her books of choice are Elephant and Piggie and Dr. Seuss.
As the good doctor would say, "Today you are You, that is truer than true. There is no one alive who is Youer than You."
"We love her," says Brian. "She a staff favourite in all our programs. She really cares for the other kids."
"And I have a beautiful voice," adds Simone. Which she does, of course. Her current theme song is Celine Dion's "My Heart Will Go On." She dressed as Celine at Halloween.
Article content
You will never meet a calmer, kinder 16-year-old, but there is sadness in Simone, too. From time to time, at home or at camp, she says, "I miss daddy."
THE WILL TO WIN: Variety teen embraces wheelchair sport

STROBEL: $117,124! Sun's Variety Village fundraiser a runaway bestseller
Ric Randmaa was just 57 when he died of a heart attack in June 2019.
"They had a special relationship," says JoAnn. "He was endlessly patient with her."
At a portable basketball net in an alley by their Leslieville home, Ric taught Simone to shoot buckets. Hour after hour.
She has not lost the touch.
In Variety's fieldhouse the other day, she sinks free throws with alarming regularity. She enjoys nothing more. I guess it connects her to her dad. She holds the all-time day camp record of 10 straight. Nick Nurse, take note.
Article content
Variety Village, says Simone's mom, offers "not just inclusiveness, but a complete sense of belonging, that every single person, with every way of navigating the world, belongs there.
"I find that extraordinary."
It is, indeed. So is Simone.
"She's taught me to love in a way I'd have never known," says JoAnn, a Seneca College prof. "She's taught me about human difference and opened my eyes to a whole new way of being in the world."
I think the delivery room personnel who grew so grim when Simone was born 16 years ago would have a different response were they to meet her now.
I think they would stand and cheer.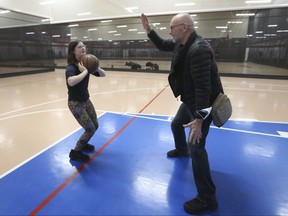 OFF TO THE RACES …
The ink was barely dry on the Sun Christmas Fund for Variety Village launch when donations started coming in.
Article content
The fund goes to help Variety help kids like Simone navigate the world. The Village, in Scarborough, is known for accessible sports, but offers all sorts of activities geared to kids with disabilities.
Over the years, we have raised $1.7 million for the cause.
Watch for promos in the Toronto Sun in coming weeks, including details on draw prizes — or donate directly at sunchristmasfund.ca.
Last year's tally was a record $117, 124, so a tough hill to climb, but we've made a good start, thanks to these generous early donors:
Michael Bendixen, Toronto, $50
Sheila Miceli, Toronto, $100
Dick van Delft, Pickering, $75
Joe and Sylvia Saunders, Oshawa, $100
Ron Collum, Oakville, $150
Barry Pound, Scarborough, $25
Anonymous, $100
Article content
Mike O'Hearn, Scarborough, $100
Bob Brown, Etobicoke, $50, In honour of Michelle, always remembered and loved
Norman Trowell, Sudbury, $50
Jane Borland, Mississauga, $100
Stephen Gregoire, Toronto, $200, In honour of Madison Ambos
John Robinson, Toronto, $50
David Evans, Toronto, $100
Siobhan Dooley, Oakville, $40
David Moss, Etobicoke, $200
Carolina Cameron, Scarborough, $100
Everett Lamb, Richmond Hill, $10
Chris Spilar, Bolton, $50
Frederick Middleton, Toronto, $50
Mike Madill, Toronto, $325
Robin & Ria Searle, Oakville, $50
Bill & Chris Down, Toronto, $50
Debbie Forrester, Toronto, $50
Douglas G. Maunder, Scarborough, $100
Steven Ord, Toronto, $50
Allan Matthews, Ajax, $25
Mike Dowdall, Barrie, $50
Article content
Suzanne Cuff, Ottawa, $100
Gerard Baribeau, Scarborough, $200
John Mills, Whitchurch-Stouffville, $250
Gayle Corcoran, Toronto, $50
Lorraine Joyner, Toronto, $200
Robert Fleischman, Toronto, $100
Ron Lindemann, Scarborough, $50
Jacques Senecal, Toronto, $25
Gary Fishlock, Toronto, $300
Jane Robinson, Toronto, $100
Denton & Marjorie Gilmour, Scarborough, $100
Gillian Roberts, Courtice, $100
Ingrid Rowe, Scarborough, $25
Evelyn McLean, Unionville, $200
Irene Tremblay, Bowmanville, $50
Josephine Derry, Oshawa, $50
Greg Vezina, Mississauga, $750
Jabbawong Story Telling Festival, Manitoulin Island, $400
Total to date: $5,450