Opinion: the blunt tools of the criminal justice system be expected to cure, or even meaningfully mitigate, the complex social problems that underlie criminal offending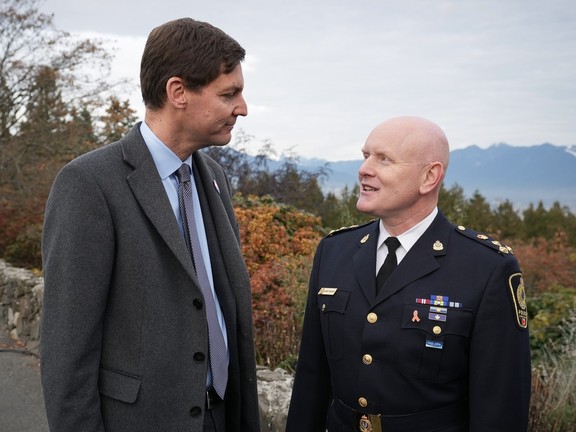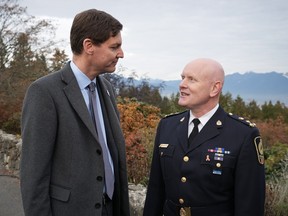 Article content
Over the past month, Vancouver has seen policing creep into politics. Whether through the Vancouver Police Department's (VPD) unprecedented support for a mayoral candidate — Ken Sim and the ABC Vancouver group — or the recent unofficial audit of the Downtown Eastside (DTES) commissioned by the VPD and funded by public dollars, the city's police force has been blurring the lines between public servants and political lobbyists.
Article content
While the VPD has downplayed any intention to sway public opinion (and dollars) their way, these forays from policing into policy share one theme: The cure to Vancouver's myriad social problems is more police.
Article content
The rhetoric is that more police will keep the prolific offenders off the streets and stowed safely away in jail, leaving a safe, clean and free community for the rest of us.
This perspective misleads the public and misses the issue. Vancouver, like other cities in our province such as Victoria, Surrey, Nanaimo and Kelowna, is facing a human crisis of enormous proportion, driven predominantly by homelessness, mental health, and addiction.
Residents of Vancouver's DTES, and other similarly situated neighbourhoods, face this reality every day. Our neighbours prone on the sidewalk, passed out or passed away. Businesses vandalized. Troubled cries of the unwell. Squalid living conditions and human suffering spanning city blocks. Are crime and violence part of the problem? Without a doubt.
Article content
But more police will not solve the problem, whether temporarily or in the long-term. Nor can the blunt tools of the criminal justice system be expected to cure, or even meaningfully mitigate, the complex social problems that underlie criminal offending.
After all, is it really any surprise that a judge might be reticent to throw the desperately poor and mentally ill into jail cells where they will get no meaningful help for what led them there in the first place?
Premier David Eby just launched the Safer Communities Action Plan, an initiative aimed at establishing a collaborative and co-ordinated approach — between law
enforcement, community service organizations, justice system actors, health providers and those recovering from addiction and with mental-health challenges — to improve public safety. The Action Plan mostly avoids the bait of recent calls that the solution is more police, more jail time and no more bail, instead focusing primarily on resources. Its laudable goals include complex-care housing, more resources for mental health crisis response, supports for those re-entering the community after time in jail, and addictions care at St. Paul's Hospital.
Article content
While the goals of the Action Plan are commendable, it is too soon to tell how these ideas will unfold in practice. Will information sharing between public health teams and law enforcement truly encourage addiction treatment? Or will it stifle open and honest disclosure to public health workers?
Will the prosecution's new, stricter official stance on bail for repeat offenders (defined as anybody with a recent violent conviction) align with the consistent direction from the Supreme Court of Canada that reasonable bail is the norm, detention in jail the exception? Should the repeat offender response teams — made up of police, dedicated prosecutors, probation officers, support personnel and correction supervisors — include advocates such as defence lawyers or civil rights activists?
Article content
Most importantly, will this new plan truly prioritize the rehabilitative resources needed to end (and prevent) the pernicious cycles of addiction, homelessness and offending? Time will tell.
In the meantime, we must remember that eroding the fundamental principles of our justice system is not the path to safety. At best, it shifts the problem, temporarily, to a different venue, with the inevitability that it will return in due time — likely in worse shape.
The only solution for our community safety must be focused on our community. Build a person a home, and they will live. Treat their illness, and they will recover. Give them a community, and they will give back. Send them to a cell, and they will rot, while their problems fester and spread.
Article content
Gloria Ng is president of the Criminal Defence Advocacy Society (CDAS). Mark Gervin is vice-president of CDAS. Tamara Levy, KC, and Garen Arnet-Zargarian are directors of CDAS. CDAS was established in 2015 to ensure that the voice and perspective of Criminal Defence lawyers in B.C. and their clients are included in conversations concerning our criminal justice system.
---
Letters to the editor should be sent to [email protected] The editorial pages editor is Hardip Johal, who can be reached at [email protected].

CLICK HERE to report a typo.
Is there more to this story? We'd like to hear from you about this or any other stories you think we should know about. Email: [email protected].
reference: theprovince.com