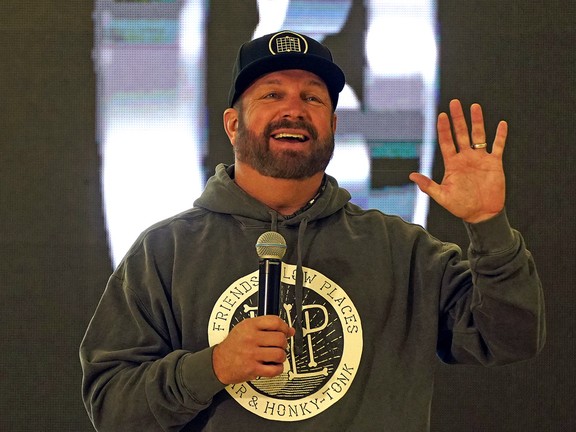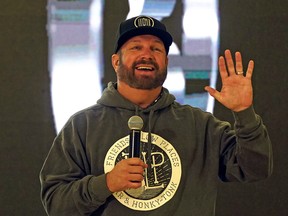 Article content
A sold-out Commonwealth Stadium will be blasting country music Friday and Saturday night as Garth Brooks makes his return to Edmonton.
Article content
The 60,000-plus seat stadium sold out both shows in less than an hour.
"Let's just blow it out and have some fun tonight," Brooks said ahead of Friday night's show.
Brooks played nine sold-out shows at Rogers Place in 2017 during his World Tour.
"And every one of those nights were badass," he said, adding he hopes to exceed those nights this weekend.
"We get this feeling in our head that because we're from Nashville or Oklahoma that we're the ones that know country music. Country music lives and breathes on this planet in places. This is one of those places. When you come to Edmonton, when you come to Calgary, you come anywhere up here you're going to have the best country music fans."
Brooks said people come to hear him sing songs like Friends in Low Places, The Dance and The Thunder Rolls, but another song is his favorite to perform.
Article content
"It doesn't matter where you're at on the planet, it'll be Callin' Baton Rouge, it's kind of like the dark horse," said Brooks.
"I think Callin' Baton Rouge just kind of flies under the radar until you announce it and then they (the fans) go to another (level) and if you're any kind of entertainer your job is to not let them come down from there."
Commonwealth Stadium is Brooks' only stop in Canada for his Stadium Tour, bringing in fans across Canada and some from the US to Edmonton this weekend.
"It's fun. There are people who have been to every city on this Stadium Tour for the last three years and they have their signs, they'll let you know and I saw 157 the other night," he said.
"We're lucky for them to show up with the attitude and the miles that they travelled, I can't explain it."
Article content
From Music City to Edmonton, Jodi Sheffield will be at Friday night's concert after flying in from Nashville Thursday night.
Sheffield said she had tickets to her show in Nashville but was unable to attend, so she flew to Edmonton with her friend to enjoy the concert and visit the city for the first time. She said Friday will be the sixth or seventh time she's seen Brooks in concert.
"He's a great entertainer and person. The shows are always very engaging and he loves his fans and his music is great, "she said.
Kerri Workman made the drive from Calgary to Edmonton with her friend and her husband to attend Friday's concert. She was in Edmonton in 2017 for Brooks' World Tour, the first time she saw him live.
The self-proclaimed "biggest Garth Brooks fan" said she was excited when he announced Edmonton as his only Canadian tour date, but sadly she wasn't able to grab tickets before they sold out.
Article content
"I was even more excited when he put on the second date for Friday and the ticket gods were in my favour," she said with a laugh.
Workman said when she was checking into her hotel at West Edmonton Mall there were people from across Canada checking in because of the concert.
"Fun for Edmonton. Fun for Alberta. Fun for our economy right now," said Workman.
"I think with COVID kind of behind us, everybody is ready to get back to some sort of normality and it was really exciting that it was Garth Brooks to be our first after two years of staying home and no concerts."
Workman and Sheffield both said The Dance is their favorite Garth Brooks song.
Following the Friday night concert, a review by Tom Murray will be available online.