A memorial service was held Monday for Elisapee Pootoogook, who was found dead at the luxury condo tower construction site on November 13.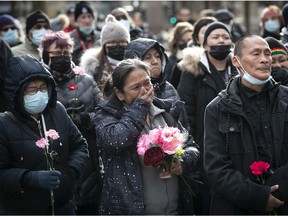 Article content
Elizabeth Quavavau said it hurts her to come to Montreal and see her brothers and sisters living on the streets.
Commercial
This ad has not been uploaded yet, but your article continues below.
Article content
"Sometimes I cry," he said. "I am losing a lot of good friends to overdosing and sleeping outside. It's hard."
Quavavau shed tears for her second cousin, Elisapee Pootoogook, who died on Saturday, November 13, likely from exposure to the elements. His body was found at the construction site of luxury condominium towers that cast a shadow over Cabot Square, a popular gathering place for the city's homeless population, many of them from indigenous communities. Quavavau was among approximately 200 people who paid tribute to Pootoogook during a memorial ceremony held in Cabot Square at the corner of Ste-Catherine St. and Atwater Ave. Monday afternoon.
Pootoogook's son-in-law, Ronald Coolen, also attended. She wanted to convey the message that Pootoogook, an Inuk who hailed from Salluit, was not just a nameless homeless woman, but had a family who loved her and will miss her deeply.
Commercial
This ad has not been uploaded yet, but your article continues below.
Article content
"It hurts a lot because I feel sorry for the people he left behind," he said. "She was very important. She was an old woman, a grandmother, a wife and a mother. Now there is a missing piece to this puzzle. "
After the ceremony, attendees walked to the spot where Pootoogook was found and placed flowers in front of a sign advertising the condo development on René-Lévesque Blvd.
Pootoogook was a familiar face to Alexandra Ambroise, the coordinator of the tent set up in Cabot Square. The Inuk woman came in a couple of times to warm herself. However, she, along with hundreds of other homeless Montréal residents, was often denied entry as there is only room for 15 people in the tent at a time and sometimes up to 450 people line up to get in.
Commercial
This ad has not been uploaded yet, but your article continues below.
Article content
"It's the first to come, the first to be served," Ambroise said with tears in her eyes. "I am very sad because if we could have had space for more people, this might not have happened."
Ambroise said the tent, named in memory of Raphael André, a homeless man who died in Milton-Parc in February, is a band-aid solution. He said the city must be prepared to provide more resources to people living on the streets because the needs are increasing.
"Every month, I see the clientele go up like an arrow," he said. "It's crazy how much it is increasing. Yes, we are here to provide services, but it hurts to know that we cannot welcome everyone to sleep inside. "
With no space in the store, Pootoogook often sought refuge in the Atwater tube station, but security pursued him. It is believed that he walked to the nearby condo towers in hopes of finding shelter there.
Commercial
This ad has not been uploaded yet, but your article continues below.
Article content
The irony of the opulent towers surrounding a gathering point for the city's most vulnerable did not go unnoticed by those attending the Pootoogook afternoon commemoration ceremony. The absence of the mayor of Montreal, Valérie Plante, was also criticized. Organizers said they had invited her to attend. Defenders of the square on Monday called on the city to support a campaign to find permanent spaces for the growing population of homeless people, as temperatures plummeted and the situation turns dire once again.
"It is important for the city of Montreal to defend our peoples," said Ghislain Picard, Chief of the Quebec-Labrador Assembly of First Nations. "I think the city has to wake up and see this as an opportunity to set an example for other cities. I will call the mayor, once again, to reflect on this. "
Youssef Amane, a spokesman for Plante, said the mayor had a conflictual meeting with Quebec Prime Minister François Legault and was unable to attend the event.
Opinion: Quebec's action plan for the homeless falls short

Allison Hanes: Homelessness is More Than a Seasonal Problem

Hanes: Welcome Hall Mission takes help where it's needed

New shuttle van to house the homeless on West Island


Reference-montrealgazette.com