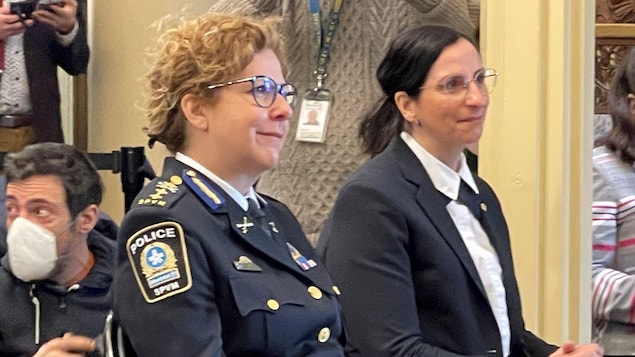 In office for less than a week, Sophie Roy assures us that she will keep the same mission as during her 34 years at the SPVMCity of Montreal Police Department : serve and protect.
We are in continuity. That's kind of why I took the interim. I know all the issues there are for the people of Montreal.
The city and crime, however, seem to have changed over the past few months. In particular, armed violence involving young people is very recurrent in Montreal and continues to increase. But the new CEO of SPVMCity of Montreal Police Department wants to be reassuring.
Montreal, it must always be remembered, remains a safe city, recognized for its quality of life, a place where one can live in safety.she said in an interview with Patrick Masbourian, at All one morning, on Radio-Canada.
" Do we have enough staff? […] There is no fear on that. We have added staff in terms of gun violence, teams are dedicated to it, but it's really the whole SPVMCity of Montreal Police Department who works on it. »
Permanent positions have therefore been added for the fight against armed violence and SPVMCity of Montreal Police Department works in collaboration with provincial teams, such as the Centaure police strategy, which aims to neutralize the trafficking of firearms and other criminal activities, she specifies.
Many resignations and retirements
However, the president of the Brotherhood of police officers of Montreal, Yves Francoeur, as well as the predecessor of Ms. Roy, Sylvain Caron, expressed their concerns about the retention of personnel and the lack of staff. About twenty police officers resigned from SPVMCity of Montreal Police Department in January and February 2022. By 2021, 40 of them had already left the ranks.
And that's not counting retirements, which can be estimated at around 200 per year, estimates Sophie Roy. But beware, there are also hirings, she insists.
In 2022, we plan to hire 220 police officers, so we arrive at approximately 20 additional resources, and that is beyond the 40 resources added to combat armed violence. [en 2021].
" You also have to understand that we are in a generation that is a little more mobile than mine, where we spent 34 years in the police service. »
So there are people who leave, but also people who arrive. And that is currently under analysis: we know how many leave, but we also want to know how many arrive with police experience from other backgrounds.she says.
And it's not about hiring just anyone either. the SPVMCity of Montreal Police Department has given itself the mission of refining its recruitment strategy within cultural communities and increasing diversity in its ranks. We have set up think tanks to move forward at this level, explains Sophie Roy. We also have a campaign to be an agent of change in SPVMCity of Montreal Police Departmentso to get even more hiring in terms of diversity.
Sophie Roy is therefore considering her mandate with confidence and enthusiasm, but she has yet to have her first official conversation with Martin Prud'homme, newly responsible for public security in Montreal and former head of the Sûreté du Québec.
Mr. Prud'homme knows the Montreal environment very well, he knows all our issues. He trusted me to entrust me with internal affairs and restructuring [du SPVMService de police de la Ville de Montréal]so I hope he will still lend me his confidence for the next few monthsconcludes Sophie Roy who ensures, by the way, not to think about applying for the position beyond her interim.


Reference-ici.radio-canada.ca