A three-judge panel of the U.S. Court of Appeals for the 5th Circuit has declined to put on hold a lower court's ruling that blocks the Biden administration student debt-relief plan.
The panel ordered on Wednesday that a ruling by U.S. District Judge Mark Pittman of the Northern District of Texas will stand while the administration appeals the decision.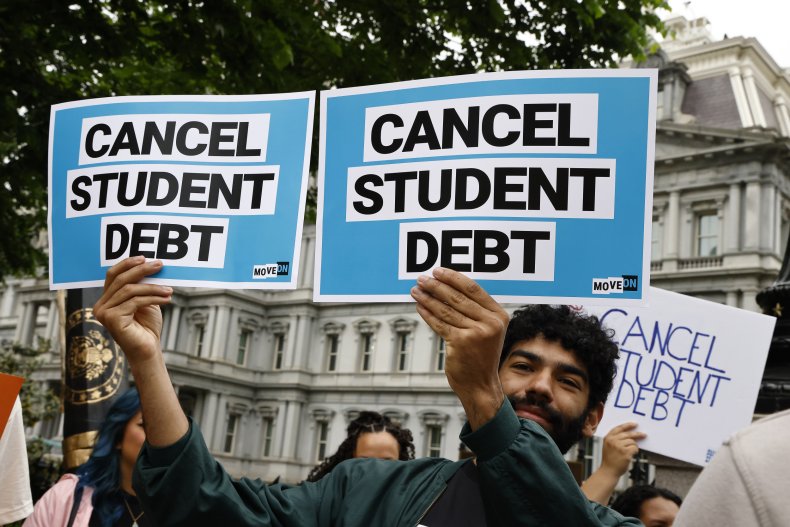 One of the three judges who made the order, James Earl Graves Jr. was nominated to the 5th Circuit by then-President Barack Obama in 2011, while the other two are Republican appointees.
Pittman, who was nominated by former President Donald Trump, ruled that the debt-relief program was "unconstitutional exercise of Congress's legislative power" on November 10.
The Biden administration had asked the 5th Circuit to place Pittman's ruling on hold pending appeal, but now that the court has ruled against the White House, they may seek to involve the Supreme Court.
In their ruling, the judges ordered "that this matter is expedited to the
next available randomly designated regular oral argument panel. The Clerk
is directed to issue a schedule for expedited briefing thereafter."
The administration has previously indicated in court filings that it would ask the Supreme Court to intervene if the 5th Circuit declined to grant a stay of Pittman's ruling.
Newsweek has asked the White House for comment.
The nation's highest court is already considering a decision by the U.S. Circuit Court of Appeals for the 8th Circuit, which has also temporarily blocked the student debt-relief program.
The 8th Circuit is considering an appeal from six Republican-led states that have asked that the student debt-relief plan be paused while they appeal the dismissal of their case against it.
The Biden administration has asked the Supreme Court to lift the 8th Circuit's order in that case, but no decision has yet been issued.
The Texas case was taken by two student borrowers who argued in court that the administration's plan was unlawful and were supported by conservative advocacy group the Job Creators Network Foundation.
That group was founded by Home Depot co-founder Bernie Marcus and led to some calls to boycott the company on social media. However, Marcus stepped down as chairman of the board in 2002.
Biden's student debt relief would cost around $400 billion over a 30-year period, according to the Congressional Budget Office (CBO). The plan would see debt forgiveness of up to $20,000 for Pell Grant recipients and up to $10,000 for others who would qualify under the scheme's income cap.
The CBO said in September that around 95 percent of student borrowers would meet the criteria for debt forgiveness, while around 45 percent would see their student debts wiped completely.

reference: www.newsweek.com