"We continue to work closely with Colt Canada, which is covering all costs related to repairing these issues."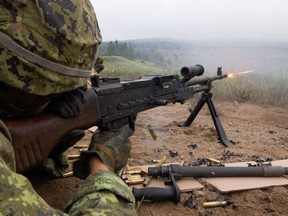 .
The Canadian Army is dealing with additional issues affecting its new machine guns being built by Colt Canada.
.
The weapons are part of a $120 million deal with the firm in Kitchener, Ontario, to build new C6A1 general-purpose machine guns. But the weapons, based on a service-proven design with militaries in more than 80 countries, have faced a series of problems with faulty parts and other technical issues, this newspaper reported last year.
.
Additional problems have now been identified and repairs will be made in the coming months, National Defense spokesman Dan Le Bouthillier confirmed. "We continue to work closely with Colt Canada, which is covering all costs related to repairing these issues," he said.
In August 2021, military sources alerted this newspaper to problems with the new C6 weapons, resulting in 342 defective weapons being returned to Colt Canada for repair.
.
But additional problems were found during repairs to those weapons, Le Bouthillier said. He noted that a part called the feed channel was built slightly out of spec, causing some guns to perform improperly during live firing tests. Colt Canada has now provided the Canadian Forces with new parts and repairs will be carried out by military weapons technicians in the coming months, Le Bouthillier said.
A little more than 1,000 cannons will have to be repaired.
In addition, a weapons technician at the Petawawa Canadian Forces Base reported that seven of the 18 newly delivered machine guns were loose, Le Bouthillier said. Colt Canada's supplier "contained all defective material and is now inspecting the assembly as part of their ongoing (quality control) processes," he added.
.
Colt Canada did not respond to a request for comment.
In July 2017, then Defense Minister Harjit Sajjan announced that the federal government would purchase 1,148 new C6A1 FLEX general purpose machine guns from Colt Canada. The contract was worth $32 million. In January 2020, the Liberal government announced that it would spend $97 million to purchase another batch of C6A1s, some of which will be fitted to armored vehicles. In announcing the original contract, Sajjan said the new weapons would enhance the Canadian military's operational capability and "help provide an advantage over potential adversaries."
In total, the military ordered 4,774 weapons. So far 3,331 guns have been delivered, of which 2,252 are in the field.
.
National Defense noted that both Canadian military leaders and defense department procurement chief Troy Crosby believe the Colt contract is providing value for tax dollars despite current problems. That's because "these issues are fixed at no additional cost," the department said.
Colt Canada's Czech parent company, Ceska Zbrojovka Group (CZG), noted in a statement in August 2021 that "Colt Canada is working closely with the Government of Canada to address any identified technical issues with some of the machine guns it has handed over to the Canadian Armed Forces."
The C6 machine gun must be carried by soldiers and mounted on some Canadian Forces vehicles. The new weapons replace the old C6s that were purchased more than 30 years ago.
.
The first deliveries of the weapons began in December 2020 and final deliveries are expected in March 2024, which is a delayed date due to supply chain problems, Le Bouthillier said.
The contract for the new weapons was awarded to Colt Canada without competition under a federal government program to support Canada's ability to produce military small arms domestically. Colt Canada has been considered the country's Strategic Small Arms Source and Center of Excellence by the federal government.
Four staff members working on modernizing the military recruiting process, but no timeline for improvements has been set

Canada's military will review its recruitment process, general says