Article content
Surveillance images of a male suspect appeared in a Tuesday news release from police, who are looking to speak with members of the public that may be able to identify him. The images captured the suspect near 167 Avenue and 127 Street at about 3:15 am on March 12.
Earlier that morning, police responded to a report of multiple gun shots fired outside the Ertale Lounge on 118 Avenue and 124 Street. Seven people, including five men and two women, were treated in hospital following the incident with injuries ranging from serious to non-life-threatening.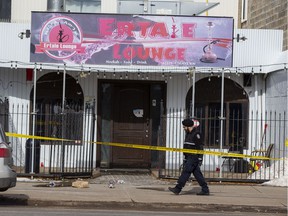 One man, whom police later identified as 28-year-old Imbert George, died from multiple gunshot wounds.
Following the shooting, Edmonton Police Service (EPS) Chief Dale McFee said as many as 70 shots had been fired outside the lounge in a "horrific" mass shooting. McFee also said police have obtained video of guns being fired into a crowd of people outside the lounge.
Article content
Police have since arrested Said Ibrahim, 23, as well as Mohamod Mohamod, 22, and have charged both men with first-degree murder and multiple firearm offenses.
Police have also issued a Canada-wide warrant for a third suspect in the shooting, identified as Saed Osman, 27.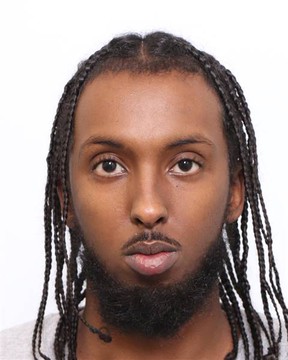 Wanted on six additional warrants, Osman is currently on EPS's "Edmonton's most wanted" list, which describes him as six feet tall and 181 pounds with brown eyes and black hair. Police advise anyone aware of his whereabouts of him to avoid approaching him and contact both law enforcement and Crime Stoppers immediately.
Police ask anyone with information about the fourth suspect or Osman's whereabouts to call EPS directly at 780-423-4567 or by dialing #377 from a mobile phone.
Tipsters seeking anonymity can contact Crime Stoppers at 1-800-222-8477 or submit a tip online at
www.p3tips.com/250.
—With files from Madeline Smith