One of the ways the City of Vancouver has increased accessibility to voting is by introducing technology that allows voters to cast their vote with their feet, fingers or mouth.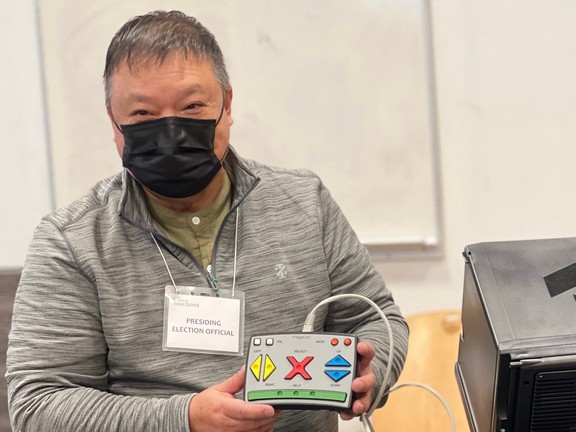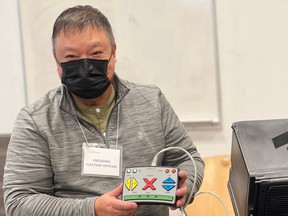 .
A steady stream of voters poured out of the Trout Lake Community Center on Saturday morning, one of two places where Vancouverites with physical disabilities can cast their ballots in person.
.
With this civic ballot one of the longest in Canada, with a total of 137 candidates, the city's democratic engagement manager says the election has never been more "daunting."
.
"It's a lot to consider. That's why our goal is to ensure that everyone who wants to can (vote)," said Danielle Johnston.
For physically challenged voters, however, it's not just the sheer number of candidates that makes voting this election challenging: marking the ballot is what's hard.
One of the ways the city has increased accessibility to voting is by introducing technology that allows voters to cast their vote with their feet, fingers or mouth.
Available for the first time at two vote centers in the last election, Trout Lake and Roundhouse, the ICE machine allows voters to browse through a selection of candidates on a digital screen and cast their vote by pressing a button or breathing into a mouthpiece. .
.
"It can be used for the deaf, the blind, people with limited mobility, or people with zero mobility in their limbs," said Henry Lee, the presiding election official.
In 2018, the device was used by two voters.
To ensure voter privacy, Lee is trained to stay away from the ICE machine, which prints and deposits the ballot into a ballot box.
Previously, citizens with physical disabilities were relegated to completing mail-in ballots at home, likely with the help of a caregiver or friend. Their only other option was to bring a helper with them to the polls, Johnston said.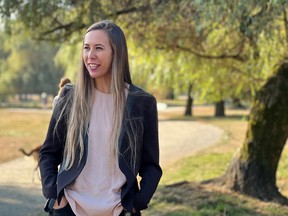 "Whether it's because you're a person with a disability, whether you're more comfortable speaking another language, the person you bring has to take a secret oath that they won't share their voting information."
.
With research showing that certain Canadian groups, including voters with disabilities, vote less than their mainstream counterparts, Johnston said the city's priority has been "breaking down the barriers" that prevent their democratic participation.
yesHarona Franklin, a Vancouver artist living with a rare degenerative disease, says she has largely been unable to vote.
"If you have a physical disability or chronic illness, you must pre-register for accessible voting. However, I was in the hospital with collapsed lungs and an inflamed heart and was unable to meet the early deadline." the 35-year-old man said.
During the election, he was able to vote, Franklin said it cost him a lot.
"I had to coordinate a trip, check to see if the polling place was wheelchair accessible, and plan a full day of recovery due to the chronic fatigue aspect of my illness. It was difficult."
.
In this election, Vancouver joined Canadian municipalities, including Toronto, in bringing the polls to voters who are homebound due to disability, illness or other limitations. The pilot program was requested by the city's People with Disabilities Advisory Committee.
Of Vancouver's approximately 450,000 registered voters, 100 will receive election service, which will be run by two civic election officials wearing personal protective equipment.
Laura Mackenrot, co-chair of the People with Disabilities Advisory Committee, said she hopes the program will expand to meet the needs of all Vancouverites who could benefit from voting in the privacy of their own home.
"We just don't know how many people need this service because, by definition, it's a very hard population to know."
While the new assisted voting options are helpful, Franklin says she really wants more civic candidates to acknowledge the needs of disabled citizens in their political platforms.

"I can go vote, but I don't even know if who I'm going to vote for will care about the issue that's most important to me: justice and equity for those of us living with disabilities."