Montreal has now won five of its last six games, improving its record to 7-7 and cementing its position in second place in the Eastern Division.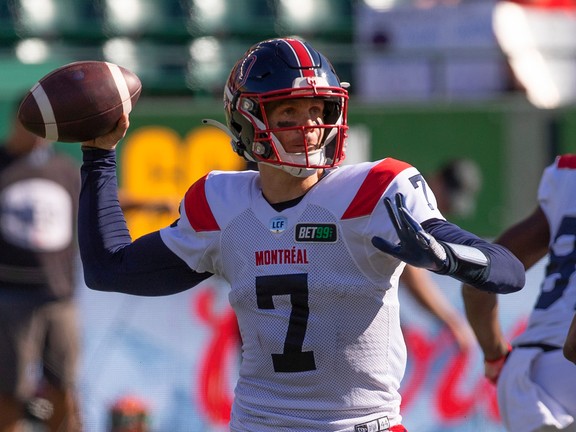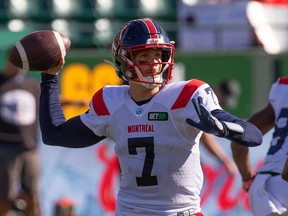 .
EDMONTON — An unlikely 100-yard interception return for a touchdown by Tyrice Beverette in the fourth quarter led the Alouettes to a 25-18 comeback over the Edmonton Elks on Saturday afternoon.
.
Edmonton failed to produce points twice in the final period at Commonwealth Stadium despite playing inside the Alouettes' five-yard line. They also turned the ball over on Montreal 3 downs.
.
Backup quarterback Dominique Davis scored on a short run for the Als, while quarterback Trevor Harris passed to Eugene Lewis for another touchdown. David Côté added a 52-yard field goal.
Montreal has now won a season-high three straight games and five of its last six, improving its record to 7-7 and cementing its position in second place in the Eastern Division.
Quarterback Taylor Cornelius scored the Elks' only touchdown, while Sergio Castillo kicked three field goals. Edmonton (4-11) set a CFL record with the loss, their 15th straight home loss, dating back to Oct. 12, 2019.
.
The Alouettes took initial possession and moved downfield, thanks to a 23-yard reception by Lewis. But Côté went wide to the right on a 50-yard field goal attempt.
The Elks scored on their first drive following Christian Saulsberry's 51-yard return from Côté's miss. The drive also included a 34-yard pass to Vincent Forbes-Mombleau, who played collegiately at Université Laval. But Edmonton had to settle for Castillo's 26-yard field goal at 7:52.
Montreal then engineered a nine-play, 70-yard touchdown drive that included 21-yard passes to Lewis and 14 to Hergy Mayala. Following an 11-yard sweep by Walter Fletcher, Davis scored on a 1-yard run at 12:11.
The fourth ended with a punt single by Jon Ryan.
.
The Alouettes began the second period with a five-play, 70-yard touchdown drive. Following a 16-yard finish from rookie Tyson Philpot and a 16-yard pass to Reggie White Jr., Lewis made a spectacular one-handed catch in the end zone against cornerback Ed Gainey for the eight-yard touchdown at 2 :36. , giving Montreal a 14-4 lead.
But the Als began to self-destruct after that. An interception by Mike Jones was overruled after middle linebacker Micah Awe was called for roughing up the passer. Following a 22-yard run by Kevin Brown, Castillo kicked a 32-yard field goal at 9:05, cutting the Alouettes' lead to 14-7.
Fletcher fumbled on Montreal's ensuing possession, but only after the Elks successfully challenged the play. Following a 33-yard catch from Kenny Lawler, who was returning after missing three games with an ankle injury, Castillo connected from 38 yards at 13:51, making it 14-10.
.
Harris fumbled on the next play: Matthew Thomas recovered the ball at the Montreal 32-yard line. He took five plays, but Cornelius finally scored on a 1-yard run at 14:22. A kickoff single that followed an error by Als gave the Elks an 18-14 lead.
Montreal put together an impressive series in the final seconds of the quarter. Fletcher ran for 11 yards before Harris hit White for 25 yards. On the next play, White scored an apparent touchdown, only to be called for offensive pass interference.
Côté kicked a 52-yard field goal on the final play, making it 18-17 for Edmonton.
The third quarter was goalless, although Côté for some reason attempted a 56-yard field goal.
The Alouettes won't play again until they host Ottawa on Oct. 10. The Redblacks fired head coach Paul LaPolice on Saturday morning. He will be replaced on an interim basis by Bob Dyce.
Micah Awe enjoys playing in the Alouettes unique defense

Inside the CFL: Former Alouettes GM Reed sheds light on Montreal ouster

'Lots to prove this week,' Alouettes QB Harris says of Elks rematch