'It looks like a world-class transit system, but it's not.' It turns out that Ottawa only wants trains that are on time.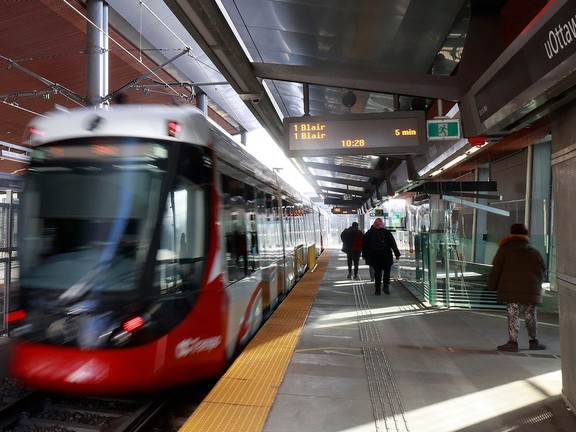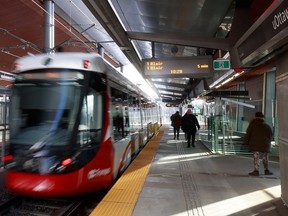 Article content
It was Thursday afternoon and I was telling Mike at Printwell in the St. Laurent Mall why I couldn't wait the expected two days to have a custom T-shirt made.
Article content
"I want to ride the LRT tomorrow morning," I explained, "and get passenger feedback on the recent LRT report and the state of the system, and I want to wear a T-shirt that says, 'Pretend I'm Jim Watson. I listen to you' and he looks at what people are saying".
Article content
Mike got it right away. "On time and on budget!" he snapped into the phone, a hint at Watson's repeated promise. "Come this afternoon," he added, "and we'll fix your shirt."
It turned out, however, that Mike's civic consciousness was not universally shared by the Friday morning LRT riders, at least not those I spoke to. Less than half were aware of the investigation into the LRT Phase 1 tragicomedy, let alone Commissioner William Hourigan's scathing report released this week.
Article content
Not only that, a couple of riders I spoke to had never even heard of Jim Watson.
That said, there's no little bliss in ignorance, I thought, listening to the metal-on-metal screeching of the wheels and wondering if the "interface" issues and misalignment between wheel and rail profiles cited in the report were at work. Absolutely responsible for the impious racket. But maybe it was just me. After all, there can't be monsters under the bed if you're not aware of the possibility of monsters under the bed.
Unfortunately, he was not alone.
"It could sound better," agreed cyclist Michel Cecire outside the Hurdman station. And ride better. With all the delays and all the fixes and all the updates, and it still runs and sounds like s-.
Article content
"I'm not impressed at all," he added. "They could have done a lot better for the price. And now they're going up Trim Road, and they're adding from north to south. So instead of costing us an arm and a leg, it will cost us both arms and both legs."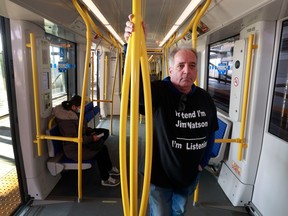 Despite the great welcome I received from a woman at Blair station: "Hello, Jim Watson!" she shouted excitedly in response to my t-shirt: My trip up and down the tracks aboard numerous trains on Friday was uneventful. It seemed slow at times, a complaint echoed by a couple of passengers, but there were no derailments, undue potholes, and certainly no evidence of the urine that uOttawa student Rachel Haw says she regularly discovers on car floors. "It happens like every two weeks," she said. "Certainly much more than I would wish."
Article content
If there was no urine on Friday, there were traces of bile, directed at Watson. "It is convenient that you leave before this," said an anonymous passenger. "I'd like to ask him, 'What the hell happened? Are you going to write a book and make more money from it? He's just going to leave the Ottawa riders to this mess."
Martha Chaparro tried a more balanced approach, noting that while the public was not well served during the LRT process, it overshadowed many of the former mayor's accomplishments. "Everything good that he did was put on the back burner and covered up because of this."
Another cyclist, Benjamin, was also not "happy" with the lack of transparency in such a large project. "But at least we're not having the nightmares that we had in the past," he said. "But for me it's fine because, in general, the train is running now."
Article content
And that was the general message that I heard from numerous passengers. We have a light rail system that, in the words of cyclist Valentina Pérez, is only aesthetically world class. "It looks like a world-class transit system, but it's not. It still isn't. But we have an LRT.
Perhaps being the seat of the federal government has left us desensitized to the kind of mismanagement described in the Hourigan report. Perhaps the small-town, small-town attitude we're often tagged with keeps our expectations low and leaves us just happy to have any kind of light rail transit.
"I'm not angry," Emma Sobel said as she left Blair station on Friday. "Jim Watson made some mistakes, but I think it's great that we have a train. From the quiet town I grew up in to a city that has a train… good for Ottawa. Let's get there We will get there with the train.
All aboard. And be careful with the urine.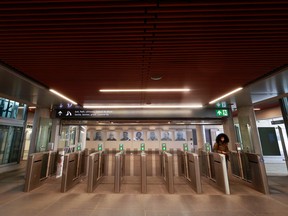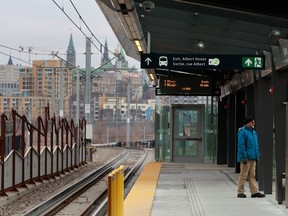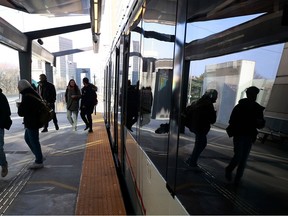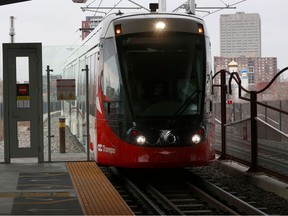 Lessons learned from LRT: 'Always, always, always keep the public interest in mind'

'This is part of the cure': Councilors consider LRT inquiry report, accountability and way forward