Article content
Here's your weekly update with what you need to know about the climate and ecological crises and the steps leaders in B.C. and around the world are taking for the week of Nov. 28 to Dec. 4, 2022.
Article content
• Prince William meets President Biden in Boston to discuss climate
• Still no pathway to fund $165 million flood mitigation plan in hard-hit Merritt
• Australia on track for upgraded climate reduction targets
The UN's Intergovernmental Panel on Climate Change has warned for a decade that wildfires, drought, severe weather, such as B.C.'s deadly heat dome last June, and flooding would become more frequent and more intense because of the climate crisis.
Last August, it issued a "code red" for humanity and earlier this year the panel, made up of hundreds of scientists from around the world, said the window to stop global warming from exceeding 1.5 C was closing. In April, it released a report with solutions for how to drive down greenhouse gas emissions, mainly by transitioning away from fossil fuels.
Article content
There is a scientific consensus on climate change (NASA reports that 97 per cent of climate scientists agree that the climate is warming and that human activity is the cause.)  Multiple studies published in peer-reviewed scientific journals show that greenhouse gas emissions are the primary cause of global warming.
Check back here every Saturday for a roundup of the latest climate and environmental stories. You can also get up to date B.C.-focussed news delivered to your inbox by 7 a.m. by subscribing to our newsletter here.
---
A glance at B.C.'s carbon numbers:
B.C.'s gross greenhouse gas (GHG) emissions in 2020 (latest available data) were 64.6 million tonnes of carbon dioxide equivalent (MtCO2e). This is a decrease of 0.9 MtCO2e (one per cent) from 65.5 MtCO2e in 2007, the baseline year for emissions reduction targets.
B.C.'s net greenhouse gas (GHG) emissions in 2020 were 63.5 million tonnes of carbon dioxide equivalent (MtCO2e.) This is a net decrease of 2.0 MtCO2e, or three per cent, since 2007.
B.C.'s net emissions in 2019: 67.2 MtCO2e, an increase of 1.5 MtCO2e, or two per cent, since 2007.
B.C.'s 2030 target: 40 per cent reduction in net emissions below 2007 levels.
B.C.'s 2040 target: 60 per cent reduction.
B.C.'s 2050 target: 80 per cent reduction.
Canada's 2030 emissions target: Between 40 and 45 per cent reduction.
Canada's 2050 emissions target: Net-zero.
(source: B.C. and Canadian governments)
Article content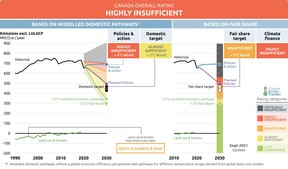 ---
Climate change quick facts:
The Earth is now about 1.1 C warmer than it was in the 1800s.
Globally, 2021 was the fifth warmest year on record.
Human activities have raised atmospheric concentrations of CO2 by nearly 49 per cent above pre-industrial levels starting in 1850.
The world is not on track to meet the Paris Agreement target to keep global temperature from exceeding 1.5 C above pre-industrial levels, the upper limit to avoid the worst fallout from climate change.
2015-2019 were the five warmest years on record while 2010-2019 was the warmest decade on record.
On the current path of carbon dioxide emissions, the temperature could increase by as much as 4.4 C by the end of the century.
In April, 2022 greenhouse gas concentrations reached record new highs and show no sign of slowing.
Emissions must drop 7.6 per cent per year from 2020 to 2030 to keep temperatures from exceeding 1.5 C and 2.7 per cent per year to stay below 2 C.
97% of climate scientists agree that the climate is warming and that human beings are the cause.
(Source: United Nations IPCC, World Meteorological Organization,UNEP, Nasa, climatedata.ca)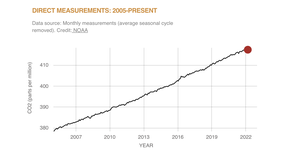 Article content
---
LATEST CLIMATE NEWS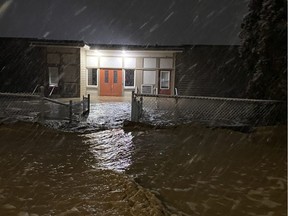 Still no pathway to fund $165 million flood mitigation plan in hard-hit Merritt
Devastated by historic flooding in 2021, the B.C. Interior community of Merritt sees little immediate relief in a national climate adaptation strategy unveiled last week that promised $1.6 billion in spending.
Included in the funding from Ottawa is up to $489 million to top up the Disaster Mitigation and Adaptation Fund (DMAF) and another $530 million to expand the Green Municipal Fund to support community-based adaptation initiatives.
Following last year's flooding that resulted in the evacuation of the entire town of 7,100, the City of Merritt came up with a $165 million plan that calls for improving dikes and setting others back to create a bigger channel for flood waters, and potentially buying out some properties.
But before the city was able to put in a request for federal funding to the DMAF — one of the few sources that will distribute money at the scale they need, tens-of-millions of dollars to an individual community — Merritt officials found out this summer that the program had been closed to new applications.
Read the full story here.
—Gordon Hoekstra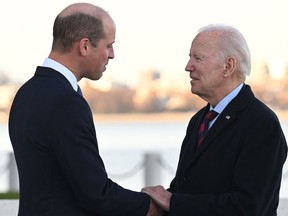 Article content
Prince William greeted U.S. President Joe Biden at the waterfront in Boston on Friday, part of a three-day visit by British royals trying to focus attention on tackling environmental issues.
William and his wife, Kate, attempted to keep the spotlight on climate and other causes they champion on their first overseas trip since taking on the titles of Prince and Princess of Wales after the death of Queen Elizabeth in September.
In the middle of their U.S. visit, however, Netflix Inc. released a trailer for an upcoming documentary series about William's younger brother, Harry, and his American wife, Meghan, reviving talk about rifts in the royal family. Buckingham Palace also was dealing with a new racism controversy.
On Friday afternoon, William smiled as he met Biden outdoors in cold weather along Boston's waterfront. The two men took a brief stroll before a private meeting at the John F. Kennedy Presidential Library and Museum.
The pair were expected to discuss "shared climate goals" and "prioritization of mental health issues," White House spokeswoman Karine Jean-Pierre told reporters before the meeting.
—Reuters
Australia is on track to meet recently beefed up climate action targets once a raft of new measures, including a A$15 billion ($10.20 billion) national reconstruction fund, is implemented, the government said on Thursday.
Australia was for years an international laggard on efforts to prevent climate change but the recently elected Labor government has increased the target to reduce emissions to 43% by 2030, from up to 28% by 2030, after the party won power in May for the first time in almost nine years.
Energy Minister Chris Bowen said on Thursday the target of a 43% reduction in emissions would be hit once various proposals are implemented, including an electric vehicle strategy and the A$15 billion national reconstruction fund currently before parliament.
"I'm pleased with how much the government has achieved in our first six months," said Bowen in parliament. "Pleased, but not satisfied. We have done a lot in a short time. But there is so much more to do."
—Reuters
India officially takes up its role as chair of the Group of 20 leading economies for the coming year Thursday and it's putting climate at the top of the group's priorities.
Programs to encourage sustainable living and money for countries to transition to clean energy and deal with the effects of a warming world are some of the key areas that India will focus on during its presidency, experts say. Some say India will also use its new position to boost its climate credentials and act as a bridge between the interests of industrialized nations and developing ones.
The country has made considerable moves toward its climate goals in recent years but is currently one of the world's top emitters of planet-warming gases.
The G-20, made up of the world's largest economies, has a rolling presidency with a different member state in charge of the group's agenda and priorities each year. Experts believe India will use the "big stage" of the G-20 presidency to drive forward its climate and development plans.
—The Associated Press
The Environmental Protection Agency on Thursday proposed increasing the amount of ethanol and other biofuels that must be blended into the nation's fuel supplies over the next three years, a move welcomed by renewable fuel and farm groups but condemned by environmentalists and oil industry groups.
"This proposal supports low-carbon renewable fuels and seeks public input on ways to strengthen the program," EPA Administrator Michael S. Regan said in a statement. "With this proposal, EPA seeks to provide consumers with more options while diversifying our nation's energy mix."
The proposal also includes new incentives to encourage the use of biogas from farms and landfills, and renewable biomass such as wood, to generate electricity to charge electric vehicles. It's the first time the EPA has set biofuel targets on its own instead of using numbers from Congress. The agency opened a public comment period and will hold a hearing in January.
The goal of the existing Renewable Fuel Standard is to reduce carbon emissions that contribute to climate change, expand the country's fuel supply, strengthen energy security and reduce fuel prices for consumers. Ethanol is a key part of the economy in many Midwest states, consuming about 40% of the nation's corn supply.
—The Associated Press
Spain's government pledged to invest 350 million euros ($368 million) in the country's Donana wetlands, a UNESCO world heritage site that ecologists say is dying due to the misuse of water and climate change.
Spanish Prime Minister Pedro Sanchez announced the pledge Thursday during a visit to the Donana National Park in southern Spain.
A European Union court ruled last year that Spanish authorities had failed in their duty to protect the wetlands, and the government faces a hefty fine unless takes actions to preserve the ecosystem.
Sitting on an estuary where the Guadalquivir River meets the Atlantic Ocean, the wetlands cover 74,000 hectares (182,000 acres). They are a wintering site for a half-million waterfowl and a stopover spot for millions of other birds that migrate from Africa to northern Europe.
But the national park's lagoons and marshes have dried up under a prolonged drought and decades of agriculture and a nearby beach town draining the aquifer underlying the area. The area surrounding the park is plagued by hundreds of unauthorized wells that illegally pump out water to feed crops, mostly red berries that are exported across Europe.
—The Associated Press
The island nation Vanuatu and 17 other countries on Wednesday published a draft resolution asking the world's top court to clarify what responsibilities governments around the world have to protect future generations from climate change.
The release of the legal question the countries want to be taken up by the International Court of Justice (ICJ) marks a milestone in the years-long effort by Vanuatu to get legal clarification for all countries regarding the impacts of climate change.
The resolution, which the United Nations General Assembly is expected to vote on early next year, will ask the ICJ for clarification on what the obligations of states are to protect the climate system and environment for present and future generations.
It will also ask the court to define what the legal consequences under these obligations are for states, which through their acts or lack of action, have caused harm to the climate system.
—Reuters
---
RELATED SOCIAL MEDIA