When the number of cases increases, the expert in COVID models recommends going back to wearing masks indoors, avoiding crowded spaces and getting a booster shot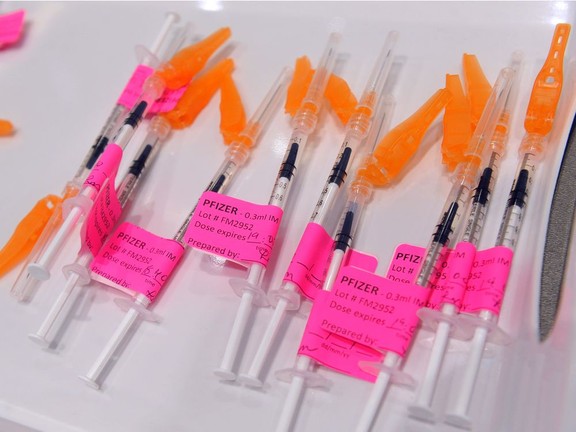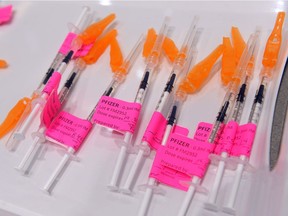 article content
Omicron's third wave has begun and is expected to ramp up rapidly, peaking in August, says COVID modeling expert.
article content
"I think there was hope that we wouldn't have another wave until the fall, but the wave is starting now," said Sally Otto, who advises wearing a mask again, as well as getting booster shots.
Otto, an evolutionary biologist and mathematical modeler at the University of British Columbia, presented her data at the premier meeting of North American evolutionary biologists in Cleveland, Ohio, last week.
Data from public health labs across Canada tracking Omicron's BA.4 and BA.5 subvariants show that they will soon outgrow Omicron's initial subvariants in Canada, said Otto, who is a member of the COVID-19 modeling group at BC
"Right now we are at a reasonable low point, the lowest point in 2022," Otto said in an interview. "So we can afford to be a little more relaxed right now, but not for long, because this is escalating so fast that we're going to be at greater risk.
article content
"You go to the supermarket now and your risk is reasonably low. You go to the grocery store in three weeks and there's a good chance someone else has COVID."
Much uncertainty remains about the severity and harmfulness of subvariants BA.1 through BA.5, Otto said, at a time when public health measures are at their lowest during the pandemic, with no mask mandate, no provincial testing of vaccination. requirement for events and public gatherings, and little appetite to bring them back.
"Every week that goes by in July, the risk of COVID doubles and that should help give people an idea of ​​how much more likely they are to encounter COVID in their communities," Otto said.
"But the good news is it's summer, so throw those parties outside and open the windows and avoid those crowded spaces with strangers as much as you can, and wear a mask, but don't stop living."
article content
Otto recommends wearing a mask in crowded, closed environments, "especially in mid-July and August, when this next wave of cases will be in full swing."
It also encourages those who qualify to get their COVID-19 booster shots before the peak of the BA.4 and BA.5 wave and not wait for the newer shots.
Last week, the National Advisory Committee on Immunization recommended booster shots before a fall wave for people 65 and older, long-term care residents, people with clinical immunosuppression, indigenous peoples and underserved communities.
NACI said it will provide recommendations on the type of COVID-19 vaccine as evidence on appropriate vaccines becomes available.
Otto said he can't predict whether there will be a fall wave or its expected vitriol.
article content
"What I can say is that there is still huge evolutionary potential for this virus, because there are so many cases around the world and that means this virus is changing in multiple ways around the world," Otto said.
"I think that COVID is with us for the long term and we have to get better at reacting and responding: when the waves go up, so do all the protection measures, and when the waves go down, as we are now. , at a reasonable low point…we can afford to be a little more relaxed…but not for long."
For those who lose track of variants and subvariants, COVID-19 has mutated into Alpha, Beta, Gamma, Delta, and Omicron variants. Omicron is considered less deadly than Delta but more transmissible. The Omicron subvariants BA.4 and BA.5 are similar to the initial Omicron subvariant BA.2, with the exception of a few mutations.
article content
"And those mutations make BA.4 and BA.5 even harder for our immune systems to recognize the virus," Otto said.
Several countries, including the US, Portugal, France, Israel and Italy, have reported an increase in COVID-19 cases.
Canada's public health director Theresa Tam issued a statement Thursday saying the BA.4 and BA.5 subvariants are more transmissible and better able to evade immunity than previous versions. There is likely to be a spike in cases in the coming weeks, she said.
COVID-19: BC is reluctant to offer a fourth dose of vaccine to the broader population

COVID-19 Update July 1-3: 40 Percent of Canadian Adults Have Not Returned for Booster Vaccine | COVID rises in Ottawa, Quebec

CP driver who exposed colleagues to unreported COVID-like symptoms for days fired even though he later tested negative

COVID-19: 273 people in hospital, 17 deaths in seven days
As of June 18, there were an estimated 15,047 new weekly cases of COVID-19 in Canada, compared to November and down from 288,771 cases per week at the peak of Omicron's wave in January.
article content
While the number of BA.1 and BA.2 COVID-19 Omicron subvariants is decreasing, the estimated number of BA.4 and BA.5 is increasing at a daily growth rate of 3.1% in British Columbia.
By comparison, in Alberta the growth rate is 4.9% doubling every 14 days, 6.3% in Ontario doubling every 11 days and 5.5% in Quebec where it doubles every 12 days .
The good news is that data from the COVID-19 Immunity Task Force and the Canadian Blood Services suggest high levels of antibodies in all age groups, determined through blood donations through mid-May.
The bad news is that the ability of antibodies to neutralize the COVID virus and prevent infection is substantially compromised for the BA.4 and BA.5 subvariants, Otto said.
To read more of the Times Colonist, click here.