"The message we're sending to the population is that it takes money to sleep outside," one critic said of the $108.75 event.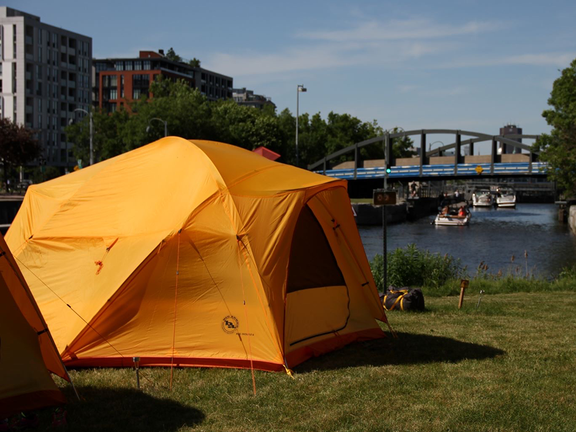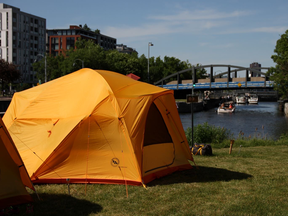 Article content
A learn-to-camp event on the Lachine Canal that drew criticism from groups working with Montreal's unhoused community appears to have been called off by Parks Canada.
Article content
The event, scheduled for Saturday, was one of many planned over the summer to teach Montrealers camping basics at a starting price of $108.75 per tent. Parks Canada did not provide a reason for the cancellation, and dates scheduled for the weekends of July 23 and August 13, 20 and 27 appear to still be taking place.
The camping events aren't new, but this year they've been critiqued for sending a message that inhabiting the city's public space is a luxury — one that unhoused Montrealers can't afford.
"I really feel like it's a double standard," Caroline Leblanc, a PhD student in community health at Université de Sherbrooke, told the Montreal Gazette last week. Leblanc's research focuses on the experiences of people who are unhoused. "On one hand, there are people who are able to house themselves and to pay to sleep outside in Montreal, and on the other hand, you have those who don't have the means and who aren't allowed to live anywhere."
Article content
Leblanc co-signed an op-ed about the camping activity published in Le Devoir on Wednesday, which recognized there's likely no ill-intent behind the offer. Parks Canada, for its part, had said in a statement that one of its priorities is "to make the enjoyment of outdoor activities more accessible to all Canadians, including youth and racialized communities."
But for the authors of the op-ed, the events remain questionable given the constant displacement of unhoused people in the city.
"The message we're sending to the population is that it takes money to sleep outside," Leblanc said.
The sentiment comes as unhoused Montrealers who can't turn to shelters, for various reasons, are finding it increasingly difficult to exist in a city where they are routinely told to vacate whatever outdoor space they've managed to settle in, whether it be by themselves or with others in places such as fields, parks, alleyways and forested areas.
Article content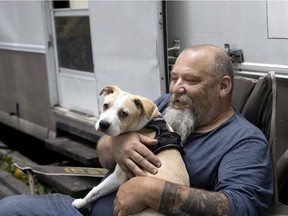 "We're being kicked out of the outdoors," said Guylain Levasseur, who lives in a motor home given to him by CARE Montreal, an organization in Hochelaga-Maisonneuve that aims to better the lives of the unhoused. "It makes no sense."
Levasseur, who lives in the vehicle because he can't afford rent in Montreal, uses it to support the community however he can. Last week, he was helping two brothers whose secluded shelter — nestled between a concrete wall and a chain link fence near the Port of Montreal — went up in flames over the weekend while they were asleep.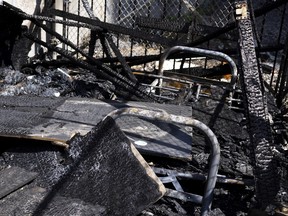 If their dogs hadn't woken them up, they wouldn't have made it out, they said.
"I woke up and I was covered in fire, I had time to take my phone and my wallet and to get out," said Thomas, who preferred to keep his last name private. "Everything was on fire."
Article content
On Tuesday, covered in third degree burns, Thomas and his brother Frank sat on the stretch of land between the bike path and Notre-Dame St. E. in Hochelaga, surrounded by their dogs and few remaining belongings. Levasseur, parked on the nearby road, let them sleep in his trailer for a few nights before they pitched a tent between trees.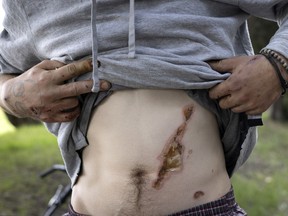 Two years ago, the same stretch of land was home to an encampment comprising more than 120 tents at its peak, before being dismantled by the city over safety concerns following a fire.
In the time since the encampment was dismantled, the city said it wouldn't tolerate similar ones. On Wednesday, in response to a question from a reporter about the op-ed, Montreal Mayor Valérie Plante reiterated the city's stance.
Article content
"Obviously this is a decision from Parks Canada and it's happening on their land," Plante said of the camping activity, "but I've repeated it many times: for us and in concert with organizations who work with homelessness, the solution is not encampments for people experiencing homeless, and it's honestly for reasons of safety."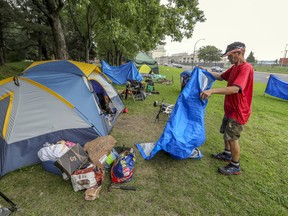 But Annie Savage, the director of the Réseau d'aide aux personnes seules et itinérantes de Montréal (RAPSIM), told the Montreal Gazette Tuesday that for some unhoused Montrealers, there is a "complete lack of alternatives" to living outdoors.
"There's an affordability crisis, a housing crisis, there's also — it's been several years that we've been denouncing it, but it's more true than ever — there's a lack of space in emergency shelters right now," she said. "So, when the city says 'encampments are not an acceptable situation, it's not humane, it's not a response we hope to tolerate as a city,' not only is that a position that doesn't consider the reality on the ground, because there's a lack of alternatives … but it's a position that also puts people in danger."
Article content
When people are separated and pushed out of public view — such as Thomas and Frank, who only found peace in a secluded ditch where they couldn't be seen by passersby — it presents an actual threat to their lives, Savage, Leblanc and Levasseur said. There's no one around to make sure they're all right, such as in the case of an overdose — or a fire.
For this reason, they disagree with the idea of dismantling tent cities over safety concerns.
"If it's an issue of safety, why don't we support people in the encampments as opposed to dismantling them?" Leblanc said. "They're in a position to learn things, they have plenty of strengths."
While it might seem counterintuitive to support tent cities when the ultimate goal is housing (which involves various levels of government), Leblanc said she believes the response to homelessness should account for diverse needs.
Article content
"The population that inhabits the streets has needs that differ from a person who will live in a shelter," she said. "We owe it to ourselves, if we want to reach housing above all, to ensure these people are in a position to access it. For those who aren't there yet, to respect their rhythm, but to ensure that they're safe, and to ensure there's a response to their needs despite the fact that they're not at the point of having housing."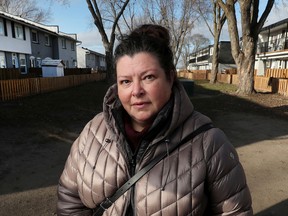 A recent report from Federal Housing Advocate Marie-Josée Houle — the result of ongoing research to better understand the housing and homelessness crisis across Canada, and to come up with recommendations — validates Savage and Leblanc's points.
The report identifies encampments as an evolving systemic housing issue exacerbated by the COVID-19 pandemic, and said the way members are treated "amounts to unsafe eviction and forced displacement," which forces them into increasingly unsafe situations. They also face "major human rights violations" through policing and enforcement measures.
Article content
The report goes on to say the unhoused community should be consulted for the "design and implementation of policies, programs and practices" that affect them, but being viewed as a nuisance often inhibits them from engaging meaningfully.
"We need to understand that people who inhabit the streets have rights and we have to support them, we have to consult them, we have to know what their real needs are and we need to put them in place," said Leblanc, who was part of the research team behind the report.
She added that encampments allow for autonomy, stability and community among the unhoused that isn't possible when they're separated and forced into invisibility.
Levasseur agrees. He said that was the case with the Notre-Dame encampment, where food, for example, was never lacking.
Article content
"We were able to bring a minimum of security," he said. "But by dispersing us, eventually there will be bodies. They will pick up the dead."
Levasseur and the brothers said all they want is a place to exist peacefully.
"What are our rights?" Levasseur said. "To what extent can we be tolerated somewhere? Find us a field — do something."
Thomas said he understands there can't be camps everywhere, "but there should be designated spots," he said. "Outside."
On Tuesday morning, Thomas and Frank were packing up the tent they pitched on the stretch of grass on Notre-Dame the night before. It took less than 24 hours for police to tell them to take it down.
With two dogs to care for and a host of reasons shelters don't work for them, the siblings' plans for where to set up next hang in the air. They're considering returning to the secluded space they've inhabited for years since they've generally been left alone, but that means they'll remain isolated from community.
"Is it the initiative of Parks Canada that's to denounce ferociously?" Savage said, "or the attitude of the city with regards to a lack of tolerance for people who use tents for survival?"
With files from the Montreal Gazette's Jesse Feith. 
Where can some unhoused Montrealers go if city rules out encampments?

Neighbours oppose Hochelaga shelter, but advocates say needs are growing

Montreal police, firefighters evacuate homeless camp on Notre-Dame St.