London, Ontario has joined a growing list of Canadian cities that have adopted COVID-19 vaccine policies for municipal staff.

On Tuesday, the city council voted to receive the policy in a meeting that saw little opposition to move, other than Ward 1 Coun. Michael van Holst.
While the decision to implement the policy rests with the City of London corporation, councilors, who are unaffected by the policy, were allowed to review and discuss the plan.
Most of the discussion took place in a private part of Tuesday's meeting, as requested by van Holst in order to raise legal issues.
Read more:
COVID-19: City of London Tightens Vaccine Policy for Municipal Staff
The council dealt with a strengthened version of the policy, which came after the Ontario government announced last month that vaccine policies would be mandatory for high-risk settings.
The revised policy was also inspired by guidance from the Middlesex-London Health Unit advising companies to implement vaccination policies against COVID-19.
The policy requires all City of London employees to provide proof of complete vaccination against COVID-19 by September 29. Anyone who is not will be required to provide written proof of a medical reason or the Ontario Human Rights Code which states that the person cannot be vaccinated. .
Employees can only have received their first dose of the COVID-19 vaccine before September 29, but must be able to provide proof of complete vaccination before November 1.
The policy also applies to contractor or consultant personnel working on behalf of the city and within city facilities, as well as volunteers, interns, and trainees.
Read more:
New details released on Ontario COVID-19 vaccine certificates, fines for non-compliance start at $ 750
Regardless of vaccination status, all employees will also need to complete a daily COVID-19 symptom screening. Those who fail the screening test will have to be screened for the virus and restricted from the workplace, until they can confirm with the city that they are allowed to return to work.
"A finding of non-compliance by an employee will result in immediate removal from active duty. The employee will be subject to corrective and / or disciplinary measures that may include education or training; warning; suspension or leave without pay; or termination of employment, "he said a policy document presented to the city council on Tuesday.
Licensed employees and Dearness Home staff will not be affected by the policy
Read more:
The City of Toronto will require all employees to have both COVID-19 vaccines by October 30.
When the council emerged from a private discussion, van Holst made a motion to delay the policy, but did not get enough support to secure a vote from the other councilors.
The motion to receive the vaccine policy passed by a vote of 11 to 1, and van Holst was the only councilman who opposed the motion.
Councilors Mo Salih, Paul Van Meerbergen and Arielle Kayabaga, who represent districts 3, 10 and 13, respectively, were not present for Tuesday's vote.
A similar immunization policy for councilors will be presented when the council's corporate services committee meets on September 20.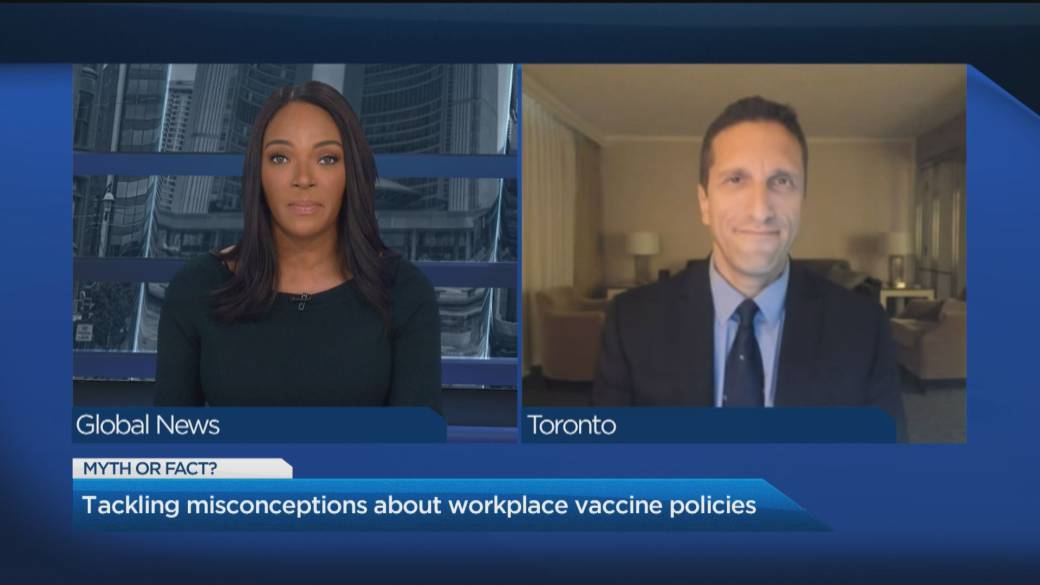 Myth or Fact: Vaccine Misconceptions in the Workplace
See link »
© 2021 Global News, a division of Corus Entertainment Inc.


Reference-globalnews.ca