The superstar athlete from Smiths Falls is again in the spotlight heading toward the CP Women's Open in Ottawa on Aug. 25-28.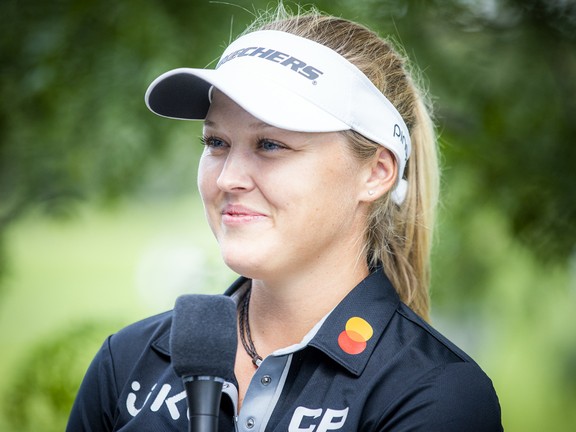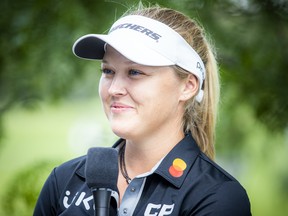 Article content
She's the face of Canadian women's golf, heck, maybe even all of golf in her home and native land, so Brooke Henderson steps up every time, particularly when it comes to the country's only LPGA Tour event.
Article content
Still, "no" might become one of the most important tools in her kit as she attempts to win a second CP Women's Open title. Not all the time, but on an occasional basis, for sure, and for good reason.
"It's like the sixth major for me on the LPGA Tour, so it's definitely a week that I want to peak for. I want to be playing my best," the 24-year-old from Smiths Falls said Tuesday during a media-day event promoting the Aug. 25-28 tournament at the Ottawa Hunt and Golf Club. "I think one of the main things I've learned is I have so many requests this week, and I obviously want to fulfill them all, but sometimes I have to say 'no' and I have to pick and choose, if I want to play well.
Article content
"Just getting the proper amount of rest and also being able to prepare and do media and spend time with fans are all very important things, and I want to do my very best at all of them, but sometimes you have to put a little bit of a time limit on it just so, when it's the weekend and it's crunch time, I'm able to have all the energy that I hopefully need to be able to get it across the line."
Article content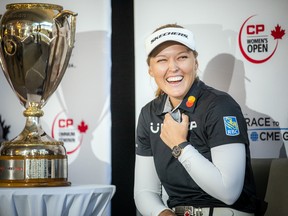 Henderson has already lived the Women's Open spotlight experience an hour's drive from her hometown, in 2017. Seeing fans line both sides of Ottawa Hunt's first fairway as her opening round started was an eye-opener, as was the pressure of having to make a birdie on her final hole Friday just to survive the cut for the final two rounds — and doing it — and a rock 'n' roll Saturday third round featuring a course-record, 8-under-par 63, but she was unable to maintain that momentum on Sunday and slid back to finish tied for 12th, six strokes behind Sung Hyun Park.
She quenched her own thirst for victory in her national open a year later, though, a four-shot triumph at Regina making Henderson the second Canadian to win an LPGA Tour stop on home soil and the first since Jocelyne Bourassa in Montreal in 1973.
Article content
There was another near miss in 2019 at the Magna Golf Club in Aurora, Ont., where Henderson tied for third, seven behind Jin Young Ko.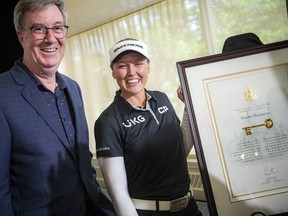 "I think everybody wants me to do well, and how cool is it to have that much love for a player and for me," Henderson said. "But, at the end of the day, I'm doing this to be better and to hoist this trophy that I've dreamt about since I was a little girl again because, in 2018, it was pretty surreal."
Women's Open tournament director Ryan Paul said it was nice to talk about tournament details instead of contingency plans and health protocols, an acknowledgment of the COVID-19 pandemic that led to cancellation of the event in 2020 and 2021.
Paul said there was a waiting list for the 1,200-strong volunteer corps in Ottawa, pre-tournament hospitality sales were nearly three times what they were for 2019 and ticket purchases had already surpassed total advance sales for the Magna event. As well, all of the top 10 on the LPGA Tour money list — Henderson ranks 10th at $1,049,923 — and 41 of the top 50 have made early commitments to play in Ottawa.
Article content
Call it the Brooke factor.
"There's players from all around the globe, and we play all around the globe, so they're always trying to figure out the best ways to cross borders and know what you need to fill out and to make sure your passport and visas are up to date," said Henderson, one of nine Canadians already on the entry list, including Canadian Golf Hall of Fame inductee Lorie Kane. "I have received a ton of questions from the girls on tour, and I'm just excited for them to come."
Notes: Henderson's Tuesday also included a pandemic-delayed ceremony in which the 11-time LPGA Tour winner received the key to the city from Ottawa Mayor Jim Watson … Work continues on trees damaged by the powerful straight windstorm that ravaged the Hunt Club area and other parts of the capital region on May 21. President Jennifer Brooy confirmed the golf club lost 1,100 trees, "and we're still counting," but cleanup should wrap up before Open week.