Three-time Wimbledon champion Boris Becker has been jailed for two and a half years after he was found guilty on four charges related to his bankruptcy five years ago.
The 54-year-old former world number one, who filed for bankruptcy in June 2017, was jailed for hiding £2.5m worth of assets and loans to avoid paying his debts.
He owed creditors almost 50 million pounds, for an unpaid loan of more than 3 million pounds on his property in Mallorca, Spain.
"It is remarkable that he has shown no remorse or acceptance of his guilt," Judge Deborah Taylor told him when she sentenced him at Southwark Crown Court in London.
"There has been no humility."
She said Becker would serve half of his sentence behind bars and the rest on furlough.
Becker, whose partner Lillian and their son Noah were in court, looked ahead as sentencing was handed down.
BBC commentator Becker transferred almost €427,000 (about £390,000) from his business account to other people, including those of his ex-wife Barbara and his ex-wife Sharlely "Lilly" Becker.
The father-of-four also failed to declare his stake in a £1million estate in his hometown of Leimen, Germany, concealed an €825,000 (nearly £700,000) bank loan – worth £1.1million with interest – and hid 75,000 shares in a technology company, valued at £66,000.
Becker was found guilty of four offenses under the Insolvency Act between June 21 and October 3, 2017 earlier this month.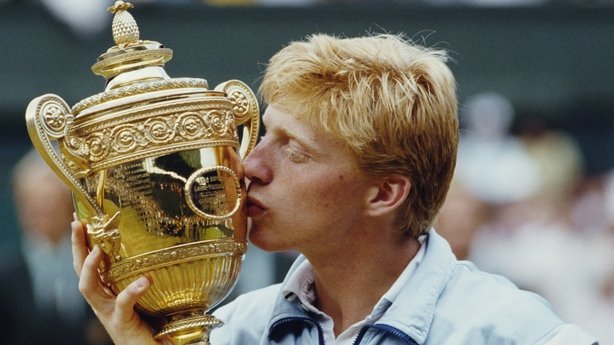 ---
read more
Fall from grace of former golden boy tennis player
---
Previously, he received a two-year suspended sentence for tax evasion and attempted tax evasion worth £1.7 million (about £1.4 million) in Germany in 2002.
Becker told the jury that the $50 million he earned in his career was swallowed up by an expensive divorce from his first wife Barbara, child support payments and "expensive lifestyle commitments."
The trial had heard details of Becker's career and how he lost his fortune after his retirement.
The jury heard how he claimed not to know the location of some of his trophies, how he took a high-interest loan from one of Britain's wealthiest businessmen and tried to avoid bankruptcy by claiming diplomatic protection from the Central African Republic.
Becker "was selective in disclosing his assets. When it suited him, he would give full disclosure, when it didn't, he wouldn't," said prosecutor Rebecca Chalkley, who had urged the judge to hand down a prison sentence.
It accused Becker of "gambling the system in bad faith" by hiding and transferring assets, and had deprived creditors of over £2 million in assets, none of which had so far been returned.
"His reputation, an essential part of the brand, which gives him work, is in tatters," said Becker's attorney, Jonathan Laidlaw.
"His fall is not merely a fall from grace, and amounts to the most public of humiliations."
Becker was acquitted at trial of a further 20 charges, including charges that he failed to turn over other property, including two Wimbledon trophies and an Olympic gold medal.
Dean Beale, chief executive of the Insolvency Service, said: "The court has handed down a prison sentence to Boris Becker today after he was found guilty of offenses related to his bankruptcy.
"Boris Becker's ruling clearly demonstrates that concealing assets in bankruptcy is a serious crime for which we will prosecute and bring violators to justice."
Additional Information Reuters



Reference-www.rte.ie