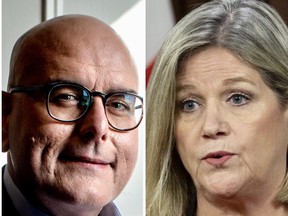 Article content
In two days, Ontario will decide who will govern us provincially for the next four years and, make no mistake, there's a lot at stake.
Article content
It's not enough to believe the polls that Doug Ford's Progressive Conservatives will get another majority, and then not vote yourself.
Parties don't get majorities by their supporters staying at home.
Get out and vote.
Remember when you go into the polling booth that Liberal Leader Steven Del Duca was with former premier Kathleen Wynne every step of the way as she inflicted misery on Ontarians.
Remember how the selling of Hydro One was supposed to be a rare win for Wynne, supposedly locking in tomorrow's future profits today, when the electricity files brought havoc to ordinary Ontarians with persistent high hydro costs.
Think of the scandals that resulted in the Wynne Liberals being reduced to seven seats in the last election and how it is too soon to forgive and elect another Liberal government at Queen's Park.
Article content
First, there was the continuing fallout from the so-¬called gas plant scandal, with the OPP's anti-rackets branch announcing criminal charges against two senior staffers in Dalton McGuinty's office as premier who were still hanging around Wynne.
Former aid David Livingston was sentenced to four months in jail for two convictions: illegal use of a computer and attempted mischief to data. Police also charged Livingston's deputy, Laura Miller, with the same offences, but she was found not guilty.
"I have no intention of disowning my record as a member of the McGuinty government," Wynne said days following her election as premier.
But Wynne was also at pains since becoming premier to separate herself from the scandal, and publicly apologized for "mistakes" made.
Article content
This was evident in her response to the new OPP charges — that they concern "events that took place prior to me becoming premier."
Fair dinkum. But as a former member of the McGuinty cabinet, Wynne still wore the fallout from the decision to cancel two Greater Toronto Area gas-fired power plants, in Oakville and Mississauga, one the auditor general said would cost Ontarians up to $1.1 billion,
She escaped her judgment day in the previous provincial election only because voters couldn't accept then-Progressive Conservative leader Tim Hudak and NDP Leader Andrea Horwath.
Setting aside the gas plant scandal, Wynne had had issues of her own making.
The OPP laid criminal charges in their investigation into the so-called Sudbury byelection scandal, where it's alleged a job offer was made to a Liberal candidate to sit out the byelection because Wynne had convinced a popular local NDP MP to leave Ottawa to run as a Liberal province.
Article content
Politically, she called it correctly, with Glenn Thibeault easily winning. Still, fingers were pointed at Wynne, her deputy chief of staff Pat Sorbara and a Liberal fundraiser in Sudbury, Gerry Lougheed Jr.
Eventually only Lougheed was charged — with bribery — although in 2017, a judge issued a directed verdict, basically stating that prosecutors had no case and that the Crown should never have brought the case to court.
Still, the political aroma still hangs over Wynne.
Del Duca's face is dirty because he sat around the cabinet table right beside Kathleen Wynne when all this was plotted.
A recent Ipsos survey found that 38% of those with a household income under $40,000 said Andrea Horwath would make the best premier, while 35% of those making $40,000-$60,000 said the same.
She's already had three kicks at the can and has come out with third-place numbers except when the Liberals imploded.
This is her fourth attempt at becoming premier. Give her "E" for effort, but an "F" for the overall reality of her situation.
Why the NDP membership keeps her as leader is a baffler.
How much longer will the NDP support her?
And talk about throwing money down the drain. The NDP is spending up to $13 million in the ludicrous hope of forming the first New Democratic government in more than two decades.
If that happens, the world has gone to hell.
End of story.