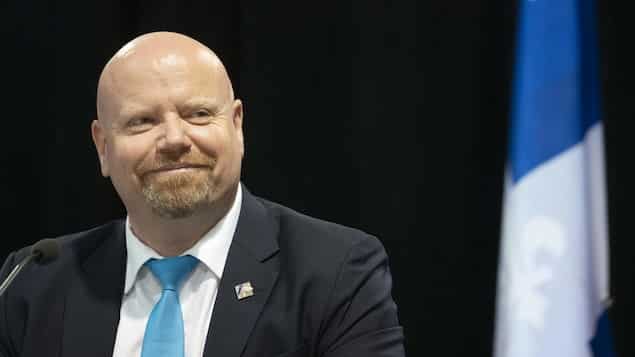 The agreement provides for the establishment of a strategic committee that will facilitate negotiations between the two parties on issues such as protected areas, forestry, consultation and economic development. Quebec is also injecting $10 million over four years into an economic spinoff fund for mining activity, which can be used for the economic and social development of Pikogan.
"After long and fruitful negotiations, we found common ground that will help us in terms of consultations, which will also help us in terms of economic development and which will also give the community the means to achieve its ambitions. It's super positive, it gives stability and predictability to the region. Everyone should rejoice in this announcement," said Minister responsible for Indigenous Affairs, Ian Lafrenière.
In Pikogan, we welcome this agreement, although we specify that there is still a lot of work to be done.
" For us, this is really a concrete gesture in the perspective of initiating a new relationship between our nation and the government of Quebec. It's a first step towards a more lasting change that could help us in the longer term. »
Minister Lafrenière: " The job is not over »
Minister Lafrenière recognizes from the outset that this is only a first step.
"When we talk about a nation-to-nation agreement, I don't want people to see that as an end. It's a beginning. We have clearly set the parameters, but here we continue to work together. It's not over, the job is not finished. I'm going to make an analogy with a house: we put a very good foundation, there, we can think of building a solid house together, "he says.
Ian Lafrenière recalls that this is the third nation-to-nation agreement announced by his government, after the one with the Lac-Barrière community for forestry last year, and the one with the Wolastoqiyik Wahsipekuk nation at the beginning of month of June. There will be more coming out very soon.he assures.
Business Development
Monik Kistabish intends to consult the economic development department and community members regarding the use of the economic spinoff fund. But according to her, everyone already agrees that business development must be a priority.
I think we all agree on that. The communities are really limited in terms of surface area, and one thing that we don't have for us here in Abitibiwinni is a commercial zone for land for entrepreneurs. This is something we would like to prioritize, because we already have entrepreneurs who have their own business, but they have no place to put their headquarters.she says.
Protected Chicobi Lake
The agreement also provides for the creation of a protected area of ​​nearly 225 square kilometers in the Lac Chicobi sector, which was desired by the Abitibiwinni First Nation. This territory resonates for the community historically and culturally. Pikogan also purchased the Camp-École Chicobi infrastructure in 2020 [La communauté de Pikogan achète les installations du Camp École-Chicobi].
"The first request had been refused. We are happy that Lake Chicobi can be part of the protected areas from now on. We purchased the infrastructure of the former Camp-École Chicobi. We also have families whose family territory it is, where they were born. We are happy to have been able to protect this area, "rejoices Chief Kistabish.


Reference-ici.radio-canada.ca