Here are today's letters from the Ottawa Sun to the editor.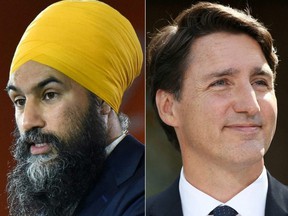 Article content
Nice work, Jagmeet Singh. The announcement by the NDP leader that his party will not form a coalition with the Liberal Party will help maintain the independence and relevance of his party.
Most importantly, the NDP members who will be on the many committees investigating the prime minister's numerous indiscretions will now not have to compromise their integrity for the good of the coalition.
AL WILLEY
EDMONTON
(Little wonders.)
VIRTUE SIGNAGE COP26
COP26 focused more on signaling virtues than reducing global CO2 emissions, as the world's four largest emitters are not in the game. China (28 percent of global emissions), the United States (15 percent), India (7) and Russia (5) are largely ignoring procedures while increasing coal consumption.
Article content
If climate warrior-turned-minister Steven Guilbeault and leading virtue flagger Justin Trudeau were serious about cutting global emissions, they could propose a significant tax on all products exported from those countries. Such action would reduce global demand and therefore the energy needs of those four countries, thereby reducing CO2 discharge, provide revenue for governments tied by COVID costs, and allow domestic manufacturing to compete on an equal footing, which would result in a renewed and inexpensive manufacturing. increase.
PHILIP ALLAN
OTTAWA
(Sounds like a simple plan).
GO BACK TO YOUR CAGES
So Dr. Peter Juni, the director of Ontario's COVID-19 science board, has said that the honeymoon is over and (what a surprise) he says we could be in a fourth wave. You know, that brief flirtation with freedom last summer and this fall that we took for granted almost two years ago could be overruled for another time on the advice of our healthcare bureaucrats. "Go back to your cages, rabble!"
Article content
It is better that the Ford government does not fall apart and make us relive those autocratic times. If you do, you can say goodbye to your chances of re-election.
STEPHEN FLANAGAN
OTTAWA
(We are all in this together …)
TIME TO LISTEN TO THE LEADERS
How can a young girl, Greta Thunberg, surpass the world leaders? These are the people who will mark our path for decades to come, and yet at COP26 they spoke out loud, but they did little, and they need to be called for that as Greta did.
There is no reason why a person's message cannot be the correct message, and it appears that their message is the correct one. We all have to work to improve the environment before we have a unique event in a century every week, as seems to be happening with the fires and floods that are happening in so many places. If I hear about a locust infestation, I'm going to panic.
Perhaps it is time for the leaders of the world to listen to even a single young voice, since the youngest are the ones who are going to live in the world that these leaders will leave us long after they are gone.
Keep up the good work, Greta.
Dennis Fitzgerald
MELBOURNE, AUSTRALIA
(It is admirable when young people take a stand.)
Reference-ottawasun.com