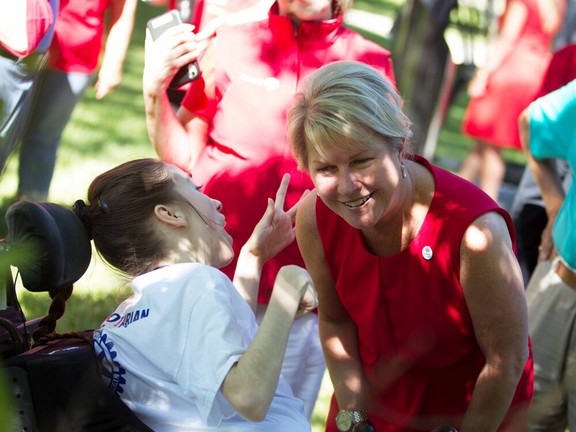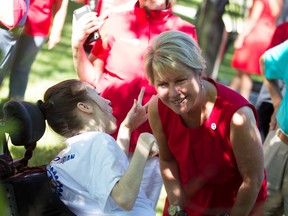 Article content
It is a major feat for Windsor's Jennifer Jones to not only be the city's first-ever Rotary International president, but also the first woman to hold the global role.
Article content
Poised to embark over the next year upon the monumental task of traveling the world in her position, which she officially begins July 1, Jones made a two-day stop in Windsor as part of a cross-country tour of Canada to kick off her presidency .
"We started a week ago and the plan is to go coast-to-coast — north to south and east to west," she said. "The goal is to raise awareness of the incredible work we as Canadians are doing through Rotary International in communities across our country and around the world."
Jones arrived in her hometown on the weekend from her first tour stop—Whitehorse in the Yukon Territories.
She participated locally in a pair of events on Sunday and Monday. The first, helping to construct 36 beds for children in need with Sleep in Heavenly Peace, then attending the planting of 40 magnolia trees along a path in Jackson Park to commemorate her home club, Windsor-Roseland, and its 40th anniversary .
Article content
After leaving Windsor, Jones heads to Ottawa, the third of 11 stops across Canada between now and July 11.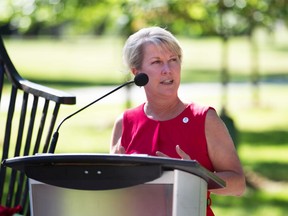 The busy travel pace around Canada for Jones will be a snapshot of what lies ahead as she spans the globe as Rotary's president. Among her first international stops she will be India, Pakistan and Bangladesh.
"It will be an amazing opportunity to help people understand what it is we at Rotarians are doing," she said. "In Pakistan, I will be meeting with health-care workers. It is one of the last two countries in the world which still has polio.
"The Rotary's No. 1 initiative has been to eradicate polio as a disease.
"I will be meeting with moms who made sure their children were immunized. Many women have to put themselves in harm's way to do that, so it will be a privilege to speak with them."
Article content
Being the first female in the role of Rotary International president is noteworthy only if other women follow in the years ahead, Jones said.
"Being first is important only if there is a second and a third," she said. "This is an opportunity to use this platform to not only show we are a diverse organization, but be someone who hopefully can inspire others to step into leadership opportunities they don't think they have.
"They can look in my direction and think, 'If she can do that, then I can, too.' Hopefully, I can help inspire others into leadership roles in their own communities and the world."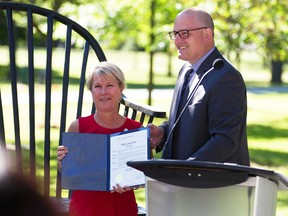 Being the first from Windsor to fill the top Rotary job also provides her the chance to represent this city across the world, Jones said.
Article content
"I'm incredibly proud to be representing this organization on a global stage and do it wearing a Windsor hat," she said.
Current president of the Rotary Club of Windsor-Roseland, Gisele Seguin, said Jones having such as "down-to-earth" demeanour is what has helped her rise to the top position within the Rotary International organization.
"She has made her way through the ranks as a district president and district governor," Seguin said. "Ella She appeals to everyone, not only throughout the Rotary world, but also during her community visits de ella. Everyone wants to see her and talk with her.
"Windsor is already known within Rotary as a giving community, so it's not too big a surprise we have someone (as international president) who comes from here. But the fact it is Jennifer Jones who is beloved in the Rotary world and across so many communities will also really help shine a light on Windsor."