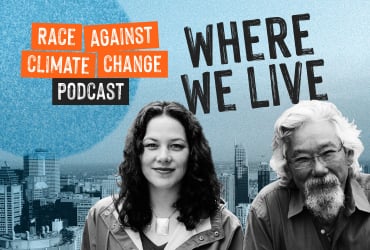 The climate crisis is in our backyards. It is not a question of whether our neighborhoods will be affected, it is a question of how. Founder of the National Observer of Canada, Linda Solomon Wood, sits down with the most famous family duo in Canadian weather action, David Suzuki and Severn Cullis-Suzuki. Plus, Montreal's deadly urban heat islands and the mammoth task of modernizing every building in Canada's largest city.
Guests:
Resources for weather nerds:
Credits:
Field production of Ellen Payne Smith and Elysse Deveaux in Montreal. Final audio mix by Aftertouch Audio. Fact Check by Dana Filek-Gibson. Work of Ata Ojani. Communications from Suzanne Dhaliwal and Luke Ottenhof. Music by Martijn de Boer and Blue Dot Sessions. Additional sound from Eldiariosonoro_, Lonemonk and Helter Skelter from freesound.org.
Related Posts:
Reference-www.nationalobserver.com