The desire to defend the accomplishments of his government will be a powerful motivator for Horgan in the months and years to come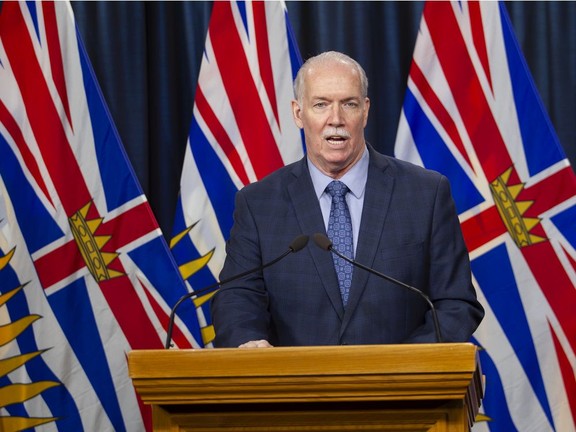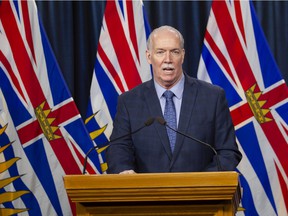 Article content
VICTORIA — Premier John Horgan sparked a round of speculation about his political future this week when he announced that he's cancer free and back to "fighting weight" again.
Article content
"We are breaking news here," Horgan told sportscasters Don Taylor and Rick Dhaliwal during an appearance on their show on Victoria-based CHEK TV Thursday.
"I have had a clean scan so there ain't no cancer in me."
Horgan was on the Donnie and Dhali show to talk about sports, most notably BC's success in landing World Cup soccer games for 2026.
But when Taylor, an old friend, asked the premier about his health, Horgan served up the good news from his oncologist.
"I've got some challenges with after-effects of treatment and so on, but that can be managed," he said.
"I am at fighting weight again."
Horgan has been through a lot, starting with last fall's cancer diagnosis, his second, then surgery to remove a lump in his throat.
Article content
Over the winter, he went through a regimen of 35 radiation treatments, then made a slow return to work in February.
In April he came down with COVID-19. A mild case he said, but it slowed him down as well.
"I have to confess my energy has been flagging," he told CTV's Rob Buffam last month, citing the combined impact of the cancer treatment and then COVID.
"I probably jumped into the pool a little bit earlier than I should have."
It showed, from time to time in flashes of impatience, like the day he dropped the f-bomb in the legislature.
The signs of fatigue gave rise to speculation — including among New Democrats — that Horgan would retire, rather than lead the party into the next election.
Increasingly, events were interpreted as to how they fit into the narrative of his supposedly pending retirement
Article content
When Horgan sprang the plan to replace the Royal BC Museum, it was assumed he saw it as a personal legacy for the capital region where he lives.
When he called a halt this week, it implied he was "taking the baggage with him" as he made his way to the exit.
Whereas the premier's declaration that he'd beaten cancer for the second time and returned to fighting form was taken as a sign that he's not done yet.
But barely was that likelihood circulating on social media Friday, when Horgan fed a different possibility into the rumor mill.
He appeared on the CBC's Victoria station, for an interview with Gregor Craigie, host of On the Island.
Craigie congratulated him on being cancer free and, as time ran out, asked if he were "planning on continuing as premier through the rest of this elected term, the next two or three years."
Article content
Horgan answered the question about his future in a round about way.
"I'm currently in Vernon with the rest of my caucus where we're engaging with people here and we have a cabinet retreat next week in Vancouver," Craigie told.
"We're plotting and planning and preparing for the next two years."
He closed with: "So, I'll have more to say about that as we come out of those meetings."
More to say about the plans for the next two years?
Or more to say about his own plans to run again, per the question he was asked, and thus a tacit hint that he may be going?
Or is the premier just messing with us?
One can readily imagine why Horgan might have decided to go.
He's been through a lot on the health front.
He'd be leaving the NDP in a strong position in the opinion polls and with two years to regroup under a new leader.
Article content
But it is easy to come up with a rationale for a decision to stay.
He loves the job, least ways he has done so up to this point.
There's no one waiting in the wings with his communication skills and populist touch.
The government faces huge challenges with inflation, the crisis in health care, and public sector bargaining.
His rivalry with BC Liberal leader Kevin Falcon is personal.
Horgan would like to beat him, not have people think that he walked away from a fight.
The latter scenario is the preferred one for most New Democrats.
They'd like the premier to secure another term of office for the NDP, then withdraw.
Horgan bowed out of the last NDP leadership race in 2014. He reentered only when persuaded that he was the party's best shot at recovery after the 2013 election loss.
Article content
The duty to his party and the wish to defend the accomplishments of his government will be a powerful motivator in his current thinking.
Health permitting, I expect he will run again.
The mixed messaging around the premier's intentions recalls the cat and mouse game he played in the run up to the "snap" election call in September 2020.
One day he'd characterize the early election as "an opportunity," another day he'd claim to be "struggling mightily" with the decision.
Meanwhile, he was putting all the necessary pieces into place for an election call, from engineering a cover-up of the budget-busting geotechnical problems at Site C to repudiating the four-year power-sharing agreement with the Greens.
All along he knew where he was heading and I expect that is the case now.
But part of the game is keeping the rest of your guessing.
---
More news, fewer ads: Our in-depth journalism is possible thanks to the support of our subscribers. For just $3.50 per week, you can get unlimited, ad-lite access to The Vancouver Sun, The Province, National Post and 13 other Canadian news sites. Support us by subscribing today: The Vancouver Sun | The Province.