Advocates say the rising cost of rent continues to push sex workers into more dangerous street jobs.
.
Sex workers in the Downtown Eastside are on high alert after violent events in recent weeks rocked the neighborhood, including the discovery of the remains of missing women and several unprovoked assaults.
While a system for reporting violent offenders aims to prevent street sex workers from being targeted, advocates say the rising cost of rent indoors continues to push them into more dangerous situations.
"People put their lives in your hands every time they go out to work," said Mebrat Beyene, executive director of the WISH Drop-in Center Society, an organization that supports sex workers in the neighborhood.
.
Some sex workers living in the tent city of East Hastings Street were forced to dismantle their makeshift homes this week with no affordable housing options to fall back on.
In an effort to prevent female-identifying workers from having to trade low-cost or dangerous sex for a place to stay, WISH operates a 23-bed emergency shelter. It has remained at capacity since opening in the fall of 2020.
The nonprofit also released its "bad date" report on August 4, detailing several allegations of worker assault with vague descriptions of the accused customers, the vehicle the suspect was driving, and where the incident is said to have occurred. .
"We redact much of what the sex worker shares because many times it is information that could compromise her safety. He fears the client will retaliate," Beyene said.
.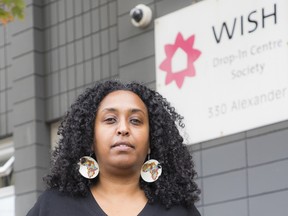 What is left unsaid in the memos, which are disseminated by email throughout the Lower Continent, often includes acts of kidnapping, forced confinement and rape.
"Many workers are too traumatized to report the event to us, let alone the police. We work with them to make the report detailed enough that the police investigation can follow up without an actual police report."
Vancouver police say the challenge of filing criminal charges after a report is made is the lack of evidence, said Sgt. Steve Addison.
"Sometimes the evidence is readily available and sometimes it isn't. When the evidence leads to reasonable grounds that a criminal offense has occurred, we have the legal authority to arrest a person who is believed to have committed a crime."
.
Street sex workers are known to spread warnings about clients more often with other people at work.
A sex worker told Postmedia that when her one-bedroom occupancy hotel imposed guest restrictions amid the COVID-19 pandemic, she had to stand at Hastings and Cordova streets to earn enough money to pay her $1,000 monthly rent. 375.
Potential customers would drive up to the 31-year-old man.
"I would have less than two minutes to decide: 'Is this guy gross or does he seem okay?'" A quick scan of her vehicle, including a weapons check, helped her make up her mind.
However, refusing a man's prices proved just as dangerous for the worker, who filed a wrong date report with WISH in 2020 after the man proceeded to physically assault her.
.
"I still have kidney damage from hitting myself," he said.
In addition to being more dangerous, working outdoors generates less pay, according to the sex worker.
"Without an indoor venue, you can only earn a maximum of $100 for your services. If you can bring customers inside, you can earn up to $500."
The danger facing women and sex workers in substandard housing in the Downtown Eastside is nothing new, Beyene said.
This year, violent crime rates in the neighborhood, where serial killer Robert Pickton kidnapped some of his victims starting in 1991, are more than double those in the rest of Vancouver, according to police data.
On the morning of July 25, a woman sitting on the sidewalk was severely burned after a stranger doused her with a flammable liquid and set her on fire on Dunlevy Avenue near Powell Street. Police said the suspected attacker, described as a white male in his 30s, was targeting "a vulnerable member" of the community.
.
Five days later, the body of 25-year-old Kwem Manuel-Gottfriedson was discovered in a rooming house near East Hastings Street and Hawks Avenue. She had been reported missing three days earlier.
The remains of two other women, Noelle O-Soup, 14, and an unidentified woman in her 30s, were discovered a block away in May.
Although the cause of the woman's death is still under investigation by the BC Coroner's Service, sex workers in the community remain nervous, Beyene said.
"We have never been away from those feelings that what happened then is happening again. He is always present, it is just that the public has forgotten him".