There have been 45 attacks on humans by coyotes in Stanley Park since December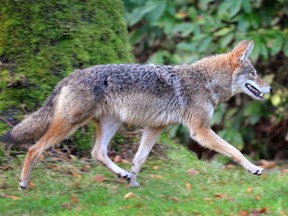 Article content
The Vancouver park board will vote tonight on the possibility of introducing new fines for those caught feeding wild animals in city parks.
Article content
The vote comes after a series of coyote attacks in Stanley Park.
The BC Conservation Officials Service says the aggressive behavior of the coyote is likely the result of the animals becoming too comfortable for humans due to direct or indirect feeding.
There have been 45 attacks on humans by coyotes in Stanley Park since December. In response, 11 coyotes have been killed, including four in a recent two-week cull that took place at British Columbia's Ministry of Forests, Lands, Natural Resources Operations and Rural Development.
Last week, conservation officials made two arrests and seized a vehicle after catching two Lower Mainland residents who were allegedly feeding coyotes in the park.
The Vancouver Park Elected Board, which administers Stanley Park, vote on an amendment to the bylaws tonight that will allow park rangers and police to hand out $ 500 fines to those who feed urban wildlife or leave attractants (food or food waste) in any park.
"Human feeding of wildlife interferes with normal numbers of foraging, hunting and population. It is physically unhealthy for animals and encourages food conditioning that can lead to aggressive behavior, "said a staff report to the park board.
The BC Wildlife Act already has provisions against feeding "dangerous wild animals," but it does not contain restrictions against feeding urban wild animals, such as coyotes in Stanley Park.
Reference-vancouversun.com