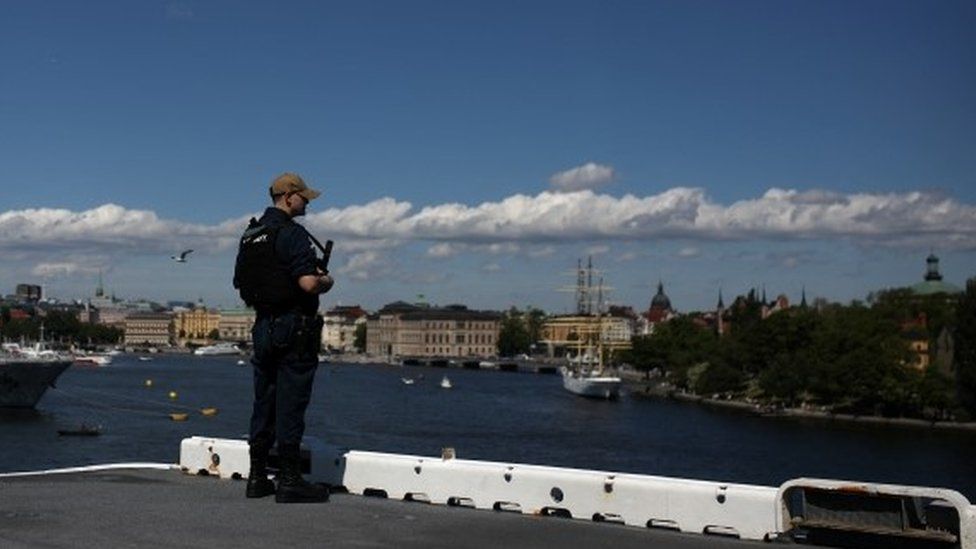 In the past few hours, the path has cleared for Finland and Sweden to join the Nato defence bloc, after it was announced they had managed to overcome objections from Turkey.
Turkey agreed to back their membership, saying it "got what it wanted" from the two, after accusing both of backing Kurdish militants.
Given all Nato members must agree on taking in new members, Turkey effectively had veto power.
This is an important moment for the bloc. Russian President Vladimir Putin had cited the possibility of Ukraine joining Nato as a reason for his war. He will now face an expanded Nato, just from a different direction.
Kremlin paranoia increased
The metaphoric champagne corks will be popping in Nato's senior ranks tonight as the biggest stumbling block is removed to admit two major new members.
Finland and Sweden are already modern, western-leaning democracies with well-trained and well-equipped militaries used to operating in the often challenging conditions of Europe's Far North.
Their accession, once it is complete, will bring the number of Nato countries bordering the Baltic Sea to eight – effectively turning it into a Nato lake.
Russia's two outlets, at St Petersburg and Kaliningrad, will be increasingly isolated, only increasing the Kremlin's paranoia.
Finland and Sweden are joining Nato because Russia invaded Ukraine.
That invasion was intended to push Nato further from Russia's borders. Instead, it has achieved the exact opposite.
High energy costs the price to pay 'for freedom'
The breakthrough came on the opening day of a three-day meeting of Nato members in the Spanish capital Madrid.
Nato Chief Jens Stoltenberg in a speech appeared to try to ward off any doubts Western allies might have about continuing the conflict as a cost of living crisis bites.
Acknowledging the higher energy prices paid by consumers, Stoltenberg said they were the "price we have to pay for freedom".
The world would be more insecure if Putin won, Stoltenberg said.
Nato leaders could later in the conference back a huge expansion of the number of the organisation's troops on high alert. Jonathan Beale has been taking a look at what's being proposed.
'I didn't even think they would hit a shopping centre'
Rescuers have stopped searching through the ruins of a shopping centre in the city of Kremenchuk that was hit by a Russian missile on Monday.
At least 18 people were killed in the strike.
Survivors meanwhile are asking why they were targeted.
"I didn't even think they would hit a shopping centre," said one. "There are women and children. It's a safe place."
Accidental fire? Weapons depot? False claims abound
Within hours of the attack on a shopping centre in the central Ukrainian city of Kremenchuk, false and unproven claims began circulating online.
Stories were spread by Russian Telegram channels and by Dmitry Polyanskiy, Russia's deputy ambassador to the United Nations. They included rumours that the attack was "false" or "staged" – and were repeated on Russian television.
On Tuesday, Russia's defence ministry released a statement claiming the shopping centre was "non-functioning" and that the bombing of a nearby ammunitions dump sparked a secondary fire at the centre. Those claims were denied by Ukrainian officials.
Mayor of Kherson detained – Russian media
Pro-Russian forces have detained Igor Kolykhayev, the elected mayor of the city of Kherson, Russian media reports.
"Ex-mayor Kolykhayev has been detained," Kirill Stremousov, deputy head of the Russian-backed Kherson administration, told state news agency RIA Novosti.
Councillor Galyna Lyashevska claimed on Facebook that the mayor was "kidnapped".
It was the first major city to fall – one week after the invasion of Ukraine on 24 February.
War in Ukraine: More coverage


Reference-www.bbc.co.uk