"We're hoping to have hundreds of club kids coming to the game and I want to be able show them a top level of basketball and inspire them." — UBC coach Kevin Hanson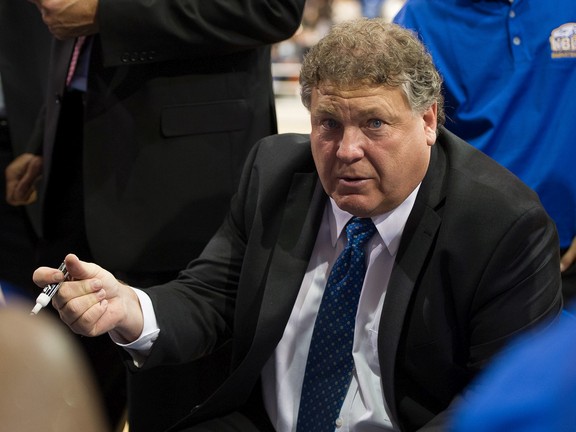 Article content
UBC Thunderbirds coach Kevin Hanson wants to provide a spark to the local basketball community this week with assistance from the visiting UNLV Runnin' Rebels.
Article content
UNLV, who remain one of the more storied NCAA men's basketball programs, take on Hanson's T-Birds on Tuesday at 7 p.m. at War Memorial Gymnasium as part of their six-day pre-season tour of B.C.
"I want to have an event. I want to have an incredible event at UBC. I want to turn more kids onto basketball," Hanson said. "We're hoping to have hundreds of club kids coming to the game and I want to be able show them a top level of basketball and inspire them."
UNLV also faces the Calgary Dinos on Wednesday at UBC before visiting the Fraser Valley Cascades Friday.
NCAA teams are permitted to have a foreign trip once every four years. Former NBA scout Maury Hanks runs a company that sets up trips, and Hanson said that when Hanks called offering up a game with UNLV he jumped at the opportunity, even though UBC doesn't open its regular season until Nov. 12.
Article content
"You're not going to say 'no,' to a chance to play someone like UNLV," said Hanson, whose squad has been practising for a couple of weeks to get ready.
Article content
UBC hasn't hosted an NCAA team since 2019, when the Cal State Bakersfield Roadrunners rallied to beat the T-Birds 94-88.
The COVID-19 pandemic had put such games on hold. Hanson points out that War Memorial was still at 50 per cent capacity due to health regulations for the T-Birds' last game there, a 95-58 win over the Thompson Rivers WolfPack on Feb. 23, 2022 that closed out the regular season.
UBC's season came to an end in the Canada West tournament in Lethbridge, falling to the Saskatchewan Huskies 88-87 in the quarterfinals on March 5. The T-Birds finished the year at 19-5.
"Hopefully the world is changing and we can start getting these (NCAA) games again," Hanson said.
Article content
UNLV remains best known for the years with towel-chomping coach Jerry Tarkanian. With Tarkanian at the helm, they won the NCAA title in 1990, they lost in the Final Four to the eventual champion Duke Blue Devils in 1991.
Those Runnin' Rebel teams featured Larry Johnson, Stacey Augmon and Greg Anthony, who went on to play for the Vancouver Grizzlies.
UNLV last qualified for the NCAA tournament in 2013. They finished 18-14 last season under Kevin Kruger, who was in his first season at the helm.
Kruger's team this season features six returnees and eight newcomers, including six transfers from the Division I level. Players changing schools has become more prevalent since the NCAA opened up its transfer rules last year. UNLV had nine transfers to start last season.
Article content
This marks UNLV's first foreign tour since going to the Bahamas in 2016.
UNLV's final practice before coming to B.C. was Saturday and it was open to the public. The Las Vegas Review-Journal said a standing-room-only crowd came to watch. 
Kruger told the newspaper that he plans to tinker with the lineup and his rotations throughout the three games in B.C. 
"A lot of it is kind of throwing our guys out to the wolves a little bit and see what they can figure out," Kruger said. "That's going to be the fun part of it."
Senior guard Justin Webster added: "These trips always bring out the best in teams because we're able to get some games before the season. We'll be able to bond, get to know each other more and see how well we play together."
UNLV hasn't yet announced its schedule after this B.C. trip.
Calgary finished 11-10 last season. Fraser Valley was 9-10.
Twitter: @SteveEwen