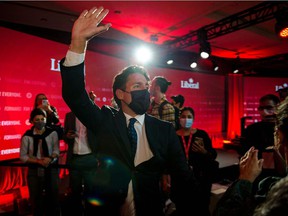 Article content
Justin Trudeau declared a clear mandate Monday night. Being second in the popular vote with 32 percent and a voter turnout of less than 60 percent meant that less than one in five eligible voters voted for the Liberals, and is that a clear mandate? Aside from the drama, I thought Trudeau was also supposed to have taught math.
Commercial
This ad has not been uploaded yet, but your article continues below.
Article content
Rob McCullough, Edmonton
Time to call the provincial government
Given the current situation regarding Alberta's increasing COVID-19 infection rate, the irresponsible actions of our government, we should be able to remind the provincial government. The change of hats between Ministers Copping and Shandro is a joke. It reinforces what we've known since Kenney's team took office. They do not know what they do.
Kenney's reluctance to admit his incompetence is not surprising. Just think of yourself. Fighting the need for a vaccination record document was a juvenile affair. We already have it as part of our health records system. Obviously, Kenney and his team didn't know that. So now we wait and see what happens within the UPC party caucus.
Commercial
This ad has not been uploaded yet, but your article continues below.
Article content
Erwin Rauscher, Edmonton
Alberta's COVID response as the BP disaster
In today's COVID update, the prime minister declined to reveal the destination of his recent vacation, suggesting that personal activities are prohibited as he hadn't taken a decent vacation in years – all at a time when the COVID cases were on the rise and healthcare workers struggled. with extended hours and holidays canceled. The analogy to another oil leak with a callous and arrogant leader is strikingly similar.
In 2010, BP's deepwater platform in the Gulf of Mexico exploded, causing the largest marine oil spill in history. The effects on the ecosystem, tourism and fishing industries were devastating. Anthony Hayward, BP's chief executive, initially said the spill was "relatively small." As the oil spill unfolded, Hayward was subsequently fired after being caught on vacation and responded that no one wants this more than me: I'd like my life back.
Commercial
This ad has not been uploaded yet, but your article continues below.
Article content
Wasn't it Kenney who initially claimed that COVID was the flu? He also opposed vaccination passports as the information was confidential and / or violated individual rights. Not only did he cultivate the divergence, he planted the seeds for the anti-vaccines.
Holding public office carries additional responsibilities and personal sacrifice. Time to go, Mr. Kenney.
Ernest Reason, Edmonton
Put people's health before politics
What if Jason Kenney took on his base? What if some of your MLA split from the UCP to form their own party? Yes, it could trigger an election. But I think there are a lot of people lurking in the undergrowth in those districts who would come forward to run for a UCP who is not pleased when big-picture issues like COVID arise. They would put the common good ahead of their party (vaccination certificates, anyone?) And trust that large numbers of Albertans would appreciate the party for it.
The change of health ministers will not make the slightest difference if we continue to prioritize being elected over the health of the people.
David L. Young, Edmonton
Welcome letters
We invite you to write letters to the editor. A maximum of 150 words is preferred. The letters must have a first and last name, or two initials and a last name, and include an address and a telephone number during the day. All letters are subject to editing. We do not publish letters addressed to third parties or sent to other publications. Email: [email protected]
Reference-edmontonjournal.com