Hay's commitment to the Terry Fox Foundation became even more compelling after he himself contracted cancer a few years ago.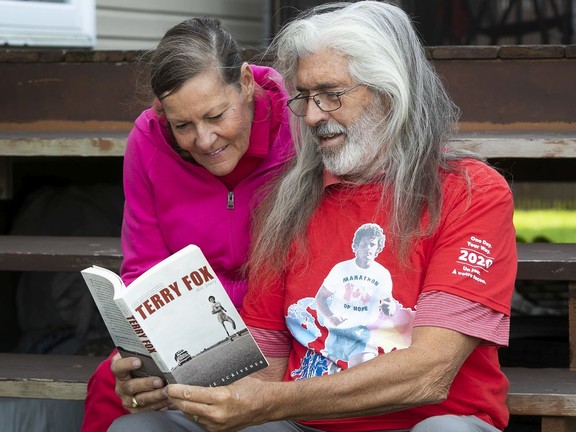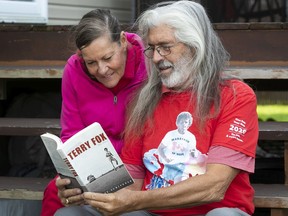 .
After a two-year absence due to the pandemic, the annual Raise a Club Against Cancer golf tournament was held last week at Atlantide Golf Club on Île-Perrot.
.
The tournament serves as a fundraiser for the Terry Fox Foundation and this year's event raised nearly $27,000 for the cause. Darrell Fox, Terry's younger brother, and CTV Montreal's Lori Graham were special guests at this year's tournament, which drew 140 golfers.
.
Organizer Les Hay, who has been raising money for the Terry Fox Foundation through bottle drives and other efforts for more than four decades, was overwhelmed with the support he received again this year. His 43-year fundraising total now stands at a whopping $530,983.
Darrell Fox praised Hay and others for keeping his brother's dream alive by raising money for cancer research.
But Hay, a cancer survivor who turns 76 in November, noted that this may be his last official golf fundraiser.
.
"I'm getting too old for this," said Hay, a longtime West Islander who now resides in Vaudreuil-Dorion.
Hay said his tournament has always been about getting personal contributions. "I don't chase people to give me thousands of dollars, nor do I go corporate. I only ask people to give what they can, to give something."
Hay's commitment to the Terry Fox Foundation became even more compelling after he himself contracted cancer a few years ago. His own The battle with cancer helped strengthen her determination to continue her work on behalf of the foundation.
Then last April, Hay was left devastated after his wife Linda Jetté succumbed to brain cancer. "I'm not over it yet," he said.
Hay never got to see Terry Fox in person during his heroic 1980 Marathon of Hope run for cancer research. The epic race across Canada came to a heartbreaking end after Fox suffered lung cancer near Thunder Bay, Ontario. He died in 1981 at the age of 22.
.
Like millions of Canadians moved by Fox's heroic efforts, Hay felt compelled to do his part to help find a cure for cancer after Fox passed away.
"The entire Fox family has been great in helping to keep Terry's dream alive," said Hay. "They go to schools, banquets and golf tournaments. They are the ones that keep this going. If you don't motivate people, it will go down."
"They continue to root for and uphold the Terry Fox name. I congratulate them so much."
Over the years, both of Terry's brothers, Fred and Darrell, have attended Hay's golf tournament. Hay has also met Terry's late mother, Betty, on several occasions at previous fundraising events in the Montreal area.
At public speaking engagements, both Darrell and Fred Fox often remind the current generation of students that their brother was a typical Canadian kid who loved sports.
.
"One of the first things I try to tell students is that they are like Terry," Fred Fox said during a visit to West Island High School a decade ago. "He was just your average Canadian kid from the suburbs. He had the same dreams as everyone else, which is why his story resonates so well with kids today."
"He wasn't the biggest or the smartest kid in the class, but Terry knew he had to try a little harder than the rest," added Fred.
"Her fifth grade report card had a couple of C's, a couple of C's down, and a C up. He had average work habits, but Terry worked to become a better student."
Terry's grades eventually improved and he was voted top athlete his senior year of high school.
Hays says he will never stop fundraising one way or another to pay tribute to Terry Fox.
"I still can't get over the fact that he ran a 26-mile marathon for 143 consecutive days on one leg. It's amazing."
Les Hay reaches $500,000 in donations for the Terry Fox Foundation

Terry Fox's cancer research crusader continues after his own battle with the disease