He's expected to be named new head coach of the Chicago Blackhawks at a news conference on Tuesday or Wednesday after a contract is finalized.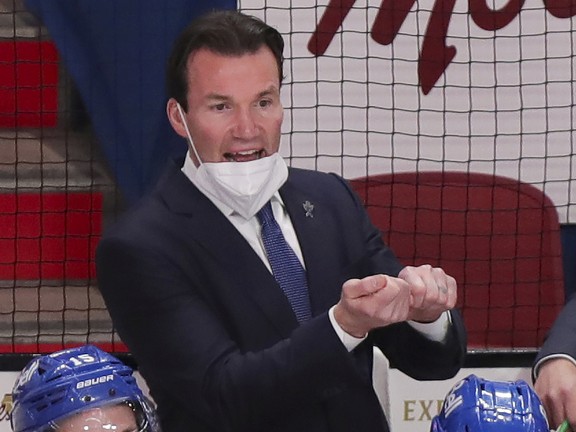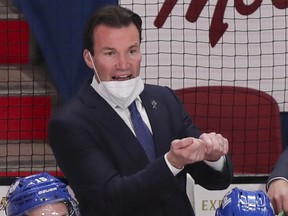 Article content
It looks like the Canadiens are going to have a big hole to fill behind their bench next season.
Article content
Frank Seravalli of Daily Faceoff was the first to report Friday afternoon Luke Richardson is expected to become the new head coach of the Chicago Blackhawks, with the final touches being put on his new contract. The Blackhawks are expected to hold a news conference to introduce Richardson as their head coach on Tuesday or Wednesday.
Richardson has been an assistant coach for the last four seasons with the Canadiens, in charge of handling the defence. This would be Richardson's first head-coaching job in the NHL, but he has been an assistant coach for eight seasons — including stints with the Ottawa Senators and New York Islanders before joining the Canadiens, and he was also head coach of the AHL's Binghamton Senators for four seasons.
Article content
Last year, Richardson took over as interim head coach of the Canadiens after Dominique Ducharme tested positive for COVID-19 before Game 3 of the Stanley Cup semifinal series against the Vegas Golden Knights. The Canadians would win that series in six games, going 3-1 with Richardson as head coach. He was also head coach for the first two games of the Stanley Cup final, with the Canadiens lose both games to the Tampa Bay Lightning before Ducharme returned. The Canadians lost that series in five games.
"I think I speak for all the defensemen when I say that we'd all go through a wall for Luke," Ben Chiarot said after the Canadiens beat the Golden Knights 3-2 in overtime in Game 3. "That's the best compliment you can give a coach. We'd go through a wall for him because we know he'd go through a wall for us. He's a player's coach."
Article content
The Canadiens players were more likely to skate through a wall for Richardson than they were for Ducharme. If Richardson could speak French, you have to think he would have replaced Ducharme again this season — at least on an interim basis — after the Canadiens decided to fire their head coach following an 8-30-7 start. Instead, Martin St. Louis was named head coach without any coaching experience at the pro level.
Richardson was a huge help to St. Louis. They played together for one season with the Lightning and St. Louis described Richardson as the "ultimate teammate."
"He's helped me a lot," St. Louis said a couple of weeks after taking over from Ducharme. "Luke's a great listener and when he speaks you listen and it's calculated, it's thoughtful. I know if I have questions for him and stuff he's going to give me the truth. He's going to tell me the truth and the truth always helps you move forward the right way. I've leaned on all my guys. Me and Luke have a relationship, we played together, but I'm getting to know Trevor (Letowski) and Alex (Burrows) and my video guys. It's a great group and they work hard."
Article content
After the season ended, St. Louis said he wasn't planning to make any changes to his coaching staff. The loss of Richardson will be big because of his coaching experience. St. Louis only has 37 games of experience behind an NHL bench now, while Letowski just completed his first season as an NHL assistant coach and Burrows his second.
But Montreal's loss is Chicago's gain. The Blackhawks will be getting a head coach who is respected throughout the league. Richardson will replace interim coach Derek King, who went 27-33-10 after taking over for Jeremy Colliton following a 1-9-2 start this season.
Canadiens defenseman Chris Wideman played three seasons with Binghamton in the AHL when Richardson was head coach.
"He's one of the pro coaches that I've had that I had a great personal relationship with," Wideman said this season. "I think especially early in my career, first couple of years of pro, he's a guy who played a long time in the NHL (21 years). But the way he carries himself off the ice is someone that you can kind of model your life after. He's a good man and he takes his work very seriously. "
Article content
This was a horrific season for the Blackhawks, who settled a lawsuit with former player Kyle Beach in December after he said he was sexually assaulted by video coach Brad Aldrich during the team's 2010 Stanley Cup title run. Two month earlier, Stan Bowman resigned as GM and president of hockey operations in the wake of findings by an outside law firm looking into the Beach's allegations.
"As for the Blackhawks organization, we remain steadfast in our commitment to ensure that, going forward, this team will be a beacon for professionalism, respect and integrity in our community," the Blackhawks said in a statement following the settlement with Beach. "We remain grateful for the trust and support of the Blackhawks community, and we promise to continue working every day to earn and maintain that trust."
Hiring Richardson will be a big step forward for the Blackhawks.
Stu Cowan: Canadiens' Ben Chiarot looks to mimic coach Luke Richardson

Stu Cowan: Canadiens' young rearguards in good hands with Richardson