New Zealand granted legal personality to a national park with rights to be protected. Could that principle be applied to Stanley Park? asks a UBC law professor.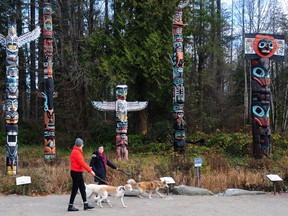 Article content
Stanley Park might be better protected if it had the same legal status as a person, according to a UBC law professor.
Article content
The idea of ​​giving 'personality' to a park, forest or ecosystem adds protection by moving away from the idea that it is property, governed as such in the British common law tradition.
Article content
In 2017, New Zealand law gave personality to Te Urewera, which had been a national park. That created a new legal framework for the protection of its 2,100 square kilometers of lakes and virgin forests in the interest of the indigenous Tūhoe people.
"That's where the Maori and New Zealand government landed as a way to address pending land claims," ​​said Alexandra Flynn, a professor at the Peter A. Allard School of Law at the University of British Columbia. "So I guess it can work in the sense that it's a joint process to get to."
Article content
Whether that could happen in Vancouver with Stanley Park would require relationship building and indigenous-led consideration of how First Nations law might apply, Flynn said.
In the BC context, Flynn said it would be difficult for Stanley Park to simply be turned over to the Squamish, Tsleil-Waututh and Musqueam First Nations.
Flynn believes the options, including legal status, were worth exploring. His findings have just been published in the Fordham Urban Law Journal, under the title Parks as people: legal innovation or colonial appropriation?
"This displacement (of indigenous communities) happened in this park that is so beautiful and so important to Vancouver, BC and the world," Flynn said. "What are the ways that property law could address this issue, other than devolution or co-management?"
Article content
In New Zealand, personality meant giving Te Urewera "all the rights, powers, duties and responsibilities of a legal person", according to the law establishing the measure.
Flynn said the legislation created a management plan with a board that must "act for and on behalf of Te Urewera" and can "consider and give expression to 'Tūhoe knowledge'".
In Colombia, Flynn wrote, indigenous and Afro-Colombian communities launched a lawsuit in 2015 over environmental damage caused by mining on the Atrato River.
Their argument was that the damage constituted a lack of protection of the "social rule of law" under the Colombian constitution. The Constitutional Court ruled that "rivers, mountains, forests and the atmosphere must be protected, not because of their usefulness to humans but because of their own right to exist."
Article content
Closer to home, Flynn said the ?Esdilagh First Nation and Tsilhqot'in Council of Chiefs wrote their own law in 2020 declaring the Fraser River a person with "rights in decisions about its care and use that must be considered and respected". ."
That law hasn't been tested in court, but Flynn said there are increasing examples where courts have recognized Indian law as a problem-solving mechanism.
"I don't see this as a road map for the Nations or for the city to say, this is what you need to do," Flynn said of Stanley Park.
Rather, he intended it to be "more cautious than that, to say don't jump on these ideas like they're going to solve everything."
For example, with Stanley Park, "there are significant limitations to granting a form of personality that goes beyond symbolism to transfer real power to indigenous peoples," Flynn writes.
Article content
And without an indigenous-led process, there is a risk that granting personality would result in a token gesture "to replace dialogue in a rush to finish the difficult task of confronting colonialism within cities," Flynn said.
In Vancouver, the parks board has been conducting a colonial audit of city parks, with a focus on Stanley Park as "ground zero" for First Nations impacts, to identify ways to improve park policies and practices. meeting regarding reconciliation.
---
More news, less announcements: Our in-depth journalism is possible thanks to the support of our subscribers. For just $3.50 a week, you can get unlimited, ad-lite access to The Vancouver Sun, The Province, National Post, and 13 other Canadian news sites. Support us by subscribing today: The Vancouver Sun | The province.
Stanley Park Drive will return to pre-COVID times with the removal of dedicated bike lane

Vancouver parks board staff ordered to produce an urgent report on the city's outdoor pools and spray parks