Vacancies are not being filled, not because of a lack of talent, but because salaries for similar jobs are much higher in the private sector.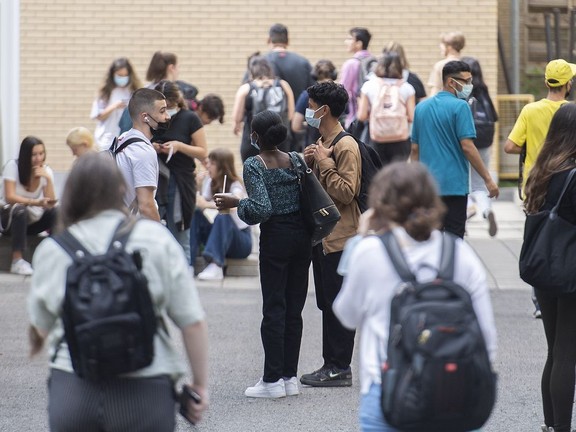 .
Some CEGEPs in the province will be forced to cut courses and even some services due to a lack of staff at post-secondary institutions, says a union representing workers at the university level.
.
The Centrale des syndicats du Québec and other affiliated unions are calling on the province to improve working conditions at the university level to allow institutions to better hire staff and keep those already in place.
"When we talk about the shortage of professional staff, as well as support staff, (Higher Education Minister) Danielle McCann said that she was not aware of the situation, so when we talk about shortage of staff, we do not want the CEGEP system, which is important in Quebec, to leave it by the wayside," CSQ president Éric Gingras said during a press conference on Monday.
He was accompanied by directors from other federations that represent teachers and support staff within the CEGEP.
"In technical programs at the university level, the need is obvious," said Youri Blanchet, president of the Fédération de l'enseignement collégial.
.
"Information technology, electronics, and engineering and nursing technology are programs in which we have difficulty recruiting staff because there are better working conditions in the private sector or in the health sector."
Valérie Fontaine, who represents support staff, said the problem is particularly acute in certain job categories like IT technicians, where it's not uncommon to see a job posting five or six times.
"These vacancies are not being filled, not because of a general lack of technicians, but because the salaries for such jobs within the private sector are much higher," he said. "There really is an exodus to the private sector."
Blanchet added that due to all the shortages, there are courses that the CEGEP can no longer offer.
.
"There's a lot of teaching assignments that aren't yet assigned, because there just aren't any teachers to offer them to," he said.
Éric Cyr, from the Fédération du personal professionnel des collèges, added that some services are being cut at CEGEPs and students are being penalized.
"Of 48 CEGEP, 14 do not have any psychologist working in them," he said. "Our members tell us that there are also long delays for other services, such as guidance," adding that this shortage existed even before the pandemic broke out.
Blanchet added that the job of CEGEP teachers has become even more difficult because many high school students got passing grades even though they didn't deserve them, an effect of the pandemic.
.
"When we get (these students), we have to bring them up to speed on everything and bring them up to speed on subjects like math and French. Teachers often have to offer additional workshops to help them," she said.
He added that these more difficult working conditions and competition with the private sector mean that the upcoming negotiations with the government must bear fruit.
"This year, our members received a two percent increase in salary, when inflation could reach eight percent; it's a significant step backwards," he said.
Hanes: Young Quebecers are pawns in a political chess game over CEGEPs

CEGEP leaders say they do not know how Bill 96 will be implemented

Liberal youth want additional French courses at English CEGEPs to be optional