An RCMP forensic expert described what she photographed in Surrey's Alpen Place after Randy Kang was shot dead on October 27, 2017.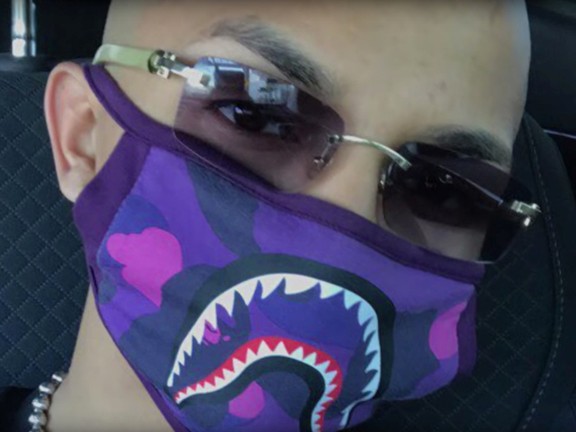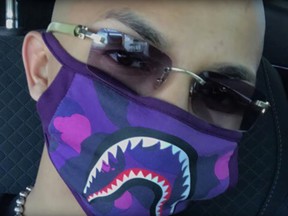 .
Spent shell casings, blood and the body of gangster Randy Kang.
.
An RCMP forensic expert described what she photographed in Surrey's Alpen Place after Kang was shot dead shortly after 8:30pm on October 27, 2017.
.
Sergeant Heather Burwell detailed each photo as it was presented as evidence Tuesday in the murder trial of Tyrel Nguyen, who also goes by the surname Quesnelle.
Nguyen is charged with first-degree murder in Kang's death, as well as the November 12, 2018 murder of Jagvir Malhi in Abbotsford. He also faces two counts of attempted murder in connection with the shooting that night of Kang's brother Gary and his friend Camilo Alonso. He has pleaded not guilty to all charges.
The 23-year-old suspected Brothers Keepers hitman flipped through a black folder of photos as Crown prosecutor Joe Bellows questioned Burwell about each one.
.
Nguyen is alleged to have targeted the Kang brothers, gangsters linked to the Red Scorpion gang, after a jailhouse conflict between Brothers Keepers founder Gavinder Grewal and jailed Scorpion Jamie Bacon.
Bellows said in his opening statement that a witness would testify that Nguyen was paid $100,000 for Kang's murder, and then another $30,000 for Malhi's murder even though the 19-year-old college student was not the intended target.
The veteran prosecutor also said that Nguyen was motivated by both the cash and his love for Grewal, which he later rapped about on the song my life – is expected to be part of the Crown case.
Alpen Place is located just south of South Fraser Perimeter Road in the Bridgeview neighborhood of Surrey. British Columbia Supreme Court Justice Miriam Gropper heard that 34 shell casings and four spent bullets were recovered from the crime scene.
.
Burwell testified that he worked through the night after the shooting, leaving Alpen Place at 6:30 a.m. on Oct. 28, only to return later that day when a shoe was found. She also returned on November 2 with a partner to search the ground below where Kang's head and torso had been found after his death.
They took small plots of dirt, spread it out on a tarp, and used a metal detector to look for bullets and shell casings. Several were found, he testified.
In his opening Monday, Bellows said Randy Kang went down on his face after being shot in the back, while a wounded Gary Kang was found sprawled on the lawn outside a home on Alpen Place.
The owner of that home is expected to testify that he "heard gunshots and saw multiple flashes" at the time of the murder, Bellows said. "Then a man came to his house. The man had blood on his chest and said: 'I don't want to die. Call 911. I've been shot.'"
.
Bellows also said that when first responders tended to Randy Kang's body, they "heard screams coming from approximately northwest of the body in the bushes."
"The person was told to get out and it was Camilo Alonso, who was arrested."
Burwell said she later attended Randy Kang's autopsy as an observer on Nov. 1, 2017. She was also part of a team of officers that searched a white Infiniti that the Kangs and Alonso drove to the scene of the shooting.
Randy Kang's fingerprints were on the driver's side, Gary Kang's were on the front passenger side, while Alonso's were found on the rear driver's side, Burwell said.
He also testified that IDs for Randy Kang and Alonso were found in the vehicle, as was an Enterprise rental agreement with Randy Kang's name on it.
The trial continues on Wednesday with two more Crown witnesses, but will then be adjourned until next week.
Twitter.com/kbolan