"Nothing has been shared and nothing has changed."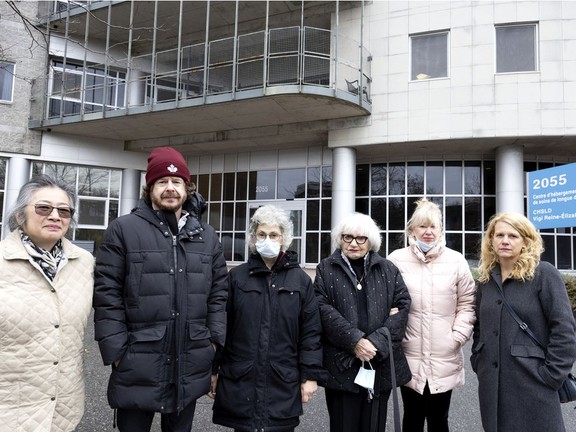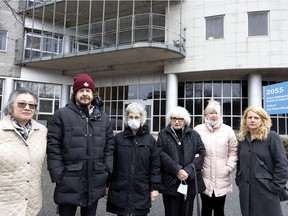 Article content
An "administrative inquiry" at the Vigi Reine-Élizabeth long-term care center is under way as a result of complaints by families of residents about conditions and the way in which COVID-19 outbreaks were handled, according to a statement on Sunday from the office of Marguerite Blais, Quebec's minister responsible for seniors and informal caregivers.
Article content
In November, family members including Mary Dunlop, whose 88-year-old mother, Olga Anastassiadis, is a resident, went public to denounce what they termed "inhumane" living conditions at the Notre-Dame-de-Grâce facility. Several family members and an employee told the Montreal Gazette the place is chronically understaffed, plagued with bedbugs, mold and equipment shortages.
The Vigi Reine-Élizabeth is part of a network of 15 Vigi long-term care centers in the province; they are private, but subsidized by the provincial health ministry at the same level as public establishments — $73,000 per bed annually — and obliged to meet the same norms.
A Radio-Canada story on Sunday quoted unnamed sources saying that Blais's office had received numerous complaints about the establishment from families of residents and from employees. The place is "known to be problematic," according to one.
Article content
Following the November media coverage, said Dunlop, a committee of three from the health authority overseeing the establishment, the CIUSSS du Centre-Ouest-de-l'Île-de-Montréal, including interim ombudsman Jean-Philippe Payment, arrived at Vigi- Reine Élizabeth and met with her and a couple of other family members.
Dunlop said Payment told her there had been enough instances of abuse and neglect to warrant an examination.
In January, a representative of Quebec's health ministry "came in and pretty much what he did was walk up and down the corridors and, if he found someone, he would ask questions. Any family member who was here, I spoke to. He took down our complaints and agreed that there was a problem with the level of care by nurses and by PABs (a French acronym for patient attendants)."
Article content
In March, said Dunlop, an inquiry ordered by Health Minister Christian Dubé's office began. Someone from the health authority mandated as a special envoy and a colleague spent about a month speaking with family members and employees and interviewing employees with their union representatives, she said.
Dunlop was interviewed in April. "She explained to me where she was from and what inquiry was about. She asked me my main concerns and I repeated that this type of establishment is not set up for people who have completely lost their autonomy."
Dunlop's mother has been at the establishment since 2018. Following surgery for a brain bleed she suffered as the result of a fall in 2017, "she was not able to retain any of her autonomy."
Article content
During the first wave of the pandemic in 2020, Anastassiadis contracted COVID-19. "They did not follow any of the protocols and many people were infected," Dunlop said. "My mother was lucky. She was sent to hospital, where they took excellent care of her, and she recovered completely."
Another outbreak hit between Christmas and New Year's and the first week of 2022 "and there were barely any workers left." On Jan. 2, Dunlop said she called police because so many people were left unattended.
Dunlop generally spends three days a week with her mother, and her brother Jim is there Saturdays; they hire private caregivers to cover the remaining three days and Dunlop monitors her mother de ella through an in-room camera.
The staffing situation improved but has deteriorated again, Dunlop said, with her mother's floor short-staffed or staffed by those unfamiliar with how to care for residents safely.
Article content
While Dunlop said she is gratified that the government acted on the complaints of residents and employees, "we are also expecting changes." People have been coming through since November and there has been "no improvement whatsoever."
And she decried what she called a lack of transparency. "Where are the details to be shared with families, to give them a measure of confidence that something is going to be done? Nothing has been shared and nothing has changed."
Asked for comment about the situation, the CIUSSS responded Sunday that "we cannot comment due to the fact that there is an ongoing investigation being conducted by the government of Quebec."
Families denounce 'horrific' conditions at NDG long-term care facility

'The system for senior care is broken,' Herron inquiry told

Nearly 300 residents in four Vigi Santé CHSLDs infected with COVID-19
All our coronavirus-related news can be found at montrealgazette.com/tag/coronavirus.
For information on vaccines in Québec, tap here.
Sign up for our email newsletter dedicated to local COVID-19 coverage at montrealgazette.com/coronavirusnews.
Help support our local journalism by subscribing to the Montreal Gazette.