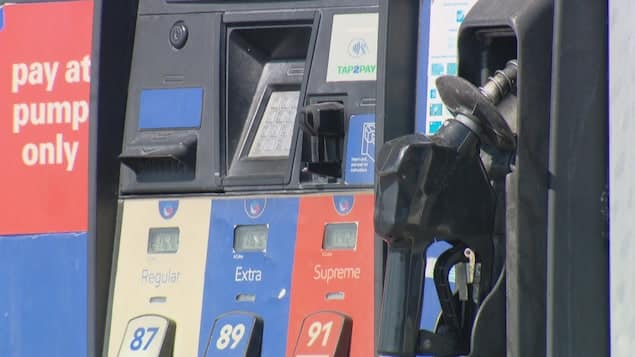 In Outaouais, members of theANCAINational Association of Artisan Truckers Inc. demonstrate in front of the office of the Minister of Families, MNA for Papineau and Minister responsible for the region, Mathieu Lacombe.
They denounce a situation that has become unbearable for their profession.
Already struggling with a Departmental Tariff Book [des Transports] which is unrealistic and outdated, members of theANCAINational Association of Artisan Truckers Inc. lost $0.60 per liter of fuel during the month of March 2022. Every hour worked is currently in deficit, which puts these small businesses in a precarious financial positionsays the association in a media advisory issued last Thursday.
L'ANCAINational Association of Artisan Truckers Inc.which has 5,000 members, estimates unjustifiablethe inertia of the Ministry of Transport in assuming its responsibilities and assuming the explosion in fuel prices.
Transporters also consider that the Ministry, whose transport rates in its Compendium are based on an exceeded fuel price, is completely out of touch with reality.
They are calling for Department of Transportation bulk rates to be increased to represent the actual costs of 2022and this, from urgently.
The present financial context also shows that the current formula for monthly adjustment of the rate according to the price of fuel at the loading rack, applied by the Department, is far from offsetting the losses caused by the real increase in pricesdenounces theANCAINational Association of Artisan Truckers Inc. who is considering other actions if Monday's demonstration does not produce the expected results, such as interventions during political activities or public announcements.
The Ministry promises solutions
On the side of the Ministry of Transport, we assure you to be very attentive to the situation and to understand the very delicate period that carriers are going through.
It is an exceptional contextrecalls Gilles Payer, public relations officer-spokesperson at the Quebec Ministry of Transport (MTQ). The department is very, very sensitive to the fact that the increase is dazzling and that there are means that are needed as quickly as possible.
Mr. Payer explains that the province has entered into an agreement, since 2008, with theANCAINational Association of Artisan Truckers Inc. which provides for a rate card with truckers, with an annual reference price, which varies if we are talking about bulk transport or transport of de-icing salt, in winter, for example. The rate that is currently applied was set last November.
Now, we know that the price of fuel, gasoline, these are prices that fluctuate, so there is a mechanism that has also been in place for several years […]. This tariff, when it increases or exceeds the reference price by more than 10% – therefore the price that has been established – there is a monthly mechanism in place, which provides for factors to compensate […] to mitigate the effects.
The spokesperson for MTQQuebec Ministry of Transport recognizes, however, that the current situation requires other solutions.
There is one of compensation, but it is sure that [la hausse des prix] is so important, so suffered, that we can understand that things have to be done more quickly, but the Ministère des Transports is working on ithe says, indicating that short and medium term solutions are being studied. It is a question of agreeing on how we modulate the tariffs and in what magnitude. […] But the discussion is open and the Ministry of Transport is not closed at all […] Discussions may not be happening at the speed the trucking industry would like, but conditions are changing rapidly too.
Fuel prices are expected to continue to rise
The current situation is unlikely to improve in the coming weeks, warns Dan McTeague president of Canadians for Affordable Energy [Canadiens pour de l'énergie abordable, traduction libre],
It will hurt. It's gonna be painful and it doesn't seem to be endinghe assessed. [Les prix] are likely to increase by up to an additional 10 cents per liter by the weekend of May 24.
Fuel prices have risen rapidly over the past year, with the Russian invasion of Ukraine exacerbating this trend. Last May, the average gas price in Canada was $1.32.
May 9, if [le président russe Vladimir] Putin is using a national day of celebration to say he's had enough, he doesn't want any more war…I think that might take the pressure offsaid Mr. McTeague.
But the main problem is mainly supply and demand, according to Mr. McTeaguewhich sees no immediate solution to the rise in fuel prices.
We're gonna have to spend a lot more money [pour le carburant]he warned. This is a direct blow to Canadians, especially those with low to middle incomes.
With information from Gabriel Le Marquand Perreault and Rachelle Elsiufi of The Canadian News


Reference-ici.radio-canada.ca