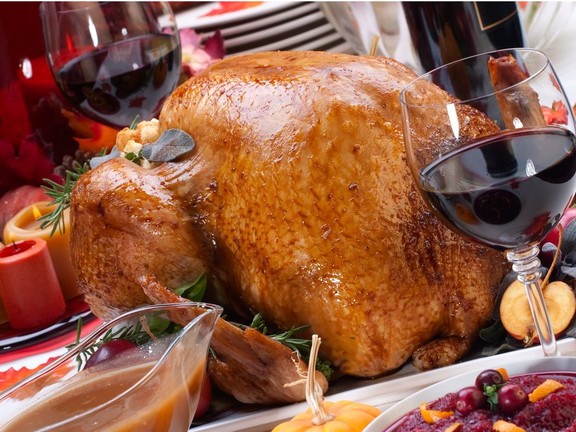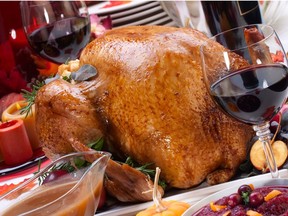 Reviews and recommendations are unbiased and products are independently selected. Postmedia may earn an affiliate commission for purchases made through links on this page.
.
When it comes to pairing wine with Thanksgiving dinner, there are a couple of simple things to keep in mind. You want wines that are high in acidity and low in tannins and oak.
.
The traditional Thanksgiving plate is usually packed with turkey, gravy, stuffing, sweet potatoes or regular potatoes, and cranberry sauce. It is quite a heavy meal, with a lot of starch. The acidity will break through the starch and protein like a polar icebreaker, clearing the palate and bringing balance to the meal. Too much tannin and oak would just add to the weight.
.
In general, white wines such as Rieslings, non-oaked Chardonnays, particularly sour examples from Chablis in France, Sauvignon blancs, Gruner veltliners, and Chenin blancs work best. A dry rosé with good acid structure and champagne or other crisp sparkling wines are also excellent.
For reds, I like Pinot Noir, Gamay, or Barbera, as they are more acidic and lower in tannins than, say, Merlot, Cabernet Sauvignon, or Shiraz/Syrah.
.
Here are some wines that would be a good match for the long weekend party.

Quails' Gate Estate Warehouse
2021
dry riesling
Okanagan Valley, British Columbia
When you're looking for acidity, Riesling delivers en masse. Wines made with Riesling often have a little, or a lot, of added sugar to counteract the sometimes searing acidity.
From one of the oldest wineries in the Okanagan Valley, the vines used in the making of this riesling are over 30 years old. That's a pretty sweet spot for the age of the vine as the roots are well established and the grapes start to show more intense flavors.
Look for apricot, tangerine, kiwi, orange, lime, and green apple, with a bit of mineral flavor and even a hint of salt. It is dry, with great fruit intensity and lively acidity.
.
Price: About $25. Has been sold at Ace Liquor Discounter, BSW Liquor, Co-op Wines Spirits Beer, Market Wines, Olympia Liquor, Safeway and Sobeys Liquor, Willow Park Wines & Spirits, Wine and Beyond.
To drink: In the next two years. This would also pair well with seafood, roast chicken, or mild Indian dishes. Screwcap; 13 percent alc./vol.

Umberto Cesari
2021
Pink Sangiovese
Emilia-Romagna, Italy
The Umberto Cesari winery produces wines in expansive Emilia-Romagna, a region that includes Bologna and stretches almost entirely across north-central Italy.
They do a bit of everything in Emilia-Romagna: reds and whites from indigenous grapes and international varieties, rosés, and even sparkling red wines known as Lambruscos.
.
This delicious rosé wine is made from Sangiovese, one of the most important grapes in Italy. The blush has a nice floral nose complemented by aromas of hay, green apple, and a bit of anise. On the palate it is between dry and dull, with persistent acidity and flavors of cherry, raspberry, pomegranate and lime.
Price: About $26. Look for it at Co-op Wines Spirits Beer.
To drink: Now. Besides Thanksgiving, try it with rainbow trout, bratwurst, or Chinese food. Cork; 12.5 percent alc./vol.

House Sichel
2019
Château Argadens Blanc
Bordeaux Superiore, France
The Sichel family has been involved in the world of Bordeaux wine since 1883. The family owns the prestigious Chateau Palmer, Chateau Angludet, Chateau Argadens and other vineyards. He also markets several other Bordeaux properties as a dealer.
.
Located on one of the highest points in the Entre-Deux-Mers wine region, Argadens was purchased by the Sichel family in 2002. While the majority of the wine produced is red Bordeaux, they also make small amounts of white Bordeaux.
Sourced from vineyards on clay and limestone soils, the white is a blend of 65 percent sauvignon blanc and 35 percent semillon. Medium lemon in color, it offers flavors of grapefruit, oyster shell, lemon, lime and white flowers.
It is a finely balanced wine with a lighter body and enough intensity of flavor and acidity to stand up to the big meal.
Price: About $27. Look for it at Bin 905, BSW Liquor, Select Co-op Wine Spirits Beer, Crowfoot Wines and Spirits at Heritage Pointe, and Willow Park Wines & Spirits.
.
To drink: In the next two years. White meat fish, lemon pasta or mussels and chips would be a good combination. Cork; 12.5 percent alc./vol.
Tesselaarsdal
2021
Pinot Noir
Hemel-en-Aarde Ridge, South Africa
Pinot noir is probably not the first wine you think of when you think of South Africa. Chenin blanc, sauvignon blanc, shiraz and cabernet sauvignon are best known.
But in the cool hills of Hemel-en-Arde, near Cape Town's southeast coast, a small collection of artisanal wineries make some very fine Pinot and Chardonnay wines.
Tesselaarsdal was founded in 2015 by Berene Sauls, a longtime employee at Hamilton Russell Vineyards, another prestigious winery in the area. Sauls works with Hamilton Russell's winemaker, Emul Ross, to produce her wines.
.
A descendant of freed slaves, he named his winery after the small farming village where he grew up and the man who gave it its name. Johannes Tesselaar was a former soldier who farmed the land on which the village sits. When he died in 1810, he bequeathed his farmland to nine former servants and slaves, including Saul's ancestors.
He has found sudden success with his wines, which are spectacular. This pinot noir is loaded with spices like cloves and nutmeg, with flint, raspberry, cherry, earth, cranberry, and tea. It has moderate tannins and stunningly beautiful fresh acidity that carries flavors on the palate for minutes. It's so well done.
Price: $84. It is available at The Cellar.
To drink: In the next six to eight years. It would be great with duck, smoked turkey, or pork roast. Cork; 13 percent alc./vol.
Contact Darren Oleksyn at [email protected] or follow him on Twitter either Instagram. Are you looking for a specific wine? Since wine inventories are always changing, it's a good idea to call a store to confirm they have it. a search in Liquorconnect.com It can give you an idea of ​​the stores that have carried the wines.