Could a lesson be learned about voters' dislike of Machiavellian politics at a time when we all face enormous social challenges?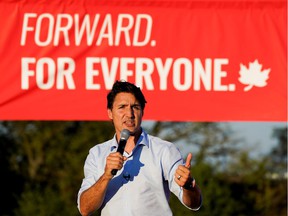 Article content
"Why did they interrupt our barbecues?"
Commercial
This ad has not been uploaded yet, but your article continues below.
Article content
Yves-François Blanchet's question, asked during his post-election speech Monday night, resonated with many Canadians.
In 2019, a minority government was elected for a four-year term. However, for the past year, experts have been speculating about when a new election would be called.
Last fall, we were asked to reflect on whether the WE scandal was still too recent for liberals to want to go to the polls and whether opposition parties would use it as an excuse to defeat the government in a no-confidence vote.
Then came winter and spring, with the launch of the vaccine. The question was: Would voters punish any party responsible for holding elections while such a crucial operation is underway?
Then came budget season: Would liberals include in it a divisive policy designed to force an election? Would the opposition parties approve the government's agenda?
Commercial
This ad has not been uploaded yet, but your article continues below.
Article content
Finally, the summer question came: Wouldn't it be better if the Liberals called elections now, while they are doing well at the polls, the people are still happy to have access to vaccines and the fourth wave is not upon us yet?
After hours of such comments and pages of such analysis, it is difficult to escape a difficult conclusion: every step of the way, media comments played a significant role in trivializing the cynical, calculating and selfish approach to politics that evidently He has upset so many Canadians in the course of this election campaign.
Now I want to be fair. It is very important to inform the public about how political parties actually strategize. However, I wonder if there might be a way to provide critical perspectives on the obvious ethical pitfalls of our political system as a counterweight to information about how it operates. Because, apparently, a growing proportion of the electorate has grown weary of the ways in which politics is often talked about and done. And this is a message that deserves to be heard.
Commercial
This ad has not been uploaded yet, but your article continues below.
Article content
While there are still some mail-in ballots to be counted, the current estimate of the voter turnout rate in this election is 58.4 percent. This is an all-time low. Sixty-seven percent of eligible voters had cast their ballots in the 2019 elections; 68.3% had done so in 2015. The only other time in recent history in which an equally low proportion of voters participated was in the 2008 elections (58.8%).
It seems that when prime ministers are overly motivated by hunger for power rather than the public good, significant numbers of Canadians tune out. I would like to suggest that consequently there should also be an ethical responsibility not to discuss naked ambition as if it is what politicians should – should be the important word here – be done.
Commercial
This ad has not been uploaded yet, but your article continues below.
Article content
During this campaign, Justin Trudeau was unable to shake the perception that he only abandoned the injunction because he no longer felt like negotiating some of the pandemic recovery policies with the NDP or the Bloc. Nor was he able to demonstrate that the NDP and Bloc influences on his minority government's agenda were so dire to begin with. It's no wonder, then, that Canadians voted in an eerily similar proportion of MPs. The message here seems to be: you are all adults, you must act like one and work out your differences.
Over the past month, the prime minister also failed to show that the number of Conservatives in Parliament was actually an obstacle to the more progressive aspects of his political agenda. In fact, by disconnecting himself, Trudeau turned out to be the worst threat to his own vision.
Commercial
This ad has not been uploaded yet, but your article continues below.
Article content
Before the dissolution of Parliament, several important bills were being drafted or debated. There was the reform of the Law of Official Languages, a file of crucial importance for the millions of Francophones who do not live in Quebec.
An update to the Broadcasting Law was also being considered and a bill was to be introduced that would address the pandemic of hate speech and crime. A long-delayed ban on conversion therapy was also expected to better protect LGBTQ2S + youth. Those are clearly all examples of policies that conservatives would never propose, but could have easily been passed with the support of other opposition parties.
All of these files have been named as top priorities for the Liberal government. Given that Trudeau has been in power since 2015, one can only assume that it is no coincidence that such bills were drafted just in time to be threatened by the recent federal elections. It seems that progressive ideas are sometimes more useful as carrots to hang voters, to dissuade them from voting for conservatives, than as actual laws. Once again, it is hard to blame Canadians who have come to believe that their Parliament is run by a group of calculating cynics.
Commercial
This ad has not been uploaded yet, but your article continues below.
Article content
Many are tempted to think that this choice was in vain. There is some truth to this interpretation, given the slightly altered composition of the House of Commons.
However, if the next few days, weeks and months are used to reflect on the failure of Machiavellian politics in an era where crucial social challenges such as a pandemic, economic hardships and the climate crisis loom for all of us, then Maybe, just maybe, there is. We may have come out of exercise at least a little wiser.
Matt Gurney: A Status Quo Choice

Tom Mulcair: Lessons in the Humility of Federal Elections
Reference-montrealgazette.com