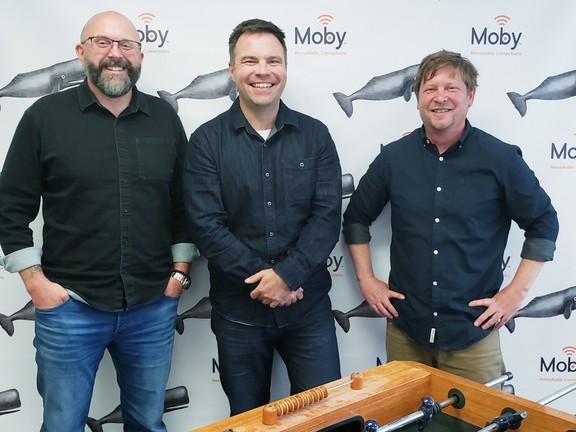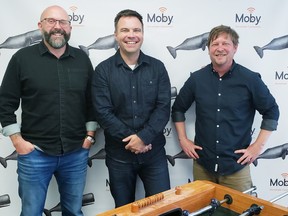 .
An injury caused technician Nick Brewer to be assigned a desk job with his employer Shaw. Too free-spirited, Brewer left the company where he had worked for 10 years and considered whether he should own a food truck or stay in the world of telecommunications that he so enjoyed.
.
His experience suggested that people didn't have much of a choice when it came to Internet and television service providers. He wondered if it was possible to create a local, independent company that would provide not only a superior fiber optic network, but also one that would provide on-site customer service.
Just eight years later, Brewer, CEO and co-owner Boaz Shilmover, and Vice President of Business Development Stewart Cummings, a friend of Shilmover's since childhood, have done just that. Moby is an independent telecommunications company that is growing with residential and business customers.
Shilmover joined Moby in 2019 after a friend mentioned Brewer's intentions. He admits that at the time he didn't fully understand the technology and how Brewer was going to make money.
.
On a ski trip in 2018, Shilmover was asked by the same friend, "Remember that guy from the cable company we talked about?" This time, his interest peaked enough to continue.
A graduate of the University of Western Ontario's Ivey School of Business, Shilmover had worked with an oil and gas company and in the construction industry.
But after a face-to-face breakfast meeting with Brewer at Nellie's in Oakridge, he quickly saw the need and growth potential for Moby, a name chosen by Brewer's young son, and dove into the company's quest to provide Internet happy customer. , TV and VoIP phone service, and business and commercial-grade telecommunications where customers can talk to a local person on the phone. It also means technicians can respond and be on site the same day to fix any issues.
.
Another great advantage is that Moby has been able to install its own extensive fiber optic network throughout downtown Calgary. Unlike other independent ISPs that resell services from established players, Moby builds and manages its own end-to-end fiber to offer a unique independent offering.
The company's data center is located in a tower in downtown Calgary on 7the Avenue SW, staffed by a 100% local team and 100% available when needed, 24/7.
Today, Moby services residential apartments, condominiums and businesses in downtown commercial buildings.
Shilmover says residential customers aren't burdened by contracts. "We want people to stay because they want to, not because they have to." Moby has also created special prices for subsidized housing and nursing home residents.
.
Nursing homes are a target market, and Shilmover says his technicians have facilities within their own portfolio, which builds good relationships. He says the Moby technician who works at the Brenda Strafford Foundation is affectionately known as "Phil the Cable Guy" by residents.
Businesses, he says, enjoy the fastest security with Alberta's high-speed Internet and the highest bandwidth.
A new marketing campaign is underway, created by agency of record Tag Advertising, launched with LRT wrap, along with transit billboards and digital marketing.
Moby is working closely with local municipalities and businesses to find opportunities to build community and re-imagine what a telecommunications company can make possible.
There are many more fish in the sea, but Moby thinks it's the biggest catch.
Grades:
Japan's Consul General Uchida Tatsukuni has spent much of his time here living under the restrictions of the pandemic, but he returns to the Ministry of Foreign Affairs in Tokyo next month having enjoyed his work and life here, and sad for starting from what he calls this wonderful part of Canada. We wish him every success in any new venture he is asked to undertake.
David Parker appears regularly in the Herald. Read online at calgaryherald.com/business. He can be reached at 403-830-4622 or via email at [email protected]