The tourists are back, and the hotel occupancy rate has hovered around 90 during the biggest events this spring and summer.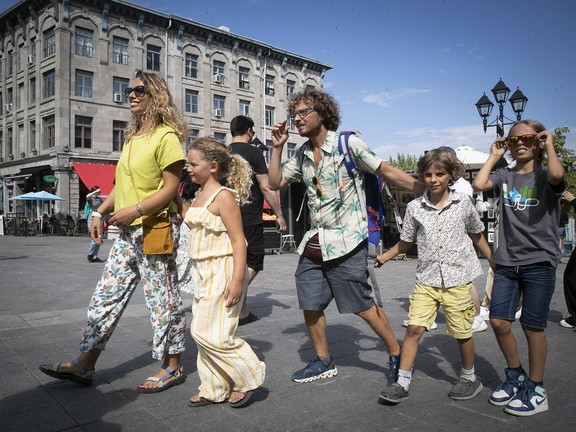 article content
Livio Cirillo had fond memories of the year he spent studying in Montreal, so he wanted to bring his family to show them the sights.
article content
Born in Naples, Cirillo and his wife Chiara Fabricatore now live in Brooklyn, New York. They arrived on Sunday with their children Lorenzo, 11, Luca, 8, and Agata, 7, and have exchanged homes during their visit.
"We came here to discover the city," Cirillo said as he walked down Place Jacques-Cartier with his family. "We also plan to camp in a national park tomorrow, because it's Quebec, so you have to explore nature."
The Cirillos were among the thousands of tourists who have graced this city as it enters the midpoint of peak tourist season. Place Jacques-Cartier was packed with couples taking selfies, families exploring monuments left by the city's European founders, and lines of hungry eaters at ice cream parlors and local cafes and restaurants.
article content
The number of tourists is a pleasant surprise for the industry, said Manuela Goya, vice president of public affairs for Tourism Montreal.
"So far, it's much better than we expected," Goya said in a telephone interview Monday. "What we have seen so far is 75 to 80 per cent of the occupancy levels we saw in 2019. Even though hygiene measures were relaxed quite late, we have seen a lot of tourists this season."
Goya said the best weekend so far was the Grand Prix weekend in early June, in which the hotel room occupancy rate approached 100 per cent. Hotels were also 90 to 98 percent full for the NHL entry draft and the Montreal International Jazz Festival, which are big tourist draws. The Osheaga music festival at the end of the month is also expected to draw many tourists, Goya said.
article content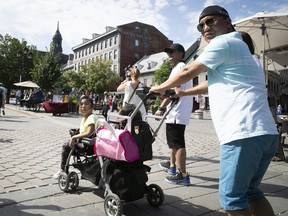 Also in Place Jacques-Cartier, Maricar Javier was pushing a double stroller with his daughter and niece inside. Javier drove from Boston on Sunday to visit his sister's family and stayed with them.
"We just like to walk everywhere," said Javier, who was visiting with her husband Larry Rosario and their 20-month-old daughter, Alexandra Rosario. "And the food is very good. We ate in Chinatown today.
Montreal was also the meeting point for mother Catharina Gimbre, from North Carolina, daughter Madeline Gimbre from Texas, and grandmother Hannalore Lesher, who lives in Germany.
"We don't have anything special planned, we're just going to have dinner and relax after a long trip," Catharina said.
Paola Jaimes was visiting from Columbia after dropping off her younger brother Juan, 13, at a summer camp near Toronto.
article content
"We love Montreal," said Jaimes, who was with her sister and parents. "It's like the US with big roads and highways, but it also has the European architecture, so it's a good mix."
Tourism Montreal's strategy this year has been to target traditional markets like France, Ontario and the US, and that's where most of the tourists have come from so far this year.
"We wanted to stabilize the markets, but we will definitely expand in the next few years, because Montreal has a lot of appeal," Goya said. "Montreal hasn't lost its reputation during the COVID period, and that's a good thing, because a reputation is hard to build, but very easy to lose."
Part of the reason for the city's success is that new hotels have opened and none of the old ones closed due to COVID-19. Hotel prices are also relatively affordable compared to other big North American cities like Toronto and New York.
"We are very lucky," he said. "We have a very good offer of hotels."