If other NBA teams are coveting Toronto Raptors coach Nick Nurse, his boss Masai Ujiri says they can keep on dreaming.
Ujiri held his traditional season-ending media availability on Tuesday, and the Raptors president laughed when asked if he'd been contacted by any teams about potentially hiring Nurse, who reportedly was a top target for the Los Angeles Lakers job after the team fired Frank Vogel.
"No team has contacted me, and I see all the (rumours) you see. I dream like they dream. I want Messi. I want Ronaldo. I want (the late) Kobe Bryant. So they can keep dreaming. I dream too," Ujiri scoffed.
Nurse had said Monday that his focus was on coaching Toronto, and a few days after the Raptors' season ended in a Game 6 loss to Philadelphia in the opening round of the playoffs, he and Ujiri were already back to work on next season.
After last season's "Tampa Tank," and this year's building season that exceeded the expectations of many, the focus is clear: winning.
Ujiri was asked how they assimilate the different characters, from the serious Fred VanVleet to the affable Scottie Barnes who famously loves to hug, it always boils down to that one thing.
"There's nothing else, there's only winning," Ujiri said. "We can come hold hands, hug, wear masks, do anything we want, OK, winning. Empty stadium, full stadium, winning. That's the kind of players we want to bring.
"Yeah, playoffs are good but win big, win a championship, that's what we want. When we interviewed Scottie he mentioned winning 100 times. I just met with Freddy a couple days ago, and it's winning. Win, win, win, it comes out of their mouths all the time."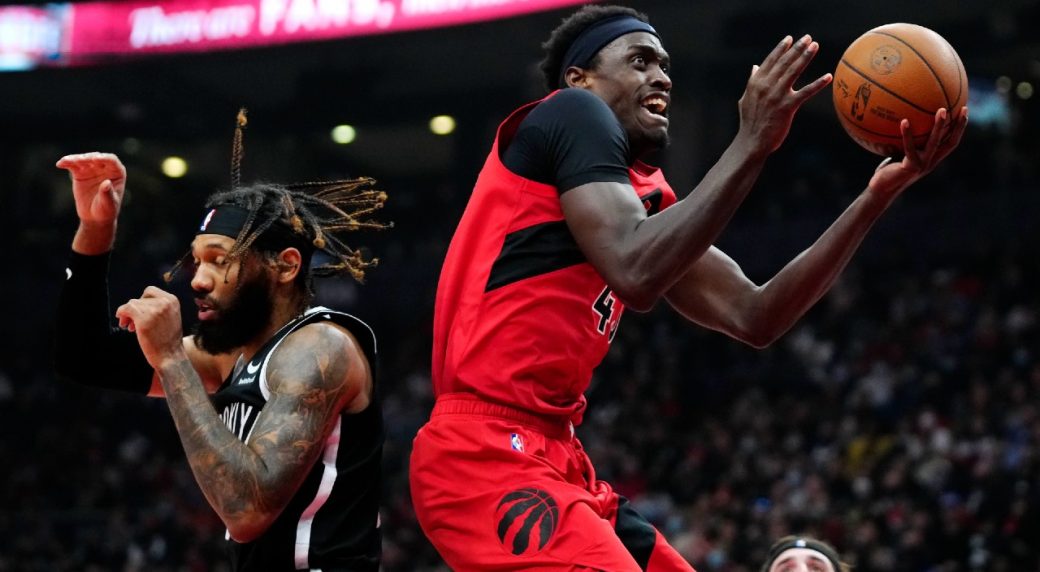 ---
Ujiri "incredibly proud" of Siakam
Ujiri even sees a big win last season, when the team was forced to play out of Tampa, Fla., due to travel restrictions around the COVID-19 pandemic. The team suffered a huge COVID outbreak in March and finished 12th in the East. Thewin? They landed Barnes with the No. 4 in the NBA draft.
After the challenges Toronto has faced, Ujiri said the team is grateful.
"It's been a tough, tough couple of years. I don't want to jinx it," he said and knocked on the wooden table.
"That's who you want to go to war with, to battle with. I'm proud of him."

Masai Ujiri praises Pascal Siakam for overcoming adversity and multiple obstacles this season. #WeTheNorth pic.twitter.com/IdTNALZjXS

— Sportsnet (@Sportsnet) May 3, 2022
Among the team's hardest-hit players in the past couple of years has been Pascal Siakam. A question about the growth of his all-star forward brought Ujiri nearly to tears. Siakam didn't play well in the Disney World "bubble" in 2020 and was attacked on social media for it.
"It's a touchy one, because of what that guy went through," Ujiri said. "I'm so proud of him. Watching his press conference from him the other day: yeah, I want that guy on my team. I want that kind of fighter on my team. You saw what people called him, racist, all the things that were said about that guy because of basketball. Because of sports.
"Yeah, he gets paid, but he's also a human being. And he withstood it. When he was coming back he got hit again, he got injured, "Ujiri added on his shoulder injury that required off-season surgery. "Those things crack people, right? To see him on that stage, fight and fight, that's who we want to go to war with. Incredibly proud of Pascal."
The six-foot-seven Siakam averaged 22.8 points and career highs of 8.5 rebounds and 5.3 assists a night and anchored a roster that was small by league standards.