Remember to be patient with people crossing the street slower than usual, writes Laurelle Shalagan of Vancouver.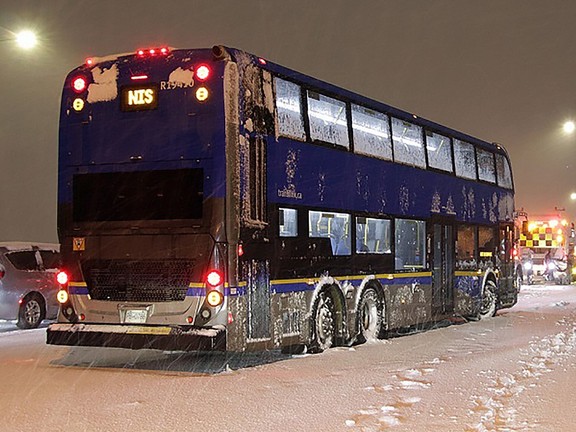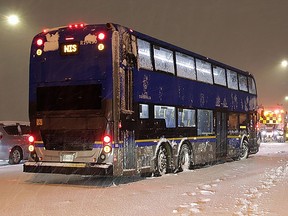 Article content
Take public transportation during inclement weather. I heard that before; if only it were that simple and safe.
Article content
A potential user of public transport first has to traverse slippery sidewalks (whoops, don't some homeowners shovel and sand?), through icy and treacherous corners. Once they reach the main thoroughfare, they are most often met with an accumulation of snow and ice, courtesy of plow operators who "shovel snow" into street gutters instead of trucks carrying it. carry.
Article content
You are then challenged to get on the bus without incident because, yes, there is a buildup of snow and ice at the transit stop.
Imagine how all this works if you have mobility issues or can't afford the right winter footwear.
It's easy to see where some of these issues can be addressed. There should also be a review of how to improve street driving access for buses and taxis, such as identifying temporary bus/taxi-only lanes on major streets and not allowing parking on these streets during snow removal to prevent buildup. on the sidewalks. .
Article content
For those of you who think you have to drive in dangerous weather, remember to be patient with people who cross the road slower than normal. Lastly, don't speed down muddy streets without thinking about splashing pedestrians as you go.
Laurelle Shalagan, Vancouver
Unfortunately there is a lack of medical care for people with 'ME'
Re: Clinics aim to help long-term COVID patients get through the day
I found Lori Culbert's article very interesting. I am one of approximately 77,000 British Columbians with MS (myalgic encephalomyelitis or what is sometimes called chronic fatigue syndrome). Our symptoms are very similar to long-term COVID. I am bedridden most of the time, struggling with brain fog and constantly working to keep a host of unpleasant symptoms at bay. I'm not unusual.
Article content
Unfortunately, medical care is lacking in BC for people with MS. We have a program that sees about 600 patients a year. The patients who were referred in 2019 have not yet been treated. The program does not provide care for children or the seriously ill. Our lifelong conditions are eligible for one year of care through the program despite the evolution of symptoms or co-morbidities. However, our recent research shows that 75 percent of healthcare providers say they feel unprepared to care for people with MS. In BC, it takes an average of seven years to receive an MS diagnosis.
With the Ministry of Health's commitment to equity in health care, we hope that they will soon make some improvements in our care.
Sue Khazaie, Langley
Are housing solutions part of the problem?
Article content
Re: More supply alone won't stop BC's housing crisis
I read with interest Elliot Rossiter's editorial on the housing crisis. He made a basic point: we need to have "large-scale expansion of non-commercial housing and enhanced protections for households at risk of displacement." Put plainly, this means that the government should pay for rental housing (presumably through big tax increases) and there should be more price controls on rent. However, is it possible that the solutions proposed by Dr. Rossiter are part of the problem?
What sane person would invest in building rental units when a) rent controls mean they would lose money if conditions like interest rates change; b) the government may be building rental units on the same street that rent for half the actual cost of building them?
Article content
Kent Dykstra, Surrey
Greenway suggestion
Re: Greening our roads
Great point by Bryce Rositch. I would also like to add that the plants along the roads should always be native plants. The natives, who have evolved and acclimatized to this region since the last Ice Age (along with hundreds of species of bees and other insects). We have removed too many of these plants in many areas by paving and these plants are primary sources of food for insects, birds and other creatures. If all those ridges and rights-of-way were planted on native grasslands, it would go a long way to alleviate the problem.
John Shinnick, volunteer seed collector and guide at the VanDusen Botanical Garden
---
Letters to the editor should be sent to [email protected].
---
More news, less announcements: Our in-depth journalism is possible thanks to the support of our subscribers. For just $3.50 a week, you can get unlimited, ad-lite access to The Vancouver Sun, The Province, National Post, and 13 other Canadian news sites. Support us by subscribing today: the vancouver sun | The province.