Article content
King's University has received a $ 20 million grant to help build a new 40,000-square-foot science center.
Article content
The multimillion-dollar anonymous donation is the largest in King's 42-year history.
The donation will go towards the construction of Center of Excellence in Sciences , which will include common spaces, specially designed teaching facilities, state-of-the-art technology and laboratories that allow the university to place student research at the center of its academic programming.
"I have always been proud of our research and educational legacy," said Dr. Melanie Humphreys, president of The King's University in a press release.
"It is really impressive, especially for a university of our size. This incredible and humble gift will boost these programs in a significant way and provide new opportunities to expand into the health sciences. "
Article content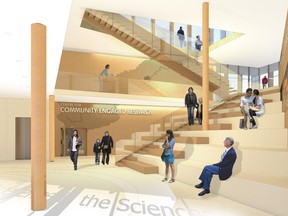 Research teams of university students and professors are currently involved in projects such as antibiotic resistance, animal-assisted therapy in mental health, endangered trees in the mountains and hills of Canada, and diseases that devastate bee populations.
The Center for Excellence in Science will be a hub for sustainability research and, with a recently awarded Canada Sustainability Transitions Research Chair, will enhance support and coordination for sustainability work that occurs across all disciplines and at the King Center for Visualization in Science (KCVS). .
To date, KCVS has partnered with more than 40 organizations around the world, including UNESCO. A KCVS resource also contributed to the education and outreach work of the Organization for the Prohibition of Chemical Weapons, which won the 2013 Nobel Peace Prize.
Construction of the Center of Excellence in Science is scheduled to begin in 2024.
Reference-edmontonjournal.com